Please note the changed dates below: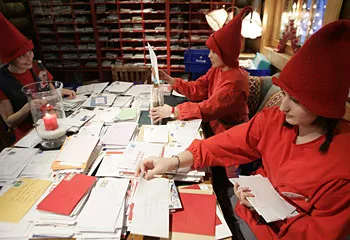 These Australian elves are sorting out the thousands of protest letters to be sent to the Canadian government this season.
If you were too broke or too worried about your own emissions to jump the bandwagon in Copenhagen, there's still lots you can do right here in Hali to be part of "the most important human gathering ever."
On Saturday, December 12 at 5:00 pm there will be a vigil for climate change at Grand Parade Square/City Hall. Participants will call on global leaders to take action on climate change before it's too late. Vigils will be happening all over the world at this time.
On Sunday, December 13 at 3:00 pm churches around the world will ring their bells 350 times (possibly to the tune of Anita Ward's Ring My Bell). 350 is the maximum parts per million of carbon dioxide that is safe for the climate and therefore for human beings. We are currently over 350 and the goal is to scale back to that number. The church bell ringathon is an initiative of the World Council of Churches and the Canadian Ecumenical Justice Initiatives (think padres with peace signs).
On Monday, December 14 at 10:00 am, 73 Tacoma Dr. Suite 600, again at 1:00 pm at 1496 Bedford Highway, Suite 222, and finally at 3:30, 1-2207 Gottingen Street, "Santa's elves" will visit Liberal MPs Mike Savage and Geoff Regan, and NDP MP Megan Leslie, to convince them to save their home in the north pole. Specifically, these politically astute elves will ask Mike and Geoff to support Bill C-311 on Climate Change Accountability, which commits Canada to reducing our greenhouse gas emissions to at least 25% below 1990 levels by 2020. Word is that neither Liberal MP is particularly fond of the idea. The elves might find Leslie a better candidate for their "nice list."