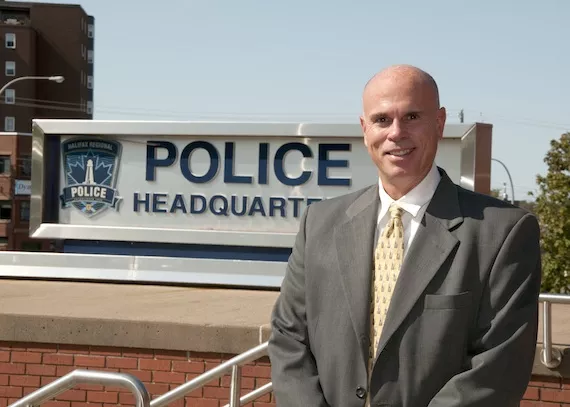 Halifax's new police chief, Jean-Michel Blais.
Tuesday's city council meeting was overshadowed by speculation about the upcoming election, as Tuesday was also the day the last day for candidates to register with the municipal clerk's office.
Throughout the day, the attention of councillors, reporters, staff members and regular citizens seemed mostly glommed on speculation over mayor Peter Kelly's election plans. Kelly had played coy for over a month, fueling the speculation, but at 4:56pm Tuesday his office released a statement saying he would not run for office. Kelly's statement said he was focussing on family issues, and "there are also other issues which need my focus, issues which I am sure you are aware of," referring undoubtedly to the Mary Thibeault estate case. Five minutes later, Kelly came took questions from reporters and was asked, "Did your decision have anything to do with next week's court hearing? [related to the Thibeault case]?" Kelly answered: "No."
The drama over Kelly notwithstanding, perhaps the most important event of the day was council's appointment of Jean-Michel Blais as the next police chief. Blais was the top pick from a nationwide search that led all the way to the Halifax RCMP office, where Blais has served as chief superintendent. Blais studied economics and political science at McGill University, and afterwards earned a law degree from Laval University. He has been with the RCMP for 25 years, including three stints in Haiti.
Otherwise, councillors didn't do much of immediate importance Tuesday. They OKed the long-expected closure of a cell at the landfill. They punted a scheduled public hearing to a future meeting because the public was incorrectly noticed about the hearing. And they gave up, at least for the time being, on the idea of regulating election signs on public property, because courts have ruled that such regulation violates the Charter of Rights and Freedoms, unless the signs present a safety hazard.