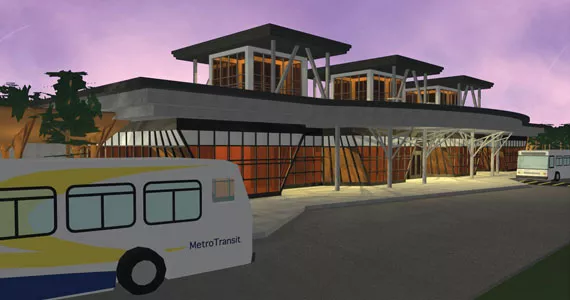 Halifax council Tuesday bit the bullet and agreed to spend $12.1 million on an expanded Bridge Terminal in Dartmouth. Previously, council had insisted it would stay within a $9.5 million budget for the project.
The expanded terminal is to be placed on Dartmouth Common land designated as park and was situated as to come very close to Dartmouth High School, an arrangement that angered neighbours and the school community---a one point, hundreds of students protested against the plan in a driving rain storm. (Disclosure: I live nearby.)
To win over community support, transit managers and the project architect, Troy Scott, then with Sperry Partners Architects, came up with a revised plan for the terminal: it would be reoriented away from school and beneath an intervening hillside, be reached via a pedestrian bridge from the uphill side and have elevator and stairway shafts reaching to the terminal below, providing a signature "lantern" effect above.
But when bids for the revised design came in $2.6 million over anticipated costs, city staff set to work to reduce costs by stripping the terminal of all the features added to win over neighbours. Council's action Tuesday puts those features back in.
"I'm very pleased," says a surprised Scott, who hadn't heard the news. Scott wrote a dissertation examining Halifax transit in grad school and had hoped the terminal design would establish his professional reputation. He left Sperry in frustration over the down-graded terminal plan. "Sperry's been very nice to keep me up to date with what's been going on [with the terminal]," he says, but he now works with architect Mike Harvey, with hopes of working on larger projects.
The increased terminal costs will be recouped by delaying other, yet to be determined, transit capital costs over the next five years. Construction on the terminal should begin by summer.