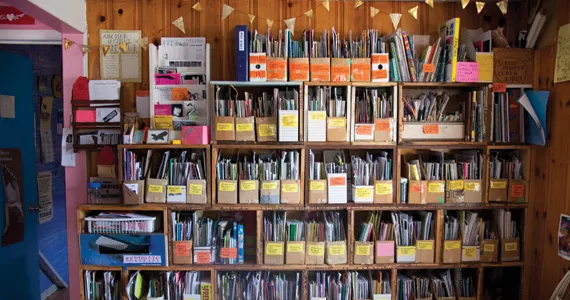 Local crafters are a growing and vital community, including everyone from hobbyists who went pro, people who studied in the NSCAD ceramics department to those who took up felting as a hobby while completing a physics degree. It's a movement as vital as Dumbledore's Army arrayed against Delores Umbridge's venom, a major moment of DIY exuberance at Hogwarts replicated here in Halifax.
The Roberts Street Social Centre (5684 Roberts Street, robertsstreet.org, 446-1788) is an excellent place to start. Started as the Anchor Archive Zine Library in 2005, the centre now fills a north end house, with the zine library at the front---boasting a wide array of zines and alternative media to enlighten new crafters, plus helpful volunteer staff---and the Ink Storm Screenprinting Collective at the back, where anyone can become a member to access screenprinting facilities or take classes to learn. In addition, the centre hosts residencies in the summer into early fall, often holds craft-related talks and workshops and every Tuesday (6-9pm) people can drop in and do crafts together.
For clay enthusiasts, Turnstile Pottery (2733 Agricola Street, turnstilepottery.com, 431-2559) is a pottery collective, run mostly by emerging artists, that offers studio space, as well as classes, drop-in evenings and live model sessions for those coming from various backgrounds, fees starting at $12 for one-night events.
The Halifax Crafters (halifaxcrafters.ca, halifaxcrafters@gmail.com) organize craft fairs twice a year. Formed in 2005 by a group of NSCAD students and recent grads looking for a place to sell their art, the markets began in the Khyber Ballroom Gallery and have been expanding to larger venues since; the most recent fairs have been at the Olympic Centre (2304 Hunter Street). The winter market runs the first weekend of December (applications are open until September 23), the spring market in mid-April. Admission is free, and tables cost $60 to $80 for the weekend for vendors. Wares range from Halifax-themed glassware to screenprinted posters to baby clothes to buttons and mix tapes, so whatever you make, there's likely a spot for it. The Halifax Crafters Society operates as a non-profit organization, and they're always looking for volunteers to help with organizing, promotion and set-up; it's also a great way to meet other DIY craft enthusiasts.
The Halifax Seaport Farmers' Market (1209 Marginal Road, halifaxfarmersmarket.com) specializes in food, but many crafters also sell their wares there. Saturday is the main market day, but since the new market location opened in 2010, hours have been expanding during the week. Prices can be prohibitive for craftspeople selling a lower volume of products than farmers, but table prices vary widely depending on day and size, from $45 to $75, with deals available for vendors selling more than once a week.
Other stores in the city also specialize in craft, offering both a commercial venue and other events to learn new techniques or meet other crafters. Love, Me Boutique (lovemeboutique.ca, 1539 Birmingham Street, 444-3668) owner Chara Kingston says, "At the time"---October 2007, when the business opened---"there was no store in Halifax offering exclusively Canadian handmade from both established and emerging artists and designers." The store offers workshops and events like material and work swaps or the T's Event, where customers could drop off old t-shirts to have them modified by an artist. They're also working on a new supply section. Kingston says that for any aspiring wizards, they've got school tie necklaces and brooches, clockwork and chain steampunk jewellery, plus a vintage key collection and necklaces that look like something found in the Room of Requirement.
In addition, a number of local commercial galleries carry craft-based work by new Halifax artists. The Seeds Gallery (1099 Marginal Road, Suite 116, 494-8301), NSCAD's space for selling student and alumni work, carries work by students from a wide variety of disciplines at the school, including things like alternative craft and zines that you won't find in other commercial galleries. They also make an alumnus-designed T-shirt of the Month, and NSCAD students can inquire about selling their own work there. Around the corner, the Mary E. Black Gallery (1061 Marginal Road, Suite 140, 492-2522) is the city's only gallery space dedicated to craft, the exhibition space for the Nova Scotia Centre for Craft and Design; exhibits are often, but not always, more traditional, and it's another good resource for those in the field. Argyle Fine Art (1559 Barrington Street, Suite 102, 425-9456) carries a selection of craft, including ceramic- and textile-based work, by both established artists and emerging artists, most of them NSCAD grads.