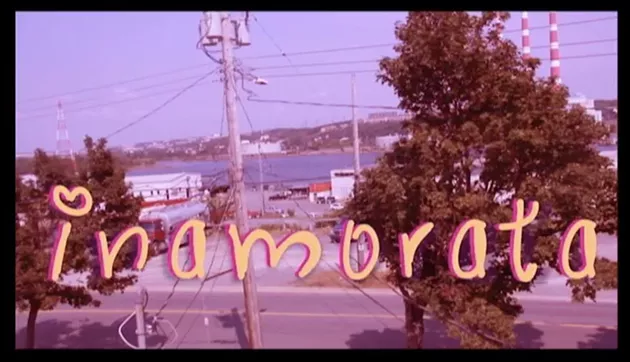 Inamorata: The Pilot Episode
By Rebecca Falvey
Inamorata: The Pilot Episode
, the brainchild of Rebecca Falvey, (recent winner of Eastern Front Theatre's 2017 Pitch It event), has crafted a play that marries television with theatre. Advertised as a sad-comedy,
Inamorata
gravitates toward darker comedy territory, incorporating elements of sadder fare that will resonate with young and old alike, while simultaneously tackling themes relevant to both individual generations.
The nucleus at the centre is Ingrid, (portrayed by Falvey), a subtle, semi-deadpan archetypal millennial; Ingrid drifts aimlessly from scene to scene, unable to succeed in achieving any form of meaningful self-validation in her day to day life. On the contrary, she proves herself far more adept in getting wasted on a nightly basis with her sarcastic, self-defeating friend Kate (Amy Lou Keeler).
To compound matters further, both Ingrid and Kate are unable to provide lasting solace to their lonely, single mothers Anna and Charlene (played by Rena Kossatz and Kim Parkhill, respectively) who in varying degrees of subtleness, impart their inescapable feelings of loneliness in life alongside a basic, heartbreaking need for companionship. The theme of loneliness hangs heavy throughout Falvey's play and lends her work an earnestly deserved sense of gravitas. Kossatz and Parkhill sell their supporting roles; Kossatz depicting fragile dependence as a caring mother who subconsciously uses her daughter Ingrid to fill in the social/romantic gaps in her life while Parkhill excels as a scene-stealing lush navigating both the world of dating websites and barrooms to no avail.
The balance between the dramatic and comedy remains fairly well intact throughout its forty five minute run. Keeler and Falvey share fun moments of onstage dialogue where they discuss and dish on their pet peeves and clever observations about the current world they live in. Keeler possesses an inherent sense of brazenness which serves her character Kate well. Falvey herself is charming, likeable, and an interesting character to base her play around; she bestows Ingrid with a plethora of funny quips but her natural, straight-faced personality made it somewhat harder for some of her jokes to land. Additionally, the various characters played by actor Dylan Jewers were at times difficult to differentiate from one another. Jewers' presence adds an interesting dimension to
Inamorata
, however this sense of "Wait, who's he playing now?" detracted from the play's otherwise steady flow. Equally confusing was a lack of resolution or climax to the performance. As a viewer trying to understand what Falvey is trying to convey, I'm currently making the argument that because it's the "pilot episode" change will come later on down the road, which makes perfect sense- there's just a part of me who thinks a bit more crisis or conflict can make the first chapter an even more gratifying theatrical experience. –
Carey Bray
Old Pool Hall Theatre, 6050-6070 Almon St.
45 min.
$10/$7
Thursday, August 31: 9pm
Saturday, September 2: 5:10pm
Monday, September 4: 1:45pm
Friday, September 8: 9:55pm
Stop Kiss
By Diana Son
Originally written in 1998 by Diana Son,
Stop Kiss
, is the latest production of Whale Song Theatre; it confidently veers from the path of most Fringe performances by mounting a play which is not new and has, on the contrary, seen past days on the Broadway stage. While doing a tried, tested, and true play alleviates many of the pre-jitters and angst experienced by many first time Fringe plays, there is the burdensome expectation for veteran plays to do justice to its pre-existing material. This is doubly true with a play like Stop Kiss that sets out to address and respond to important and topical issues that are just as, if not more, relevant today. It's a bold and ambitious gamble, but ultimately one that pays off.
A great deal of praise belongs to Katerina Bakolias, who as the central protagonist, carries this story squarely on her capable shoulders. Fully immersed in her role as Callie, a traffic reporter living in New York who by chance meets Sara (Emily Jewer), a teacher from a small town trying to find her way in the big city. Callie is inexplicably drawn and attracted to Sara; for Sara the feeling for Callie is mutual. Director Ali House keeps things onstage quiet- you can hear a pin drop as Sara and Callie grapple with their own pre-assumed heterosexual predispositions. Any inkling of romanticism, however, is soon decimated when the plot itself is jolted into a non-linear storyline following the wake of a vicious attack that leaves Sara critically injured. Callie is left to pick up the pieces and find some semblance of reasoning that has turned her world upside down. Bakolias is a marvel in her role, shifting gears seamlessly as she recalls the highs and lows of her complicated, indefinable relationship. To compound matters further, Callie is continuously pestered by George (a smugly funny Sean Skerry) who as a "friend with benefits" posits himself into the play at all the wrong times, exacerbating Sara and Callie's relationship with his immature jealousy. The 1990s timeline is a subtly powerful setting for the play; its sense of lingering societal taboos repeatedly flare their ugly heads, making it frustratingly difficult for Callie to define her relationship to those who thought they knew Sara (ably portrayed by supporting cast members Steven Heisler and Amy Trefry) in the aftermath of her senseless attack.
For all the darkness in
Stop Kiss
, there is also light to be found. Bakolias and Jewer share great moments onstage and the sexual tension is more than obvious; there's a kiss, a union waiting to happen, but it keeps frustratingly getting pushed further and further away. The finale is both bittersweet and tragic; you want it to happen, despite knowing what ensues; it's an odd, indefinable sensation and one that you'll want to see for yourself. –
Carey Bray
The Waiting Room, 6040 Almon Street
75 min.
$10
Thursday, August 31: 7:15pm
Saturday, September 2: 3:35 & 8:30pm
Monday, September 4: 6:30pm
Tuesday, September 5: 9:30pm
Wednesday, September 6: 7:45pm
Saturday, September 9: 1:00 & 7:10pm

In My Wildest Dreams
By Marge Hemsworth & Charles Salmon
In My Wildest Dreams
takes us back to 1956 Halifax and the beginning of a 43 year-long friendship that began when eighteen-year-old hairstylist Marge Hemsworth (Kimberley Cody) flew from Halifax to Nashville to meet her idol, world-famous Nova Scotia country singer Hank Snow (Rob Brown).
The opening night house was packed with Snow fans (I saw at least one t-shirt) who couldn't help swaying to the music and mouthing the words, but you don't have to be familiar with Snow or even country music to enjoy the story. The versatile Cody is captivating, not only as the gregarious and boisterous main character, but also singing as Anita Carter and imitating the swaggering Johnny Cash or raucous Minnie Pearl.
I didn't quite buy Brown as Snow: he manages to embody the legend's humble grace but not his commanding stage presence. His singing and guitar-playing punctuated the narrative nicely though, and it didn't matter much: the story is really Marge's.
Everything about this production has clearly been contributed with affection: for Snow, for Marge, and for their Nova Scotia home. The show is full of fun details that give us a peek into a 1950s hair salon (egg shampoo, cream rinse, and straight pins) and by-gone Halifax (the Green Lantern had a lunch counter?).
Sitting in the audience makes you feel like a part of something special, and I got goosebumps at the end (I won't spoil it, but there's a touching moment when everything comes together). I wanted to spend more time there, but I feel lucky to have shared in it at all. (Confidential to the real Marge Hemsworth: please be my grandma and have tea and apple pie with me and I'll send you letters and you can tell me more about your life.) –
Nicole Maunsell
The Waiting Room, 6040 Almon St.
70 min.
$7
Saturday, September 2: 5:30pm
Sunday, September 3: 2:20pm
Tuesday, September 5: 7:00pm
Sunday, September 10: 8:15pm
Late Nite W/T Bard
By Kevin Gerald Connors
Late-night talk show host Humphrey Hubert sits down with William Shakespeare to shoot the shit. They're both vulgar and annoying and say "Am I right?" a lot. The content is about as deep as a cereal bowl and funny as a crutch. Jokes about Shakespeare's women (Connors calls them whores) having names like venereal diseases (Goneril) is the kind of funny we're talking about here. Some of the audience seemed to be pretty into it, but for a $10 ticket price and clocking in under time at a vapid 30 minutes, your money is better spent elsewhere. –
Michael Lake
Plan B, 2180 Gottingen St.
45 min.
$10/$7
Saturday, September 2: 3:00pm
Sunday, September 3: 2:15pm and 9:40pm
Wednesday, September 6: 10:10pm
Thursday, September 7: 9:10pm
Saturday, September 9: 7:45pm
Sunday, September 10: 3:00pm