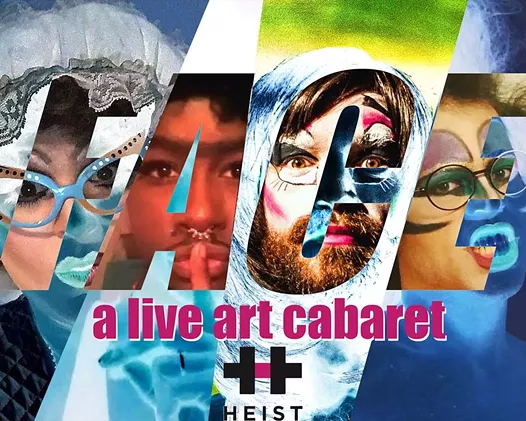 FACE
Presented by Heist
Any new Heist show is sure to be a feast for the eyes and ears, and
FACE
is no exception. It's a twisted live art cabaret with four performers and a rotating special guest performing in drag with amazing outfits and stunningly grotesque wearable art. Some numbers are hilarious, others are poignant, and in the show's very best moments there is a palpable vulnerability underlying it all. In this space, these performers are proud, strong, and celebrated. They are allowed to expose themselves and their passions, kinks, or insecurities, and are applauded for it. It's an important showcase of the strange and sublime forms of expression that escape the mainstream.
FACE
is irreverent, queer, unashamed, and utterly gorgeous. –
Michael Lake
The Bus Stop Theatre, 2203 Gottingen St.
70 min.
$12
Saturday September 2, 8:45pm
Sunday September 3, 1:45pm
Monday September 4, 10pm
Tuesday September 5, 7:50pm
Wednesday September 6, 10:05pm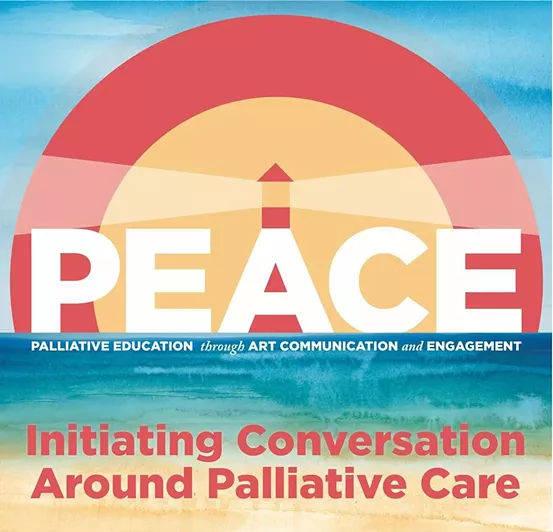 The PEACE Project: Initiating Conversations around Palliative Care
By Alexis Milligan & Dr. Brenda Sabo
What do you think of when you hear the term "palliative care?" When most people hear it, they think about dying, but
The PEACE Project
aims to show that it's about the opposite: enabling people to live the best way possible. A partnership with Dalhousie's School of Nursing and Transitus Theatre, the show is made up of dialogue that comes straight from interviews conducted with people who are living with advanced cancer, caring for someone with advanced cancer, or who have lost a family member to cancer. The fourteen interviews are woven together as four actors move amongst the audience, who are seated in a circle. We learn that even with the proven benefits of palliative care, there is a stigma around it: it isn't well understood, and isn't always offered, or is offered too late.
The greatest accomplishment of the piece is the space it creates for people to share their own experiences. The scripted part of the performance ends about 45 minutes into the hour, and audience members are gently invited to speak to the group. A few from our group did, with many more conversations between friends and strangers spilling out onto the street afterward. With so much stigma around death and dying, these are conversations that need to happen, and the creators hope that healthcare professionals will be among the people who attend. Emotional and powerful, this is a piece that is poised to change lives for the better, if we listen. –
Nicole Maunsell
The Living Room, 2353 Agricola St.
60 min.
$10/$7
Friday September 1, 10pm
Saturday September 2, 2:30pm
Sunday September 3, 7:50pm
Monday September 4, 8:30pm
Friday September 8, 5:40pm
Saturday September 9, 5:45pm
Sunday September 10, 1:45pm
Rideshares and Rope Swings
By Matt Hertendy
Road trips and Canadian fringe festivals would seem to be a natural fit. We're a big, mostly empty, country, after all, and fringe performers spend a large amount of time packed into cars travelling from venue to venue. It's a wonder that there are not more plays on this theme, with its rich possibilities for madcap comedy and intense personal drama.
In
Rideshares and Rope Swings
we meet Reed and Genevieve, two young strangers sharing a 16-hour rideshare road trip from Ottawa to Thunder Bay. Though billed as a comedy,
Rideshares
' main focus is on classic questions of death and life, and the fear of one that keeps us from enjoying the other.
There's a really inventive bit of business in the play, as the two ubiquitous chairs—the time-worn theatrical stand-in for "people in a car"—become, with the help of lighting panels affixed to them, whatever prop, location element, or lighting effect is necessary to establish a scene. When a character crouches down in the blue light emitted by a chair to the accompaniment of "watery" sound effects, you believe an actual immersion is taking place.
Both Reed and Genevieve have secrets, of course, and the impetus of the play is towards the revealing of them (hinted at in some dark "flash forward" early scenes.) I was a bit disappointed in the revelations, however. While Genevieve's secret is suitably dramatic, Reed's doesn't make a lot of sense and seems to me more self-consciously theatrically "quirky" than an expression of a real person's motivation.
Be that as it may,
Rideshares
is worth seeing, at the very least, for how it shows a story can be told with only two people, two chairs and the expanse of an empty stage. –
Martin Wallace
Old Pool Hall Theatre
6050-70 Almon Street
$15
Wednesday Sept 6, 9:25pm
Friday Sept 8, 8:25pm
Saturday Sept 9, 7:10pm
Trunk!
By Molison Farmer and Creators
Performed by Kerploding Theatre
Kerploding Theatre's
Trunk!
earns its exclamation point with a boisterous explosion of song and dance. The kid-friendly show is all colour and movement as we follow the adventures of 8-year-old Daisy and 12-year-old Oliver and their magical trunk, which transports them in moments to a sky kingdom, a magical swamp, and a tropical island. (Where everyone speaks French, for some reason.) It's theatre as non-stop action, designed to keep young children with fickle attention spans entertained for an hour.
What makes
Trunk!
a particularly fine example of this sort of theatre is how music is integrated into the performance. While the show has its expected share of exuberant "you can do it!" songs, they are not the only type of music here. As narrator/character/plush toy "Dragon," Francis Melling uses guitar and ukulele to supply a constant musical backdrop to the action with funky or soulful riffs and excerpts from pop songs. ("Eye of the Tiger" even arrives at one point.) It's a very effective way of establishing the mood for each scene,while maintaining the continuity between them.
On the evening I attended, as the show ended, the mother with young children in front of me turned around and said loudly "That was amazing!" I think that's all the endorsement one needs. –
Martin Wallace
Plan B
2180 Gottingen Street
$10
Wednesday Sept 6, 6:00pm
Thursday Sept 7, 6:00pm
Friday Sept 8, 5:30pm
Saturday Sept 9, 6:00pm