The Return

By David Woods
Playwright and director David Woods introduced his dark family drama at the Bus Stop by addressing the audience with a laugh: "I guess I'm getting pretty old. Someone said to me: 'I remember your first play on Gottingen 20 years ago.'"
The Dartmouth artist and writer founded Voices Black Theatre Ensemble in 1990 after the 1989 Cole Harbour High School race riot and has represented the African Nova Scotian experience through a variety of plays and performances, mostly recently
Speaking in Tongues
in 2016.
Pill-popping, whitewashed and bejewelled Vicki Fleming (Kyah Sparks, 23) returns to her family home in fictional Coleville, Nova Scotia after a decade married to a wealthy socialite who took her around the world but nowhere near love. Her sister Allee is a devout Christian (Vanessa Thomas) and welcomes her reluctantly. Soon healing and reparations turn sour as Fleming steals her husband Aubrey (Asante Spivey), her daughter, and essentially her whole entire life.
"I thought that now you've made it big in the world you don't have time for us poor black folk," says Allee.
"I have to attach to someone. I cannot become a ghost," screams a traumatized Fleming as she increases her hysterical conquest of the home through exorbitant shopping trips and voice lessons for little Sentia (Na'Vaijan Slawter).
The sisters eventually flip lives in this drama that takes cultural appropriation to a very disturbingly incestuous degree. Wood's writing shines through acting that falls a little flat at times, though this might be part of its anticlimactic design towards its comical climax. A definite must-see for these class and racially charged times. –
Rana Encol
The Bus Stop Theatre, 2203 Gottingen St.
70 min.
$14 / $12
Saturday September 2, 7:00pm
Sunday September 3, 12pm
Monday September 4, 2:15pm
Tuesday September 5, 5pm
Wednesday September 6, 5:20pm
Thursday September 7, 5:15pm
Saturday September 9, 8:45pm
Sunday September 10, 1:40pm


The Secret Life of Mother Tamisa
By Tom Niles
Tom Niles opens the workshop performance of his solo comedy show with an admission that he doesn't really know what he's doing, "but that's okay, because this is Fringe." Indeed, one of the joys of the festival is getting to see artists experiment, and Niles is producing some solid results. He's at his best when he's telling personal stories: being an awkward theatre kid in Goose Bay ("did you know that we had plays in Labrador?") his parent's wildly different levels of surprise when he came out to them as gay, running into someone from Grindr. His more general "straight men are like this; gay men are like that" material doesn't pack quite the same punch, but once he works out some of the timing and fine tunes his audience rapport-building, he'll be set for comedy glory. –
Nicole Maunsell
Café Cempoal, 2374 Agricola St.
45 min.
$5
Tuesday September 5, 8:30pm
Thursday September 7, 8:30pm
Saturday September 9, 8:30pm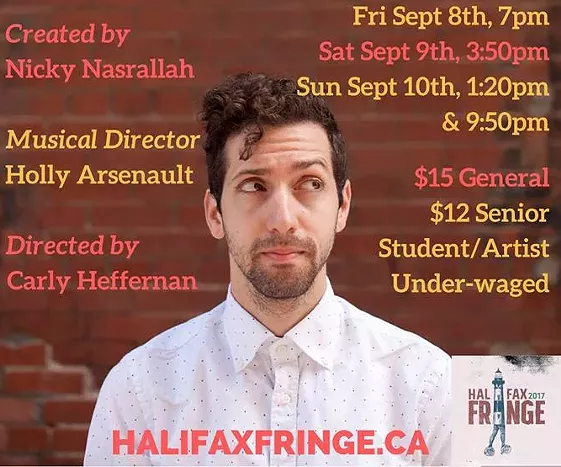 Nicky's Solo Improvised Musical
By Nicky Nasrallah
For each performance, Nicky Nasrallah promises to present a complete, wholly new, musical, based only on the audience's answers to his questions at the start of the show, and, by cracky, he does it!
There's a knife's edge quality to the experience of attending an improv show, particularly when it hits a "How are they gonna get out of this?" moment. With our natural sympathy for the performer, we're hoping for success and terrified of failure—some of our laughter at successes is generated, I suspect, as much by a sense of relief as by the performer's wit. (And there is no longer moment for audience and performer alike than that created by a stall in the performance.)
It's an open secret that many improv performers mitigate this risk by adopting a "mad libs" approach; the show is mostly written already and the audience's answers fitted into predetermined slots. That's sort of what I was expecting here.
But Nashrallah's performance is seamless, his inventiveness truly astonishing. The best moments of the show I attended (called "Motoring to the Bin" after an audience member's suggestion) were so closely related to the audience answers, that there's no possible way that they existed in any form prior to the performance. (A mention of the "scandal" of stealing chocolate chips from the bulk bin leads to a hilarious rendition of a song delivered with a mouth full of chocolate.)
Nasrallah is an endlessly talented performer and this show is very funny and a lot of fun. Go see it.—
Martin Wallace
Old Pool Hall Theatre, 6050-70 Almon Street
50 mins.
$15
Tue Sept 5th, 2017, 9:50PM
Wed Sept 6th, 2017, 8PM
Thu Sept 7th, 2017, 10:50PM
Fri Sept 8th, 2017, 7PM
Sat Sept 9th, 2017, 3:50PM
Sun Sept 10th, 2017, 1:20PM
Sun Sept 10th, 2017, 9:50PM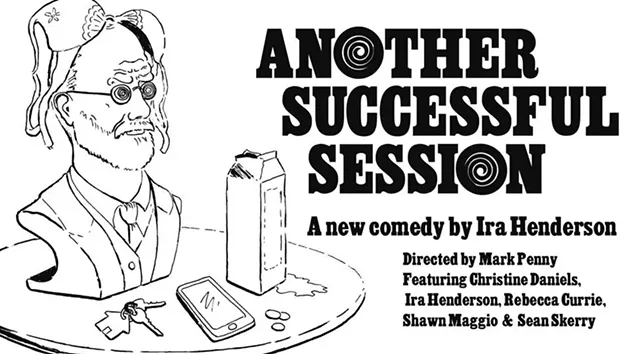 Another Successful Session
By Ira Henderson
This off-the-wall comedy is as absurd as they come. What begins as a seemingly normal therapy session quickly turns into a series of zany misunderstandings when the doctor (Sean Skerry) puts on prosthetic breasts and his hypnotized patient (Rebecca Currie) reverts to some state of infancy and begins breastfeeding. It's a weird first beat and it only gets weirder.
Another Successful Session
is dynamic, short, and funny, with strong performances from all, particularly Shawn Maggio as the rich tech tycoon trying to buy the doctor's home and completely misinterpreting the situation at hand. Gags and yucks abound in this fun Fringe sampling. –
Michael Lake
The Waiting Room, 6040 Almon St.
35 min.
$10/$7
Saturday, Sept 2: 10:15pm
Monday, Sept 4 : 3:30pm & 9:45pm
Thursday, Sept 7: 6pm
Friday, Sept 8 : 9:35pm
Saturday, Sept 9 : 2:45pm
Sunday, Sept 10 : 2:20pm & 5:45pm