An Evening (Give or Take) of Mediuming, with Bud Hunter

By Bud Hunter
Long-term Fringe fixture Bud Hunter (he's had a show in the Festival for most of the last ten years) is a bit of a "controve
rsial" figure. His performances have been mostly poorly attended and he's received bad reviews from some of the most even-handed local reviewers, one of whom referred to his one-man shows as "unpolished."
On the other side, on my way into this performance I met one of his long-term fans who told me that Hunter "has a place in [her] heart," and that I would either "love or hate" the show.
I know that there's an argument that one should review a show without considering what others have said one way or another, but it's hard to avoid the framing here. In all my years of Fringe attendance this is the first Hunter show I've gone to. This is not due to any specific avoidance on my part, but mainly due to the (sigh…) logistics of Fringe reviewing and the sometimes regrettable circularity of Fringe promotion. (Certain types of shows generate buzz, which initiates reviews, which generate buzz, and on and on, ad almost infinitum.) Hunter's shows, whatever their merits, somehow seem to have been lost in the shuffle not only for me, but for Fringe-goers in general.
In this year's show, Hunter provides a comedic examination of phony mediums in recent pop cultural history, all the while asserting that he is a "true" medium, a claim supported by ostensible conversations with three ghosts in the back (and in turn belied by references to his own supposed alcoholism, and on-stage swigs from a vodka bottle).
I can understand why Hunter's shows might not appeal to the average Fringe-goer. His jokes are odd, not "wacky", but rather subtle, intellectual, almost—in the best sense—academic. His pop-cultural analysis, while clearly tongue-in-cheek, is also perceptive and on-point. There are very few laugh-out-loud moments, but there are moments of insight that you will remember long after the show.
In some ways, Hunter doesn't seem quite a fit for the Fringe, in his favouring insight over flash, subtlety over loud statement. In another way he's pure Fringe: his one-man dogged persistence in the face of negativity is admirable. (He continues with the last ten minutes of his show even when he's all but drowned out by the loud bass-inflected music from the bar above.)
At this point, there is only one performance left of Mediuming (although I'm sure there will be a Bud Hunter show next year). See it if you can. I promise you it is unlike any Fringe show you've ever seen. —
Martin Wallace
Plan B Halifax, 2180 Gottingen Street
$6
Saturday September 2, 7pm
Sunday September 3, 12:45pm
Monday September 4, 3:40pm
Friday September 8, 8:40pm
Saturday September 9, 1:15pm
Sunday September 10, 6:30pm

Borghild: The Strongest Person in Denmark
By Dan Bray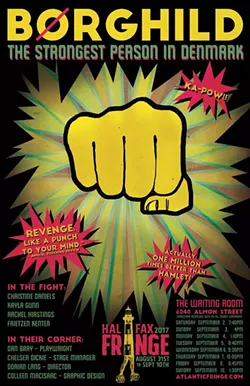 Borghild
is the most delightful kind of Fringe show. Short, sweet, and expertly put together, it's a 20-minute amuse-bouche that is a sure thing to recommend to just about anyone. Rachel Hastings, slight in stature but huge in personality, pays the titular Borghild, the strongest man in Denmark, who embarks on a journey to punch the evil owner of a Copenhagen slaughterhouse. That's about it as far as the story goes, but Dorian Lang's direction combined with Bray's script makes for a stylized comic book romp, where everything from the sound design to the sly jokes fit perfectly together in this weird little world. –
Michael Lake
The Waiting Room, 6040 Almon St.
20 min.
$5
Saturday September 2, 7:40pm
Sunday September 3, 4pm
Monday September 4, 1:10pm
Tuesday September 5, 8:40pm
Wednesday September 6, 9:30pm
Thursday September 7, 10:00pm
Friday September 8, 8:45pm
Sunday September 10, 1:30pm
Uncle Podger's Hat
By Mike Hirschbach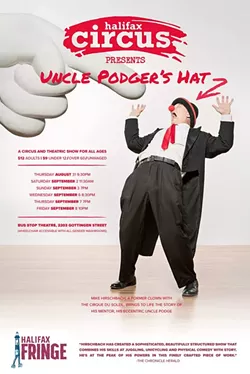 Mike Hirschbach's
Uncle Podger's Hat
is a loveable show and ode to Hirschbach's uncle, who taught him his love for clowning and the circus. Hirschbach himself is a former clown with the Cirque du Soleil, and shows off his many talents from unicycle riding to playing the singing saw. The show is a series of anecdotes about Uncle Podger and his wacky ways, brought to life through gentle storytelling and a charming performance. It's about the ways in which people have great influences on our lives, and not letting go of the wonder that comes from new discoveries.
Uncle Podger's Hat
is a show that will delight all ages that I hope gets shared with more audiences. –
Michael Lake
The Bus Stop Theatre, 2203 Gottingen St.
60 min.
$12/$9
Thursday August 31, 9:30pm
Saturday September 2, 11:30am
Sunday September 3, 7pm
Wednesday September 6, 8:30pm
Thursday September 7, 7pm
Friday September 8, 10pm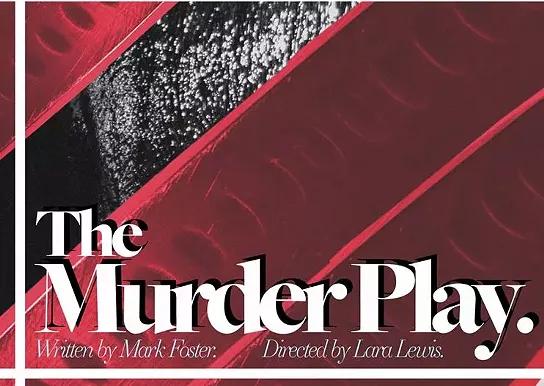 The Murder Play
By Mark Foster
A spectre (Malia Rogers) is haunting four people, and they have nothing to lose but each other.
The Murder Play
is a tightly wound melodrama revolving around Lillian (Alex Cubbon), Corinne (Kya Mosey), Max (Jack Smith) and Herb (Sam Vigneault). They meet in a death cult, fall in love with one another, and fulfill a moving meditation on misanthropy and murder.
Both female actors have enormous talent in the way they move and use their eyes throughout the play. The face is alluded to several times as a counterpart of the soul, like our noses we block from our vision: "In confronting evil you must first recognize that evil within... just a few millimetres before our eyes," says Lillian.
Writer Mark Foster is an expert at combining sex, blood, gore, and the ethical questions that tie it all together, the most notable one being: "What have I done to deserve this?" Director Lara Lewis fills in with periodical PA system reminders of the spectre's ongoing victims.
The Murder Play
is sure to please even the most discerning critic. –
Rana Encol
The Waiting Room, 6040 Almon St.
60 min.
$8 / $5
Thursday August 31, 9pm
Friday September 1, 7:45pm
Sunday September 3, 7pm
Monday September 4, 2pm
Thursday September 7, 7pm
Friday September 8, 5:45pm
Saturday September 9, 10pm
Sunday September 10, Noon