Something Wrong

By Andrew Gaunce
For writer/performer Andrew Gaunce, horror and the supernatural are embedded in his bones. His obsession was born in his youth and fanatically cultivated into the horror-movie fanboy we see today. For fans of any scary movie/novel/podcast, Gaunce has a show for you. Established on an extensive array of personal WTF moments,
Something Wrong
is a solo performance of three distinct chapters: Ghostly Encounters, Nightmares and Really, Really Weird Stories— each of which feature twisted black gems that induce legitimate chills as well as shorter tales that work to greater and lesser degrees.
Gaunce deserves credit as an engaging storyteller— his experience devouring slasher films and killing time on horror websites have enabled him to craft memorably spooky fare. Give him a campfire to recount these stories and he'd be right at home. I am, however, still scratching my head about Gaunce's decision to go mute in the show's final act— a directorial move that ended the show with a thud instead of a bang. Notwithstanding, flop aside,
Something Wrong
may get even the bravest theatre goer double-checking under their bed before going to sleep tonight.
- Carey Bray
The Waiting Room, 6040 Almon Street
$10/$7
Friday August 31st 8:40pm
Saturday September 1st 2:15pm & 8:10pm
Sunday September 2nd 9:30pm
Monday September 3rd 4:10pm
Tuesday September 4th 9:40pm
Wednesday September 5th 8:40pm
Thursday September 6th 5:30pm
Friday September 7th 7:30pm
Saturday September 8th 12:30pm
Sunday September 9th 2pm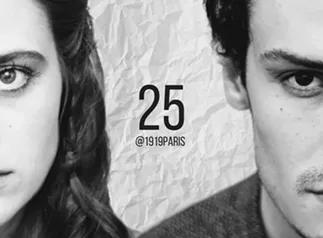 25
by Elliot Delage
25
takes the experimental form of 12 vignettes with two actors who play multiple characters. Transitions are signalled by precisely choreographed wardrobe changes and musical interludes.
The performances are stellar: Anastasia Wells has an enviable stone face that works equally well on a beleaguered pregnant woman listening to her oblivious gossiping boyfriend as on a neurosurgeon tolerating a philosophy bro. And then she cracks open into a dancing party girl who gives us that most elusive of audience interactions—the one that actually lands. Delage delivers moments that other actors would fumble, like a comically uncontrollable sobbing fit at an otherwise tense moment or repetition of a single word in the dark.
The story is compelling, and the tone shifts are seamless, but the ending fell apart for me as the character changes happened more rapidly and it was hard to pinpoint which lines belonged to who. I was waiting for a resolution that never came, but Delage is on record saying that it's purposefully open-ended, so we'll go with that. -
Nicole Maunsell


Bus Stop Theatre, 2203 Gottingen Street
$12/$9
Friday August 31st 6:30pm
Saturday September 1st 8:30pm
Sunday September 2nd 3:30pm & 11:30pm
Monday September 3rd 5:30pm & 9:10pm
Wednesday September 5th 5pm
Le Petit Clown
By Casey Lynne Delaney
Mimes are not for everyone, particularly mimes who haven't quite perfected their timing yet, but this show has some bright spots, including performer Kaylon Fraser, who embodies an excellent horse-cat and can make us believe that there's really a bird flying around The Old Company House Theatre.
Anglophones will be able to follow the French parts with some half-remembered elementary-school vocabulary, helped along by Fraser's evocative body language. The show notes explain that the director is not really sure what Le Petit Clown is about, which is probably why the audience was left bewildered (my house wasn't sure when it was time to clap). Stay away if you can't handle light bawdiness, or if you like your Fringe shows firmly planted on even ground. -
Nicole Maunsell


The Old Company Theatre, 2202 Gottingen Street
$10/$7
Friday August 31st 8:30pm
Sunday September 2nd 8pm
Wednesday September 5th 10pm
Saturday September 8th 12:30pm
Sunday September 9th 4pm & 6pm
Trojan Horseplay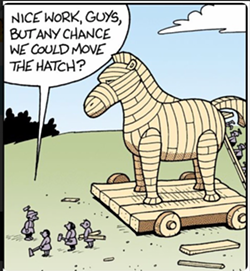 By Zachery Craig, Lewis Coverdale, & Nile Whidden
In
Trojan Horseplay
we're treated to a shortened version of the
Iliad
. It's not simply a matter of a condensed narrative—the main character Odysseus, through divine carelessness, becomes aware of the Trojan War's eventual outcome and decides to bring it to a quicker conclusion. His motive for doing so—to save countless lives—is an example of the serious note in the piece that is mixed with an element of sheer buffoonery.
The dialogue is thus a mixture of stentorian speeches and modern vaudevillian wisecracks—and, well, it works. It's the comedic element that dominates, of course, but I still found myself caught up in the storyline. The play establishes its tone by taking the larger-than-life characters of the
Iliad
and further exaggerating their primary characteristics, so we have a arrogant Agamemnon who is always shouting his own name, a drug addled Priam who is only mildly bummed out by witnessing his son's death, and an Achilles who won't stop complaining about his sore heel.
There were some opening night glitches. The production is prop heavy and has many scene changes and these facts didn't always jibe well with Plan B's small performance space (the entire set came close to falling more than once), but the actors were quick to integrate any problems into the flow of the play and none of these glitches were in any way disruptive. (I didn't find out until the play was over that one actor's "pratfall" was in fact a real fall or that there was an entire soundtrack that was missing due to technical difficulties.)
It's a delightful play with a lot of truly funny moments and some gifted comedic actors. You'll have to let me know if it's even better with the soundtrack. -
Martin Wallace
Plan B Co-op,
6050-6070 Almon Street
$10
Friday August 31st 7pm
Saturday September 1st 2:30pm
Monday September 3rd 2:30pm
Thursday September 6th 8:30pm
Saturday September 8th 4:00pm
Sunday September 9th 3:30pm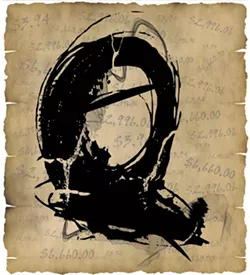 Q: A Psychic Pstory of the Psupernatural
By Stephen Leacock
Though the guide credits this play to Stephen Leacock, it's really a heavily adapted version of his short story of the same name. It's kind of an odd choice for dramatization. Like much of Leacock's work, it's a thin, mildly satiric "sketch" and its effect lies mainly in the irony created by it being told from the point-of-view of a gullible character who, unlike the reader, doesn't realize what a blatant swindle he's fallen victim to. There's no real dramatic tension or substantial plot in the original piece, as we more or less know where we're going to end up from the beginning.
The play takes this material and adds additional dialogue and characters, and most importantly, shifts the point of view from the the swindled to the swindler, putting the audience in the position of not only sardonically witnessing the deception but wishing for its successful completion. Since the person being swindled is still pleasantly gullible, however, there are no real obstacles to drive the plot in a meaningful direction.
The adaptor seems aware of this problem and the additional characters and dialogue seem designed to address it. However, their effect is not substantial enough to solve it. Kept closer to its source material this could have been an effective 10 minute play, or, alternatively, the role of the additional characters could have been expanded and complicated, turning it into a true farce. To my mind, however, in its current form, it just doesn't work. -
Martin Wallace
Plan B Co-op,
6050-6070 Almon Street
PWYC
Friday August 31st 8:30pm
Monday September 3rd 7pm
Sunday September 9th 5pm