The Extinction of Hong Kongers
By Theatre du Poulet
As we reach the end of a remarkable Fringe season, Theatre du Poulet comes at you late in the game with a mega-award contender.
The Extinction of Hong Kongers
is an interactive, historical tour-de-force about a place and people most Westerners don't much about. I, your humble revieser, include myself in this category.
Hong Kong natives, Chun Shing Roland Au and Carmen Lee bring their world to Halifax in the form of used and recycled cardboard city — it's an appropriate and clever medium choice given that it perfectly embodies the plight of a discarded people. Told through three different languages, (English, Cantonese, and Mandarin), Hong Kong's identity crisis which began in 1892 when British colonizers handed the reigns of the territory over to the Chinese government. Dangling the carrot that is the promise of universal suffrage, Hong Kongers have since been striving to make this dream a reality. As protests rage on and demonstrations are effectively quashed, Roland and Carmen paint a stark picture of what life has become in a world facing the erosion of its voice, its culture, and its identity.
Unexpectedly funny, Lee and Au masterfully blend humour into heartbreaking and vivid first-hand accounts. People have gone missing while others remain in fear. The Chinese government paradoxically asserts that they have democratic freedom in the form of an official that they handpicked themselves. It's little wonder why that on July 1st- Hong Kong's day of independence, Roland found himself crying and yearning for an idea that, to this day, still doesn't exist.
The Extinction of Hong Kongers
excels as a performance that seeks to educate, rather than decry ignorance. It seeks to shed a light so that all people can have a life the rest of us unwittingly take for granted. -
Carey Bray
The Old Pool Hall Theatre, 6050-6070 Almon Street
PWYW
Wednesday September 5th 6pm
Thursday September 6th 10pm
Friday September 7th 9:30pm
Sunday September 9th 7:30pm
Agatha Apple

By Grace Booth and Darci Fulcher
In a post-show discussion of
Agatha Apple
, a friend of mine brought up an interesting point about metaphors, a theatrical device this show is built upon. He said that when you rely heavily on metaphors it can lead the audience to start questioning whether every little detail harbours a secret meaning.
Such is the case with performer Gail Booth's ambitious, original theatrical piece.
Agatha Apple
is divided into to halves- the first portion has Apple, a clear representation of Mother Nature, writhing with pain in suspended animation over a garbage-strewn stage. Her eyelids are on fire, her legs are wood, and her hair is snow. Sound clips from a tense operating room play overhead and its obvious given Apple's spastic movements that the doctors are quickly losing their patient.
Whereas the initial act's metaphors are easier to decipher, there's a lot more to unravel in the second half. Apple wails through a confusing phone call with family members separated from her by garbage piles of catastrophic proportion in a not-too-distant future. It's here the aforementioned, abstract metaphor issue gets tricky. Agatha mentions individuals by name, but when your brain's already in decode-mode you find yourself overthinking and looking for hidden meaning where there might actually be none. It can get distracting and confusing pretty quickly. Apple's possibly futile quest to reclaim her family in a manmade trash-apocalypse is compelling and worth further exploration. Grace Booth says that her play is still on the road to becoming a finished product. Fortunately for her, there's glimmers of promise in the world she's grown. -
CB
The Waiting Room, 6040 Almon St
$10
Sunday September 2nd 3:40pm
Monday September 3rd 9:25pm
Thursday September 6th 11pm
Friday September 7th 10:40pm
Sunday September 9th 3:30pm & 7pm
Door Play
By Edie Reaney Chunn, Julia Schultz, Zach Greenham, & Amy Muir
The Pit, located in the deep basement of University of King's College is difficult to find. On the night of this performance, I had to follow small hand-written signs saying "doors," (a reference to the play title) with arrows pointing to various...doors. It was a whimsical start to the evening, and when
Door Play
opened (after a strange, dimly lit preamble) with eerie twins explaining that this house was "full of doors" I expected more whimsy with a spooky overlay. Unfortunately I was disappointed.
Door Play
is a hodgepodge of mismatched styles, with no consistent tone.
There's a plot of sorts—a husband and wife lock their daughter in their house with various suitors overnight in the hopes that she will make a more suitable choice than her current dim-witted beau. He is murdered during the night, and as you might suspect, everyone is a suspect. ("The murderer is in this very room.")
That description, however, makes the plot seem more coherent and straightforward than it turns out to be. There's really no plot at all. It's all just an excuse to throw every metatheatrical (this term is actually referred to in the dialogue for double, err, metatheatricality) bit at the audience that the cast can muster. There's a character named Sherlock, present, I'm convinced, largely so the line "no shit, Sherlock" could be used, an out-of-left-field song-and-dance number, and, most off-putting of all, a talking dog whose most frequent function is to direct nasty obscenity-laden insults to the lighting person, or (correctly) point out obvious flaws in the play. (This last bit is something I'd like to see retired in general. It's intended as a wink to the audience, but it always reads to me as a desperate attempt to forestall criticism.)
All of the people involved in this play are very young, so I shouldn't be too harsh in my criticism, but I wanted to tell them that they didn't have to use everything they've learned in one single production. I hope that in the future they'll be able to put their skills to better, more subtle use. -
Martin Wallace
The Pit (University of King's College, 6350 Coburg Road)
PWYW
Wednesday September 5th 8pm
Thursday September 6th 8pm
Friday September 7th 8pm

The Ghost Project

By Karie Richards
Most people have a story of seeing a ghost or at least know someone who does. For
The Ghost Project,
writer and performer Karie Richards conducted interviews with people about their experience with spirits and other mysterious presences. The result is an engaging piece of solo verbatim theatre that is deeply moving at times, very funny at others, and always expertly performed by Richards.
Seeing and believing in ghosts is neither a scary thing nor something to be made fun of in
The Ghost Project
; instead, it is an honest and vulnerable experience to be engaged with seriously and rationally. The cumulative feeling after hearing Richards' selection of ghostly encounters is of a human desire to feel connected to something larger than ourselves. The stories are not about suspense or scares, but rather explore the questions that get answered when someone sees a ghost, and also the many more questions that get asked. This show is touching and tender, and may make you feel a little less alone. -
Michael Lake
The Old Company Theatre, 2202 Gottingen Street
$12/$9
Thursday August 30th 7pm
Friday August 31st 5:30pm
Saturday September 1st 11am
Sunday September 2nd 4pm
Monday September 3rd 10:30pm
Tuesday September 4th 6pm
Wednesday September 5th 8:30pm
Thursday September 6th 7:30pm
Friday September 7th 5:30pm
Sunday September 9th 1pm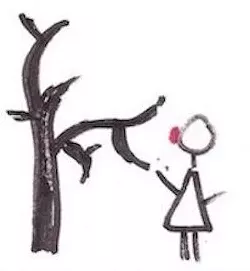 Hi. (Entering Burned Area)
By Áine Donnelly
Áine Donnelly is Rodeo Debbie, a gentle, shy, red-nosed clown and our tour guide of the burned area of forest near where she lives. On a bare stage with no props, our host invites us into their strange world where anything from a kitchen cupboard to a burned tree is cause for deep introspection.
Donnelly's writing and performance of the naivety and curiosity of Rodeo Debbie elevate a simple story to a profound exploration of the meaning of destruction and rebirth. From the show's first moment where Donnelly enters the stage and squeaks a meek "Hi", we are being being prepared for the play's quiet message - that mourning destruction is not an endeavour without hope, but rather a reminder of interconnectedness.
Hi. (Entering Burned Area)
may not be a flashy fringe hit, but it is well worth checking out for a more contemplative experience. -
ML


The Old Pool Hall Theatre, 6050-6070 Almon Street
$8/$5
Thursday August 30th 7:30pm
Friday August 31st 6pm
Saturday September 1st 2pm
Sunday September 2nd 6:30pm
Tuesday September 4th 6pm
Thursday September 6th 7pm
Saturday September 8th 12pm
Sunday September 9th 2pm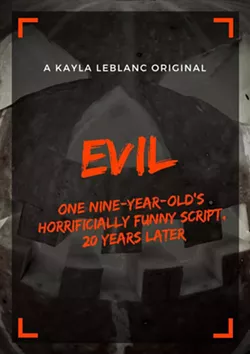 Evil

By Kayla Leblanc
The earliest draft of
Evil
was written by Kayla Leblanc when she was nine years old. Twenty years later, she gathered some friends to stage the story as a horror spoof, and crowds are lining up to see it.
The cast has a lot of fun and there is a lot of self-aware winking at the audience. The whole thing is absurd and it's easy to laugh at the silliness of it all.
Evil
is a single extended joke that maybe lasts a little bit too long, but is otherwise a fun way to spend an evening and have a few yucks. -
ML
Plan B Co-op, 2180 Gottingen Street
$5
Sunday September 2nd 4pm
Monday September 3rd 8pm
Wednesday September 5th 8pm