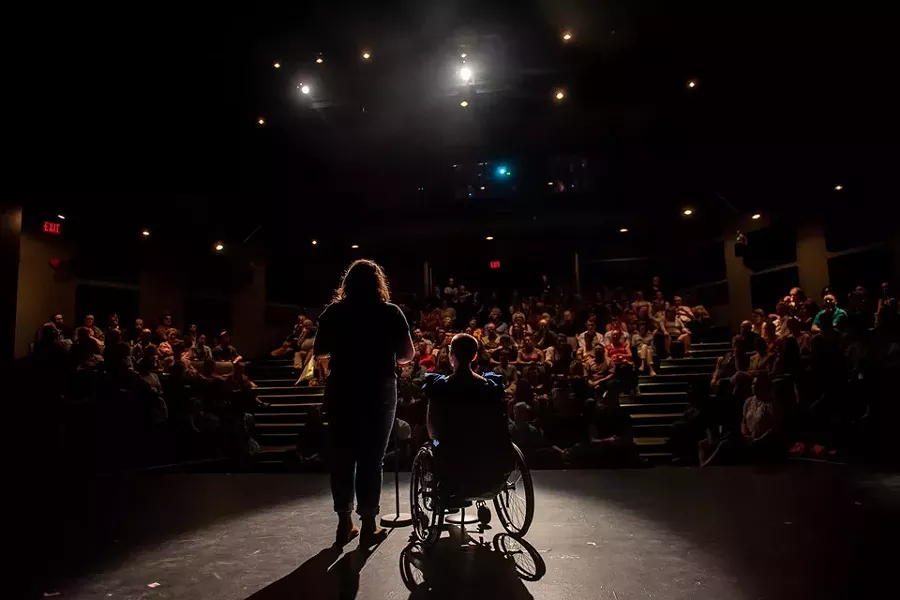 Stoo Metz
Lee-Anne Poole and April Hubbard kick off the Fringe Opening Night Sampler.
Halifax Fringe 2019 is here. That means over 350 performances, over 55 shows, over 11 days, in 10 venues across the city. The 29th annual festival kicked off last night with the always popular Opening Night Sampler, held at the Neptune Scotiabank Stage and hosted by Cathy Jones and Bill Wood. Over the coming days, our intrepid reviewers will be taking in as any shows as possible, and will report back to you daily. Stay tuned, and happy Fringe!

Late Company
By Jordan Tannahill
A play about the versions of people we create to protect ourselves, and what happens when we confront the humans they are instead.
A couple in the midst of grieving their son's death by suicide invite the parents of his bully to dinner so they can "lay it all out on the table" in hopes of reparation. Neither side is confident it will work, and the night quickly unravels: secrets are revealed, tenuous alliances form and crack, and closure eludes them all.
The actors got off to a shaky start with more than the usual opening night slips, but you can hear how well the dialogue works under the sometimes stiff delivery—the pointed remarks left hanging in the air, the spouses rushing to defend and then undercut each other. Beth Lachance as the righteous Debora and Andrew Chen as a reticent teen with hidden depths ended up carrying the play to an emotional conclusion, and there was more than one person in the audience wiping tears away when the house lights went up. - Nicole Maunsell
2202 Gottingen Street
$15/$12
Thursday, August 29th at 9:30 PM
Friday, August 30th at 4:20 PM
Saturday, August 31st at 10:55 PM
Sunday, September 1st at 12:50 PM
Monday, September 2nd at 6:20 PM
Friday, September 6th at 5:20 PM
Saturday, September 7th at 1:00 PM
Sunday, September 8th at 6:45 PM
King of the Goats
By Henricus Giellis
In King of the Goats, solo performer Henricus Gielis provides a live mimicry of a video played on a large screen at the back of the stage. While the video starts with some classic FBI warnings, suggesting a VHS tape, the content and style are really more youtube, with classic monologues punctuated by shots of loudly bleating goats.
The monologues provided should be well-known to most actors—some are justly celebrated examples of great acting, while others are speeches about acting. (At least one, Ian Mckellen's very funny "You are aware that I am not really a wizard" speech from Extras, is both.) Promotional materials for the play pose the question " If Gielis can perfectly impersonate Laurence Olivier's Hamlet or Cole Sprouse's Jughead, is he not just as great?" Well...no.
There's a point at the heart of the play about self-doubt and the anxiety of acting, and about what really makes a good performance, but the format of the play undercuts its own message. I was more drawn to what was taking place on the screen than what Gielis was doing. This is no slight on his acting ability (though I'm not sure he really "perfectly impersonated" any of these performances), but more a testament to the power of great actors like Olivier and McKellan to command attention.
At the end of the play Gielis destroys a VHS tape (ouch!) while making a goats-themed speech about self-realization. The point, it seems, is that he is freeing himself from the "anxiety of influence," but in this case the power of the influence wins out—there's a reason that the reputation of some of the performances he's chosen outshine even their original contexts. The play's overall effect, for me at least, is a renewed appreciation for these performances, but I'm not sure that that's much more than I would have gotten from, well, watching them again on youtube. - Martin Wallace
The Bus Stop Theatre Co-op
2203 Gottingen Street
$10/$7
Sunday, September 1st at 11:00 AM
Monday, September 2nd at 1:00 PM
Tuesday, September 3rd at 9:45 PM
Thursday, September 5th at 9:50 PM
Friday, September 6th at 5:35 PM, 11:59 PM
Saturday, September 7th at 10:25 PM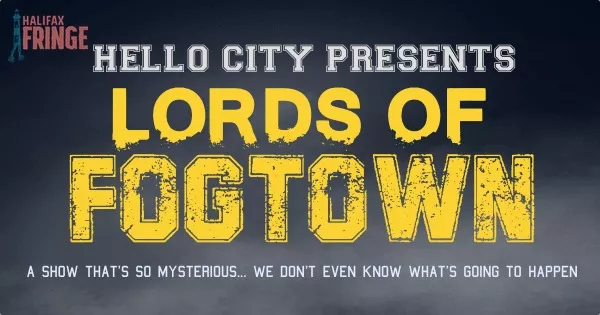 Lords of Fogtown

By Hello City
This improv troupe of seven comedians brings the energy to the Bus Stop Theatre on opening night of the Halifax Fringe Festival. The crowd was cheering before the show even began, and the energy did not subside.
Lords of Fogtown
is a long-form improv show about the quirky residents of Fogtown, with each evening following a different story based on an audience suggestion (but you know how improv works). Opening night's event suggestion was a funeral, and what ensued was a bizzaro murder mystery involving the local fish 'n chips guy, a missing rat, and even a couple of songs. It is a delight to watch the performers bounce around, leading and following in turn, chasing not just the one-liner but the silly logic of this place and these people, over the course of an hour. Gil Anderson is particularly good as the wide-eyed 12-year old Billi, as is Liam Fair as the bumbling, mostly off-duty, cop.
If watching improv makes you nervous because you don't want to be feel embarrassed for the poor performers trying to keep a joke alive forever (Yes, and...), do not fret. The folks of Hello City are pros, and they know exactly what they are doing, and how to keep an audience in stitches. - Michael Lake
The Bus Stop Theatre Co-op
2203 Gottingen Street
Pay-a-bill
Thursday, August 29th at 10:00 PM
Saturday, August 31st at 10:00 PM
Monday, September 2nd at 6:30 PM
Thursday, September 5th at 7:00 PM
Sunday, September 8th at 8:30 PM