Charlie Caper – Robotricks
By Charlie Caper
There have been an increasing number of magic acts at the Fringe (this year there are 3 or 5, depending on what you consider part of that category). Most magic acts follow much the same pattern—there are a few core tricks that may differ in minor details from practitioner to practitioner but are all essentially variations on an object "disappearing" from one spot, only to unexpectedly reappear in another. The way that performers differentiate themselves, therefore, depends on the overall framing and narrative surrounding these tricks.
Charlie Caper's Robotricks
, presented on the large stage of the Neptune Scotiabank Studio, has the magician as an inventor surrounded by various gadgets and "robots," some of which have their own voices and personalities, who assist in the various tricks. There's also a dark narrative in which someone or something consistently tries to "hack" Caper's laptop and uses his sound system to make vague and ominous threats.
The stage layout is visually arresting. Since any of the "robots" may be involved in a trick at any time, even if Caper is nowhere near them, your eye is constantly scanning the stage in delighted anticipation.
Given its gee-whiz-bang appeal and its inclusion of a very cute robot whose sole purpose is getting butter, I would normally recommend this as a child-friendly show, but its dark narrative ends even more darkly, and Caper's postscript, in which he warns of the dangers of unbridled technology, may be a bit too serious for younger audiences.
For other audiences this is a great show to see. The usual tricks are presented in a unique manner and Caper—with his Swedish accent and cheerfully innocuous tone—is a charming performer. Try to catch one of the remaining performances. - Martin Wallace
Neptune Scotiabank Studio Stage
1589 Argyle Street
$14/$11
Thursday, August 29th at 9:30 PM
Friday, August 30th at 10:45 PM
Saturday, August 31st at 2:00 PM
Sunday, September 1st at 3:30 PM
Monday, September 2nd at 6:30 PM
Wednesday, September 4th at 7:30 PM
Thursday, September 5th at 3:00 PM, 10:00 PM
Friday, September 6th at 3:00 PM
Saturday, September 7th at 1:10 PM, 10:30 PM
Sunday, September 8th at 11:30 AM, 4:00 PM
El Diablo of the Cards
By Ewerton Andrade Martins
Whereas the magic show I saw earlier today (
Charlie Caper's Robotricks
) might be called "distant" magic,
El Diablo of the Cards
is very much what is called "close-up magic." Eight to ten audience members will sit with Martins at an oval table, so choose your seat carefully—if you are seated at the table, you *will* be participating. (Sitting in the other seats is not in itself a guarantee that you won't, however.)
Close-up magic is a real test of the performer's skill and the adage "the hand is quicker than the eye," as the magician must do his tricks while being closely observed. While I mentally "know" how Martins did many of his card tricks, I certainly couldn't catch him at it He's a larger-than-life performer who punctuates his act with boisterous cries ("rrrrrrrr!) and eruptions of cards from his mouth.
He's also a very intimate performer, addressing individual audience members directly and speaking warmly of how we all should learn to see with the "eyes of the heart" or the "eyes of the child," which is to say, to view life with wonder and amazement.
Go see
El Diablo
, but be aware of what you're getting yourself into. Even if you can manage to sit idly without being called upon, you will likely be paying close attention to Martins' (El Diablo's) movements, trying (and likely failing) to see how he does it. - MW
2202 Gottingen Street
$12/$9
Friday, August 30th at 2:50 PM
Saturday, August 31st at 6:35 PM
Sunday, September 1st at 9:45 PM
Monday, September 2nd at 4:00 PM
Wednesday, September 4th at 10:30 PM
Thursday, September 5th at 8:10 PM
Friday, September 6th at 10:45 PM
Saturday, September 7th at 11:30 AM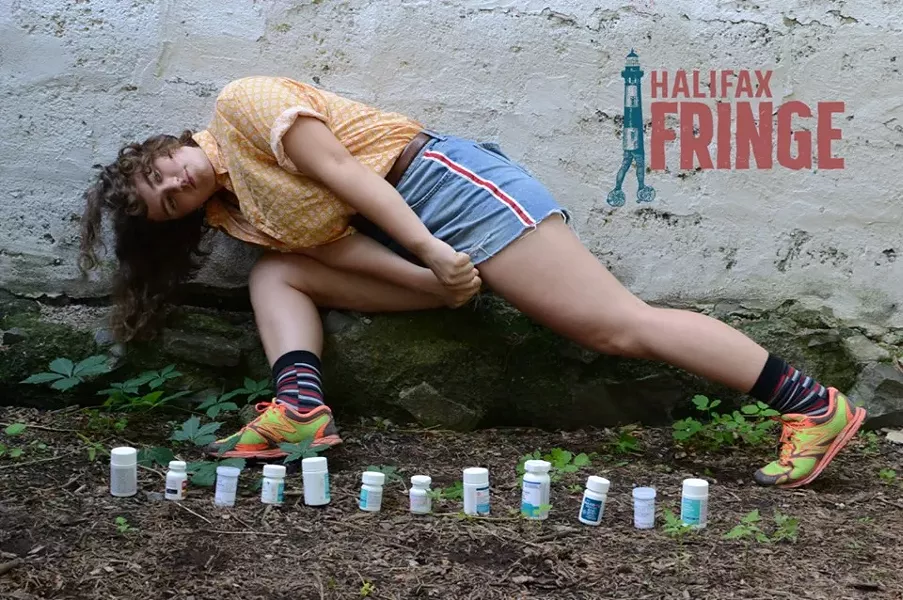 FLOURISH: Seeds & Needs
By Nickle Peace-Williams
Nickle Peace-Williams is a joy to watch. From the first moments of
FLOURISH
, where they sit naked on the floor making shapes with clay, we are all there with them, curious and attentive. The solo dance performance that follows is strange and enigmatic, but the tone throughout is delightfully self-aware. We laugh at a gesture, lean forward to see better, we feel connected to the vulnerability and accessibility of the performer. Set to a soundtrack of pop anthems designed to access big emotions, Peace-Williams' performance adds a layer of specificity and personality that could not have come from anyone else.
The end of the piece is a touching gesture, with a gift and a note imparted to each member of the audience. I read mine hours later, and it brought me back to the feeling in the room, of witnessing a gentle and generous expression of what it is to be alive, to feel pain, and to share it. - Michael Lake
Neptune Windsor Studio, 1589 Argyle Street
$10/$7
Friday, August 30th at 11:15 PM
Monday, September 2nd at 2:00 PM
Tuesday, September 3rd at 7:30 PM
Penny

By Rebecca Wolfe
Penny
is a play set up as a live taping of a cooking show. As the audience, we laugh, cheer, and awwww when prompted by signs held up by production assistant (the charmingly awkward Ethan Palliser-Nicholas). It all proceeds normally enough, with Penny (Rebecca Wolfe) as our perfect host, who has all of the answers to your domestic queries, and is herself the epitome of a perfect wife and homemaker, and thus a perfect woman. Wolfe plays Penny with pizzaz and sparkle, but we can also detect an undercurrent of something else, something slightly darker, lying in wait.
Penny
is set in the 1950s, and the gender dynamics of the day are on full display. This choice of time period may allow some viewers the comfortable distance to relax into the notion of how much has changed for women, and thus the play's reveal may have a lesser impact. Even so, Wolfe's writing and performance give us a glimpse into the life of a person performing one version of themselves on the surface, while living an altogether different one behind the curtain. - ML
Neptune Imperial Studio
1589 Argyle Street
$10/$7
Friday, August 30th at 3:30 PM
Saturday, August 31st at 8:25 PM
Monday, September 2nd at 7:30 PM
Saturday, September 7th at 4:00 PM, 10:05 PM