Touched by Too Many Angels
By Adam Myatt

Adam Myatt's angel, dressed all in white with four-foot wings, is back on earth to give us guidance—although the less-than-devout catholic who's only been to confession once isn't quite clear on exactly where we should be going. Myatt, fresh from his stint as a Queer Acts Theatre Festival Comedian in Residence where he co-wrote and co-starred in the dark comedy Breakfast, was a hit with his 2016 Fringe show Stood Up. His stand-up style monologues in Angels explore the role religion has (and mostly hasn't) played in his life so far. Will he find the meaning of life in Sarah McLachlan's music or his nostalgia for awkward school dance encounters? In the end, Myatt demonstrates that the absurd comedy of everyday life could be proof that God exists.

The late-night timeslot away from the central hub of Gottingen Street is a rough one to open with: Myatt had a sparse crowd but took it in stride. I've seen him when he's feeding off the energy of a receptive crowd, so I know that atmosphere would heighten his show from good to great. Take a chance on this one and bring your friends: comedians work best when they have a willing audience to play off of. - Nicole Maunsell

The Waiting Room, 6040 Almon Street
35 min
$8/$5



Thursday, August 31: 10:30pm
Friday, September 1: 10:45pm
Sunday, September 3: 8:30pm
Friday, September 8: 10:35pm
Saturday, September 9: 8:55pm
Sunday, September 10: 3:20pm





Cartography
By Colleen MacIsaac

Is it possible to lose a place? Colleen MacIsaac invites us to a "collective wayfaring" experiment to help her chart a course for a location she's desperate to get back to. It's an exercise in map-making led by a very patient facilitator, featuring live-painting by MacIsaac and some questionable scientific methods. She has a knack for creating short and charming Fringe shows, as evidenced by 2016's darkmatter, and this one is no different. Don't let the short runtime deter you: you'll be thinking about it long after it's over. MacIsaac's wide-eyed wonder and talent for finding adventure in the everyday is infectious: you'll probably never want to let an ordinary street on an ordinary day pass you by unnoticed again.

I recommend sitting in a spot where you'll be able to watch the audience thinking as you're asked to visualize a specific place: our house was into it and it was delightful. - Nicole Maunsell

TheLiving Room, 2353 Agricola Street
20 min.
$8/$5

Friday September 1, 8:25pm
Saturday September 2, 12:55pm & 10:15pm
Sunday September 3, 7pm
Monday September 4, 1:40pm
Thursday September 7, 10pm
Friday September 8, 7:10pm
Saturday September 9, 3:50pm
Sunday September 10, 9:30pm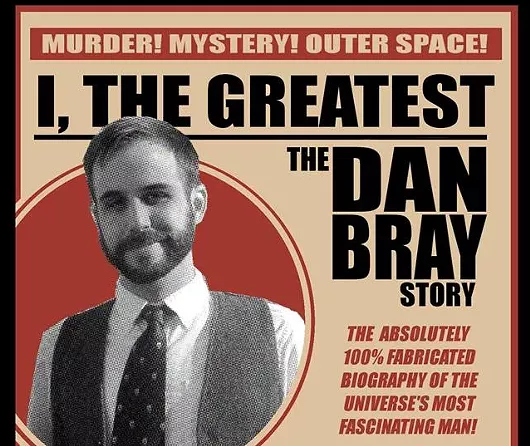 I, The Greatest: The Dan Bray Story
written by Kevin Hartford
To be honest I was a little trepidatious about seeing this play, as it's an example of one of my least favourite fringe genres—the in-group comedy. Here we have a play facetiously purporting to be the life story of one of the most prominent figures in the local theatre community in which the main role is played by that figure himself. Sure, the title,
I, The Greatest: The Dan Bray Story
, itself pokes fun at this idea, but, for me, it's the kind of playful self-depreciation that only underscores the insularity of what's going on here.
And the play did indeed contain the flaws of its genre. The opening night audience was certainly appreciative, however, whether guffawing at the weakest lines or chuckling knowingly at the copious in-jokes. (There is, after all, no such thing as a bad in-joke.)
Still, there were elements that could appeal to audiences outside the narrow group to which the play is primarily pitched. Bray is above all a very polished actor and it's always a joy to watch him perform. Some of the funniest moments are created by Bray's arch and articulate delivery of otherwise innocuous lines.
Kevin Hartford's script, an absurdist mish-mash of genres from murder mystery to dance movie to space adventure, puts Bray and fellow performers Lesley Smith and Garrett Barker through their paces (there's easily over a dozen scenes in this 45 minute play). While the script is sometimes a little too aware of its own cleverness, its funniest moments are when it pauses the action to examine and revel in its own absurdity, as when a character describes his "hot-dog tie" wearing ritual.
Whether or not these strengths override the flaws depends, I think, on your own tolerance for in-jokes (and I suppose, whether or not you're in a position to "get" them.) For me it was a pleasant enough diversion, but I'm looking forward to more expansive projects from everyone involved. -
Martin Wallace
Bus Stop Theatre, 2203 Gottingen Street
45 mins.
$10
Sunday Sept 3, 3:25pm
Tuesday Sept 5, 6:35pm
Saturday Sept 9, 7:30pm
Sunday Sept 10, 3:25pm & 8:30pm
Paddy N' Rob
By Paddy MacDonald and Robert Murphy
Rejoice all ye faithful Paddy and Rob fans, the self-proclaimed prodigal sons of Nova Scotia (Robert Murphy and Paddy MacDonald) have returned to their Eastern home- and they're ready to rock you into the stratosphere.
Fresh off their win for Best Ensemble Cast in last year's Atlantic Fringe Festival, Paddy N' Rob are back in nearly socially-acceptable form and they still proudly present themselves as a Fringe anomaly. Matching edgy humour that's unafraid to overstep a few lines with its signature sketch comedy format, fans of last year's performance will be pleased to hear this instalment successfully builds upon its predecessor.
With shorter skits that pack in more humour and musical numbers, Paddy N' Rob is a tighter and consistently funnier comedic outing than before. With a barrage of memorable skits ranging from The Incredible Hulk, an agent from Hell, public bathrooms, improv jazz, and sketchy song lyrics, Paddy N' Rob's confident second chapter boasts one of the funnest onstage chemistry, that for a mere five dollars, is unlike anything else you'll see at Fringe this season. -
Carey Bray
Old Pool Hall Theatre, 6050-6070 Almon Street
55 min.
$5/$2
Friday September 1, 7pm
Saturday September 2, 1pm
Sunday September 3, 2pm
Monday September 4, 7pm
Tuesday September 5, 8:30pm
Thursday September 7, 6:40pm
Saturday September 9, 10pm
Sunday September 10, 8:30pm