IN SPAAAAAACE
By Nick Cox & Steve Heisler
In case the name didn't tip you off already, Terra Novella takes to the final frontier aboard its finest starcraft— the U.S.S. Budget. A parody (duh) of the Star Trek franchise, The Budget cruises through the galaxy's peaceful sector under the steady leadership of its confident Captain Victoria Slycler (Colleen MacIsaac). Filling out the ranks of Slycler's crew on the bridge are the super sarcastic, drunk android Alexa (Jessica Oliver), Lead Counsellor Luvintrest (Audrey Eastwood), and Security Officer GRAAAH! (Steven Heisler). While it seems like a usual day on the job, thinks are shaken up when a former Starfleet Captain named Dean Rockman (Nick Cox) mysteriously winds up on board. Throw in a semi-villainous appearance by Rubixicon Destroyer of Worlds (Shawn Maggio) and you got yourself a pretty play there, fella.
Thanks to the direction of Jesse Harley,
In SpAAAAAce
keeps its plot hurtling through hyperspace. Actors Heisler and Cox, (who also wrote the play), are scene-stealers. Heisler playing GRAAAH! as a hulking, green Adorable Hulk is a delight— his struggle to contain his inner monster was my favourite part of the show. Likewise, Cox oozes slime as the greaseball Dean Rockman— he thinks he's got the mojo of Shatner's Kirk, when really it's all the subtlety of Futurama's Zapp Brannigan. Watching Eastwood's Luvintrest knock him on his ass was a great way to poke holes in the show's Star Trek inspiration and defy the clichés expected of her character. Additionally, the combination of Rockman's reckless need to karate chop everything paired well with Slycler's Spock-esque rationality. Maggio is endearing as Rubixicon who no one takes seriously— I wanted him to have more of a presence befitting a classic sci-fi villain. If you're not familiar with Terra Novella, you need to get wise. This Haligonian theatre company has been gathering a lot of momentum in the last couple of years. If this play is an indication of where they're heading in the future, they'll continue to have quality entertainment in spAAAAAdes! -
Carey Bray
Bus Stop Theatre, 2203 Gottingen Street
$10/$7
Thursday August 30th 11pm
Saturday September 1st 3:30pm & 10pm
Sunday September 2nd 2pm
Monday September 3rd 2:30pm & 10:40pm
Thursday September 6th 11pm
Sunday September 9th 7pm
The Easy Lovin' Blues
By Evan Guilford-Blake
I'm not quite sure what city or time period
The Easy Lovin' Blues
exists in, but Montreal House XII Theatre Co somehow manages to mostly pull this show off. I mean, this show really knows how to set a scene — red lights set a seedy, urban street while the sound of a trumpet fills the air. Likewise, playwright Evan Guilford-Blake's work is a hefty script and this theatre company does deserve an element of praise in attempting to unpack it. The story is riddled with overarching, inescapable portrayals of addiction, violence, and the price that comes from repeating the same mistakes over and over again. It's a tall order for the most seasoned actors and I suspect House XII's reach may have exceeded its grasps.
Every cast member give their roles their all, offering brief, shining moments onstage, leaving some resonance behind. Scenes between the heroin riddled Trumpy (Harry Skinner) and his abusive partner LadyBlue (Nicole Arrage) are the best offerings. Yet, I couldn't shake the pervasive feeling of the company's inexperience. Interactions between the protagonist Amanda (Lisa Saban) and her mother (Morgan Mitter) are awkward as no attempt is made to make Mitter look 20 years older than her onstage daughter. In some parts, the show's music played so loud it had the actors talking unnaturally loud. (I'm hoping these are just tech issues not yet ironed out). Likewise, I sometimes found the stage direction a little clunky and claustrophobic; scenes requiring a lot of the cast looked a little bit squished. There is a compelling story at the heart of
The Easy Lovin' Blues
and it is one made possible by the passion of the cast and crew of this show—and over the past four years of Fringe I've noticed passion goes a long way. -
CB


The Old Company Theatre, 2202 Gottingen St
$10
Saturday September 1st 3:30pm
Sunday September 2nd 9:30pm
Wednesday September 5th 5:30pm
Friday September 7th 7:10pm
Saturday September 8th 6:30pm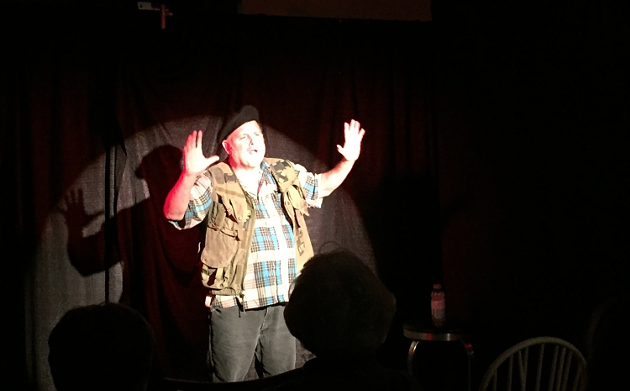 A Public Reading of the Classic Children's Book, Milbank's Mission
By Bud Hunter
Another Fringe Festival, another Bud Hunter performance. Hunter's performances have been a mainstay of the festival for at least a decade, only missing a year here or there due to personal circumstances. Despite this commitment, and some prominent fans (admittedly as well as some prominent detractors), however, he's struggled to find an audience.
Part of the reason for this may be the difficulty of categorizing a Hunter piece. Not only is each piece subtly unlike anything else at the Fringe, they're also, except for a certain characteristic Hunter touch, unlike each other. They're usually some form of monologue, but unlike the stand-up comedy/personal revelation hybrid that has made up a substantial portion of the festival in the last few years, Hunter's pieces take us in odd intellectual and fanciful directions. (One year he spoke as if he were Che Guevara.)
This year, Hunter reads one of his short stories. (The piece is coyly referred to as "a reading" of a "classic" work, as if Hunter himself were not the author.) It's the story of Milbank the spider, a literary cousin to Charlotte, and his attempts to bring a peaceful dynamic to a kitten and a puppy who live in the same household.
It's not quite a kids' story (the performance is, oddly, tagged as "Mature Audience") but it's not quite an adult story. It's full of the usual Hunteresque touches—a subtle humour and odd pop cultural references. (They're not "obscure" or "niche," simply unexpected, though they also seem unforced, arising naturally from the narrative rather than being shoehorned in, as is often the case with most other authors.)
I'd recommend seeing
A Public Reading
. I, for one, enjoyed it more than some other more conventional Fringe shows. Maybe Hunter's performances are an acquired taste, but they work for me, and maybe they'll work for you too. -
Martin Wallace
The Old Company Theatre, 2202 Gottingen Street
$5
Saturday September 1st 10:15pm
Monday September 3rd 3:30pm & 6:30pm
Tuesday September 4th 11:15pm
Saturday September 8th 4:45pm
Sunday September 9th 11:30am

Before Midnight
By Collaboration Comedy
Little Bird Theatre brings us fairy tales adapted from the traditional source material, in which no one lives happily ever after. Depending on the day, you'll see
The Little Mermaid
,
Cinderella
, or
Rumpelstiltskin
.
I saw
The Little Mermaid
, which was, as promised, darker than the Disney version, and a great deal more sardonic than Hans Christian Andersen's original. It's like storytime with your cooler older cousins, who interrupt themselves to bicker every once in awhile. Dana Rhyno, Sophie Trinacty, and Marin Carey energetically narrate the story, taking turns playing the characters and setting the scene with pop-up books (an inventive touch). The props (like a little paper boat that gets tossed between performers to evoke a storm) make it feel like the story before us tumbled straight out of the pages of a book. Worth seeing even if you think you know the stories. -
Nicole Maunsell
A Man Walks Into a Bar

By Rachel Blair
A Man Walks Into a Bar
begins innocuously enough with a woman (Michelle Langille) attempting to tell a joke and a man (Jake Willett) attempting to help her. At first the helping hand is gentle, encouraging, even sometimes useful. That is until, almost imperceptibly, the tone shifts. The man's guidance and prodding questions slowly uncover vulnerabilities and microaggressions, and we begin to see the man differently. Is he a good guy? Is he threatening? What makes us ask these questions?
A complex script by Rachel Blair, expert performances from Langille and Willett, along with nuanced direction from Ryanne Chisholm make
A Man Walks Into a Bar
a thoroughly surprising short play. By the final moments, when the punchline of the joke is delivered, it is no longer a laughing matter. -
Michael Lake


The Old Company Theatre, 2202 Gottingen Street
$15
Thursday August 30th 9:30pm
Saturday September 1st 7:30pm
Sunday September 2nd 2pm & 11pm
Monday September 3rd 9pm
Friday September 7th 10:10pm
Saturday September 8th 11am & 2pm
What Remains
By Tina Fushell, Molly Johnson, & Meredith Thompson
What Remains
asks the questions: Who is here? What are we together? How can we show this? To answer and embody these questions, the Toronto-based artists and dancers Tina Fushell, Molly Johnson, and Meredith Thompson have created a gentle, communal performance where the audience is directly involved in the show and its outcome.
What Remains
is about experiencing the people in the room, guided by the warm presence of the three artists.
To begin, the audience enters the space and records their name, has their imprint traced in chalk on the wall, and a circle is drawn around their feet where they've chosen to sit. And so, as you arrive, it's made clear you'll leave a trace behind after you've left. What follows is an experience that reflects on the past, present and future of the people in the room; questions are asked and then answered by the audience through gesture and movement. It feels like a ritual performed together—an experience that could be revisited and hold a different meaning each time.
Fushell, Johnson, and Thompson have created a beautiful thing with
What Remains
. Bring a friend, bring your mom, bring a stranger. There is something here for everyone. -
ML
The Waiting Room, 6040 Almon Street
$15/$12
Thursday August 30th 8pm
Friday August 31st 5:30pm
Saturday September 1st 6:30pm
Sunday September 2nd 11:30am & 6:30pm
Monday September 3rd 1pm & 10:30pm
Tuesday September 4th 6:30pm
Wednesday September 5th 10pm
Thursday September 6th 9:15pm