Heritage Minutes Live
By Conor Purdy
You don't need me to tell you to go see this show (and anyway, you probably can't unless you already have your ticket—it's selling out fast). It's exactly what it says on the tin. Yes, you get to yell "Dr. Penfield, I smell burnt toast!" in unison with a room full of people. Yes, peach baskets are sacrificed and orphans get to keep their Irish names. Yes, that foreign feeling that Canadians are so suspicious of called "patriotism" will well up in your chest a few times (don't worry, it'll pass).
The ensemble packs 39 Minutes (plus a bonus montage of 10 crammed into one) into the hour, so there's a good chance you'll see some of your favorites. The chemistry between the performers is great, and they're clearly having fun with the sometimes over-dramatic, sometimes contrived, sometimes touching subject matter.
Humble request to Purdy and his crew for next year: NFB Animated Classics Live! The Big Snit? The Cat Came Back? Log Driver's Waltz? I'll look forward to it.
- Nicole Maunsell


The Bus Stop Theatre, 2203 Gottingen St.
60 min.
$10
Friday September 1, 11:25pm SOLD OUT
Saturday Sept 2, 4:05pm SOLD OUT
Sunday September 3, 4:40pm (All-Ages) SOLD OUT
Monday September 4, 12:45pm (All-Ages) SOLD OUT
Thursday September 7, 10:15pm / 11:45 pm
Friday September 8, 7:10pm SOLD OUT
Saturday September 9, 6pm SOLD OUT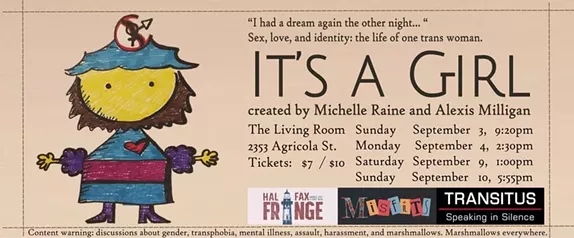 It's A Girl
By Michelle Raine and Alexis Milligan
The Living Room is a fitting venue for this play: Michelle Raine invites you in and makes you feel immediately at home. She tells you the story of who she is and how she figured out she was trans over a cup of hot chocolate, with some Gender 101 education thrown in.
The show is going to be a little different every night: there's a lot of back and forth with the audience that shapes the conversation. The downside of the improvisational structure is that the Fringe runs on a rigid timeline and the end was rushed. It also meant she lost her train of thought a few times, but it only added to the authentic feel. When she's in her element, she's vibrant and relaxed: skipping around the stage, jumping for joy when she finds common ground with an audience member, showing us her pink power ranger impression.
Raine has that uncanny ability of taking audience members from laughing uproariously to holding their breaths as she moves from amusing anecdote to heavy shit (see the program for her content warnings) and back again. But she'll happily offer you a marshmallow to break the tension. (For real, there are literal marshmallows that you get to eat, not that this swayed my review in any way. Unrelatedly I give this show 12/10.) -
Nicole Maunsell


The Living Room, 2353 Agricola St.
50 min.
$10/$7
Sunday September 3, 9:20pm
Monday September 4, 2:30pm
Saturday September 9, 1:00pm
Sunday September 10, 5:55pm
Guy & Doll's Utterly Awkward World Tour
By Nick Cox and Audrey Eastwood
Is awkward code for delightful? If so,
Guy and Doll's Utterly Awkward World Tour
has delivered awkwardness in spades. Musical duo Guy and Doll, (aka real-life couple Nick Cox and Audrey Eastwood), come to life in full form as they embrace in what I can only assume to be a semi-autobiographical account of a recent overseas trip to Europe, (specifically Glasgow and London) that manages to feel both global and local.
Replete with entertaining original musical numbers and travel accounts that'll probably hit close to home for anyone who's ever travelled internationally, Guy and Doll's newest show contains important reminders and wisdom for remarkably stressful times. Tempers may flare and angry chords might occasionally be struck, but with tour guides as naturally charismatic as Cox and Eastwood, you know everything will be alright. Even when their wanderlust has ended and our hosts have found themselves back at home, you'll find yourself wishing you were on the road with them, if only, for just a little longer. -
Carey Bray


The Bus Stop Theare, 2203 Gottingen St.
60 min.
$10/$7
Thursday August 31, 11:05pm
Friday September 1, 8:15pm
Saturday September 2, 2:35pm
Monday September 4, 8:30pm
Tuesday September 5, 9:30pm
Wednesday September 6, 7pm
Saturday September 9, 3:10pm
Sunday September 10, 7pm
Woody Sed

By Thomas Jones
Thomas Jones of Vancouver graces the Halifax Fringe with his one-man show about the life of American folk singer, Woody Guthrie. Jones delivers a magnetic performance as he portrays 25 characters, from Leadbelly to Guthrie's wife and daughter, and tells the story of Guthrie's struggle with fame, his activism, and his eventual deteriorating health. Jones is so skilled and precise in his portrayal of each character, and the high-energy show is astounding to watch from start to finish. Whether or not you have any knowledge of Gurthie's legacy,
Woody Sed
is an impressive, impactful show that tells the beautiful story of an American legend. Do not miss this one. -
Michael Lake


The Bus Stop Theatre, 2203 Gottingen St.
70 min.
$12/$9
Sunday September 3, 10:05pm
Monday September 4, 4pm
Thursday September 7, 8:35pm
Friday September 8, 5:30pm
Saturday September 9, 12pm & 10:30pm
Sunday September 10, 12pm
The Shed
By Megan McDowell
Wearing a Notorious BIG crop-top sweatshirt and sweatpants, Megan McDowell dances onstage at the beginning of
The Shed
to roaring applause. It's late on a Sunday, and McDowell has just one performance of this work-in-progress stand-up show. It's about depression, heartbreak, moving back home with mom, and spending time repairing a sinking shed in Nictaux. McDowell was admittedly unprepared for the show, but gets away with it by virtue of sheer charm and natural hilarity. Jumping from story to story – a disproportionate amount about cats - we get a sense of what comedy means to McDowell, and why it feels important to share.
The Shed
is at once funny, sad and ultimately, communal. –
Michael Lake
The Bus Stop Theatre, 2203 Gottingen St.
50 min.
Sunday, September 3, 11:45pm