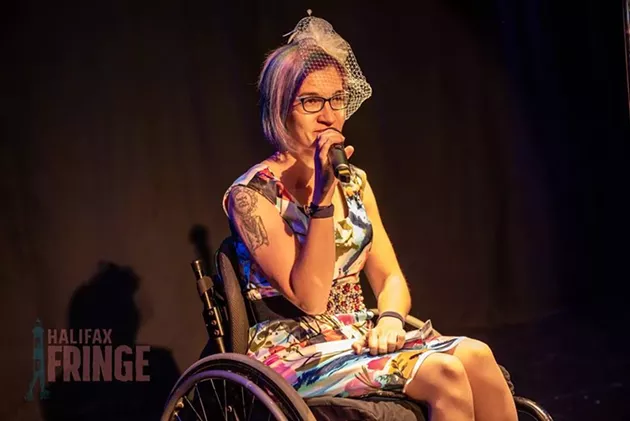 Stoo Metz
Halifax Fringe board chair April Hubbard at the closing party.
The 2018 Halifax Fringe is over for another year and countless hardworking artists, volunteers and audience members can finally get a good night's sleep. The 28th year of the festival saw over $45,000 in box office sales with 6,000+ tickets purchased. Get your final fix with a few last reviews and a complete list of festival award winners. Until next year!
Jon Blair: Live from the Garbage
By Jon Blair
Can someone explain to me why funnyman Jon Blair's
Live From The Garbage
was so under-attended? It's a solo-act featuring a variety of hilarious sketches that made it a fantastic, undemanding addition theatrical experience. According to my trusty Fringe guide, Blair has worked with the CBC comedy,
This Hour Has 22 Minutes
and beloved Fringe darlings, Sex T-Rex. These experiences have served Blair well as his outlandish sense of humour helped him concoct a solid hour of hilarity. Standout sketches include a public cable show, entitled Cables and Cords, a small town with a dark, murdery secret, Thin Lizzy karaoke, and using Bane's voice as a tool of seduction.
In case you haven't figured it out from those examples alone, Blair's humour is solely his own and it was a shame his run here in Halifax was so limited. Fingers crossed that next time he's in town he gets more time to perform and a bigger crowd with which to entertain because he's definitely one of the funniest people around. -
Carey Bray


Plan B Co-op, 2180 Gottingen Street
$10/$7
Tuesday September 4th 6pm
Wednesday September 5th 9:30pm
Thursday September 6th 7pm
Friday September 7th 7:30pm
Saturday September 8th 11:30am & 9pm
Sunday September 9th 2pm & 7:40pm
Wild Bill's Facebook Livefeed Feeding-Time Youtube Yeeeehaw!!
By Steve Day
Steve Day is a strange fellow. The Montrealer and graduate of the renowned École Philippe Gaulier has an elusive sense of humour, but the audience was along for the wacky ride. The premise is this: Ted and his pet goldfish, Wild Bill, have a live YouTube show with songs, puppets, boot stompin', and a wholesome environmental message about the dangers of plastic. Ted's mission is single-minded: to teach children about recycling and to have enough success to get Wild Bill a bigger tank. When he suddenly becomes an internet sensation, even more absurdity ensues.
Day is a skilled performer, and
Wild Bill
is thoroughly entertaining. The laughs are sweet and silly, and Day's physical comedy and puppetry are a damn delight to watch. This show is preposterous, joyful, and expertly put together by one hell of a weirdo. In 2014, Day's
Waiting for Batteries
was a surprise hit of the Fringe — let's hope he keeps bringing his brand of strange back to Halifax. -
Michael Lake
The Old Pool Hall Theatre, 6050-6070 Almon Street
$10/$7
Friday August 31st 10:30pm
Saturday September 1st 8pm
Sunday September 2nd 9:30pm
Tuesday September 4th 9pm
Thursday September 6th 5:30pm
Friday September 7th 6:30pm
Saturday September 8th 7pm
Gina is Dead

By Katie Dorian, Ailsa Galbreath, James MacLean, & Gina Thornhill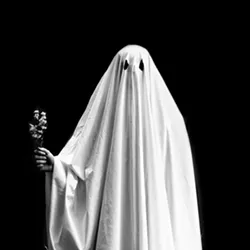 In an ambulatory memorial service,
Gina is Dead
has audiences exploring alleys and backyards as they are guided by a group of ghosty clowns, and Gina herself, through a sort of urban afterlife.
Dead Gina is dressed in black with an illuminated black lace umbrella. The audience is also given umbrellas, and we follow Gina and her ghosts through the streets. We stop to hear a gruesome description of how bodies decompose (complete with animated slideshow) then move onto another hidden corner to hear a tender monologue about death and memory. Along the way we also learn about Gina: her favourite colour, the last person she kissed, her preferred kind of sandwich. Too bad she's dead, she seemed pretty cool.
While the through-line of the show is somewhat fleeting, the cumulative experience of
Gina is Dead
is a lovely, meditative one and a refreshing change from the usual confines of a dark, stuffy theatre. -
ML


Starting Point: Bus Stop Theatre Lobby, 2203 Gottingen Street
PWYW
Sunday Sept 2nd 2:30pm & 8pm
Monday Sept 3rd 8pm
Thursday Sept 6th 8:30pm
Friday Sept 7th 8pm
Saturday Sept 8th 8:30pm
Sunday Sept 9th 2:30pm & 8pm
The 28th Halifax Fringe Award Winners:
FRINGE HITS
(determined by Box Office)
She Wolf
Next To Normal
Herbie Dragons
Hello City
Brunch! The Musical
HOT TICKETS
(Pre-Sales at the halfway point)
Bus Stop Theatre HOT TICKET winner is
She Wolf
Plan B Coop HOT TICKET winner is
Evil
Old Company Theatre HOT TICKET winner is:
Ah Hell! The Words of Dorothy Parker
Kazan Theatre's The Waiting Room HOT TICKET winner is
Something Wrong
Old Pool Hall Theatre HOT TICKET winner is
Before Midnight
AUDIENCE CHOICE AWARDS
Best Of Festival Award:
I Wanna Come Home
Best Performance:
She Wolf
Live Art Dance Fringe Movements Award (for our fav moment of movement):
Liminal Flight
Best Ensemble Cast:
Hello City
Best Solo Show:
I Want To Come Hom
e
Best Kiss:
Bubble Trans Pride
Best First-Date Show:
Wild Bill
PARC Best New Script Award:
I Wanna Come Home
Funniest Joke of the Fringe: "I just want to be gay, and see a ghost" -
Evil
Best Newcomer Award:
The Extinction of The Hong Kongers