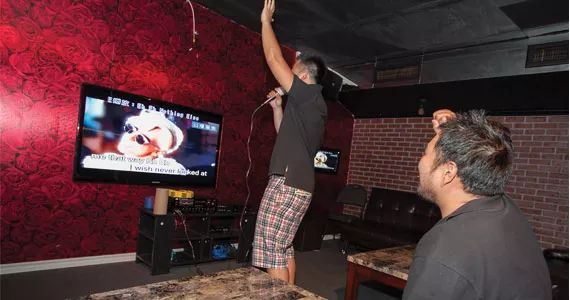 Perfect your act in a private room at Natural Karaoke.
International students undoubtedly add a lot to Halifax life, but what does our foggy city have to offer them in return? Surely many of the city's students who "come from away" wind up cursing the fact that "freezing drizzle" is an actual weather term here, our food is seriously lacking in heat and we have some pretty puritanical laws about public drinking.
But a recent report commissioned by the feds suggests we double the number of international students studying in our provinces by 2022. It's easy to see why: The 4,400 international students in Nova Scotia (3,200 live in Halifax) already add over $200 million to our city's economy.
Here's a guide to help international students find their scenes and to connect Canadian students to other cultures.
Dance
Halifax dancing tends to alternate between some serious chin-nodding, spastic bumping-and-grinding and the hurling of our bodies at one another while shaking out our sweaty hair in mosh pits. This might frustrate you somewhat if you come from a culture where the general populous can actually dance. If that's the case, you'll want to hit up Brazilian restaurant Pipa (1685 Argyle Street, 407-7472) on salsa nights (Fridays, 10pm-1am, $5). Any non-salsa-dancer hoping to keep up should show up at 9pm for a group salsa lesson. You can watch bellydancers like Monique Ryan and Laura Selenzi dance for you at your table (every Saturday at 7:30pm starting in mid-September) at Turkish restaurant Cafe Istanbul (5986 Spring Garden Road, 405-4028). Chomp on some of the best lamb kabobs in the city and kick back with a beer (Propeller is $4.75, Turkish Efes Pilsner is $6). Manager Babur Mensah encourages students to make reservations and come on out: "It is very fun and entertaining. People laugh, people dance."
Drink beer
If you're a German student bummed out you're missing Oktoberfest in your hometown, you can still binge on wurstl and drink copious amounts of strong beer with a multigenerational crowd---you've arrived in Halifax just in time for the German Canadian Association's (germancanadian association.ca) Oktoberfest (September 22, 3pm-midnight, hfxoktoberfest.ca). Listen to traditional German music, drink Garrison beer and devour Bavarian food to your heart's content. "For non-Germans, it might be a way to get a little bit of a glimpse of the German culture," says association president Rene Botzenharet. The association also hosts movie nights and get-togethers, and is happy to answer any questions German students may have about living in Halifax (like where to find decent bread in this city).
Some of the best kabobs in the city are waiting for you at Cafe Istanbul
Get cultured
Hankering for the buttery goodness of authentic Italian food? Check out the Italian-Canadian Cultural Association of Nova Scotia (2629 Agricola Street, 453-5327, iccans.org). The steps are often overflowing with people loudly chatting away after feasting on Sundays between January and May, when the centre offers delicious traditional two-course meals (check with centre for ticket price). Desperately lacking skills to impress a date? Why not sign up for Italian cooking classes? And if you've fallen in love with an Italian student, you can enroll in Italian language classes at the centre. You can also indulge your inner film geek: the centre has a library full of hundreds of Italian movie and book titles. It's a great place to get your game face on with a good espresso, members can unwind at the centre on bocce and cards nights. For a list of other cultural organizations, check out halifax.ca/newcomers/culturalgroups.html.
Let loose privately
Ray Ma, whose
Natural Karaoke
(5680 Spring Garden Road, 446-7464) opened last December, says 95 percent of his customers are students. The majority are either from Asia, or Canadians who have travelled to Asia and understand the lure of private karaoke. Ma explains the appeal of the joints, which he says are popular in China: "It doesn't matter if you're a good singer, or you like to scream or if you want to practice." Natural Karaoke's got a diverse selection---around 20,000 Chinese songs, a couple thousand Japanese songs, 1,000 English songs and a few Korean songs.
The most fun and economical way to do private karaoke is to rent a room for the night, instead of hourly (an option most Chinese guests prefer) from Monday to Thursday, when prices are cheaper. Here's how it works: you get a group of friends together and buy a minimum credit of between $168 and $218 (depending on room size). You can spend all that money on food like Chinese lamb barbecue and domestic beer instead of paying a room fee. "It's better for people if they want to spend a little bit more on drinks or if they have a party going on," explains Ma. The private karaoke wave is proof that international students are making Halifax cooler, as an influx of students from other cultures creates a bigger demand for alternate nightlife and entertainment options.