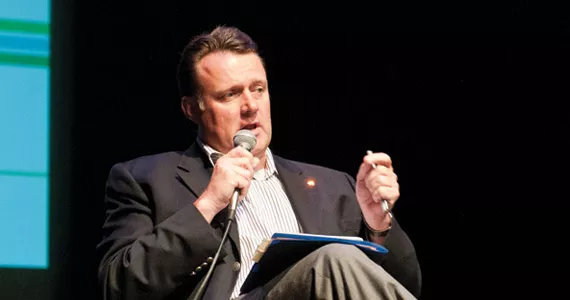 Halifax mayor Mike Savage has joined Mayors for Peace. Founded in 1982 by then-Hiroshima mayor Takeshi Araki, Mayors for Peace is an international organization dedicated to "the total abolition of nuclear weapons." Over 5,000 cities in 182 countries are members.
Former Halifax mayor Peter Kelly had refused to join Mayors for Peace, but at the urging of local peace activist Tamara Lorincz, Savage said during the 2012 election campaign that he would join. Yet, once in office, Savage demurred, telling The Coast that he had to further research the issue and possibly ask for a vote of council.
But Savage never brought the issue to council, and on his own accord joined Mayors for Peace on January 14. Halifax is now listed as a member city on the Mayors for Peace website.
Mayors for Peace "aims at raising consciousness worldwide about the abolition of nuclear weapons through close cooperation among all the cities [that have joined]," says the website, "and contribution to establishment of the lasting world peace through solving problems such as hunger and poverty, refugees and human rights, environmental protection."
The organization's most recent campaign is titled "Cities are not targets!" and its "action alerts" call for "a High-Level Nuclear Disarmament Conference no later than 2018" and for countries to participate in negotiations to reduce greenhouse gas emissions.
Being a member of Mayors for Peace doesn't commit Halifax to any action. It's more a symbolic statement in favour of the abolition of nuclear weapons. But until Lorincz noted Halifax's new membership in the organization on her Twitter feed, Savage had made no public mention of joining Mayors for Peace. "Why no press release? Why no tweet?" asked Lorincz. Is it possible to make even a symbolic statement against nuclear weapons without, well, without making a statement?
"I don't make statements about a lot of things," answers Savage.
Asked about Kelly's opposition to joining Mayors for Peace, Savage explains that "There was the concern that it's anti-military, but it's not anti-military. I support our military, and the military leaders who are the first to say they're working for peace."
Even though hundreds of American cities have joined Mayors for Peace, some Haligonians have said that membership in the organization amounted to a statement against US warships that visit Halifax Harbour---the US Navy does not announce which ships carry nuclear weapons, but there's little doubt that nuclear weapon-laden ships regularly visit Halifax.
Savage says he recognizes that concern, but discounts it. "I don't have any authority over American warships," he says.
"I see it as part of the healthy cities initiative," says Savage, who Tuesday had personally spearheaded that initiative at council. "I intend to be actively involved, I just don't know how I'll be involved.