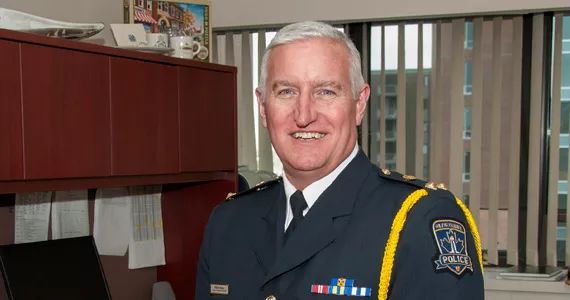 Halifax Regional Police
Deputy chief Bill Moore of the Halifax Regional Police.
The police review of a revenge porn and harassment investigation The Coast first wrote about on October 2 is finally complete.
The "Always-on stalker" told the story of a Halifax woman, known as Nicole, who went to police in early 2013 alleging an ex-boyfriend in Florida was spreading explicit photos and video of her online without her consent. By email he also allegedly tried to trick someone into raping her. Not only were officers profoundly unhelpful to Nicole, they also closed her case after mistakenly calling another woman with the same name who didn't know anything about the allegations.
As a result of the Coast's investigation, Halifax handed the matter off to Florida police and deputy HRP chief Bill Moore has assigned a senior investigator to review the case. Moore said he expected the review would take one or two weeks to complete. Two months later, he confesses the review was lost in his inbox. So, at long last, here is what the internal review found.
"There are a bunch of different areas that we need to work on, and no one area is going to fix this problem," Moore says. Instead, Halifax Police needs a "multi-faceted approach" that addresses the various missteps in Nicole's case. Nicole said officers didn't know how to react to her complaints of harassment and attempted rape. One Halifax officer told her, "This is the age we live in with the internet, and police get threatened all the time via emails." Police told her repeatedly there were no laws that could protect her. Two lawyers we consulted said charges of assault, harassment, identity fraud and coercion to commit sexual assault could all apply in her case.
Moore acknowledges front-line officers lack training in a few areas, including how to react to complaints that have an online or international component and how to deal with sex crimes.
He says 40 of the police force's 500 or so officers are currently trained in what he calls the "trauma-informed approach," which enables them to receive complaints without shaming the victim. For example, they are trained not to ask questions that could imply a rape victim was at fault for sexual assault. "The way you ask the questions can add layers of guilt and additional trauma," Moore says.
Moore says between January and May of 2015, all 500 officers will receive at least an introduction to the "trauma-informed approach."
The deputy chief also acknowledged his officers lack training on crimes with an online or international component. Moore said a core group of officers are learning about online crime. A lawyer is also working on an "MLAT 101"—an explanation of how Mutual Legal Assistance Treaties allow police to work together across borders.
Strangely, Moore says he had not discovered why an HRP officer called the wrong Nicole. I checked the case file that refers to this phone call, and it identifies the correct phone number for Nicole. According to the file, an officer called the wrong person, who didn't know anything about the case. Another officer then decided "she must be in contact with the suspect and was not willing to co-operate anymore with the investigation," the file states.
Nicole is optimistic about the review, but still has concerns.
"They just didn't care," she says. "They just weren't interested in taking the case. It was obvious....They need to give a shit. They need to want to help women.
"I would like to see the police force hiring and educating police on a genuine knowledge and respect for the community they're serving. That means you need to know about the violence that exists toward women."