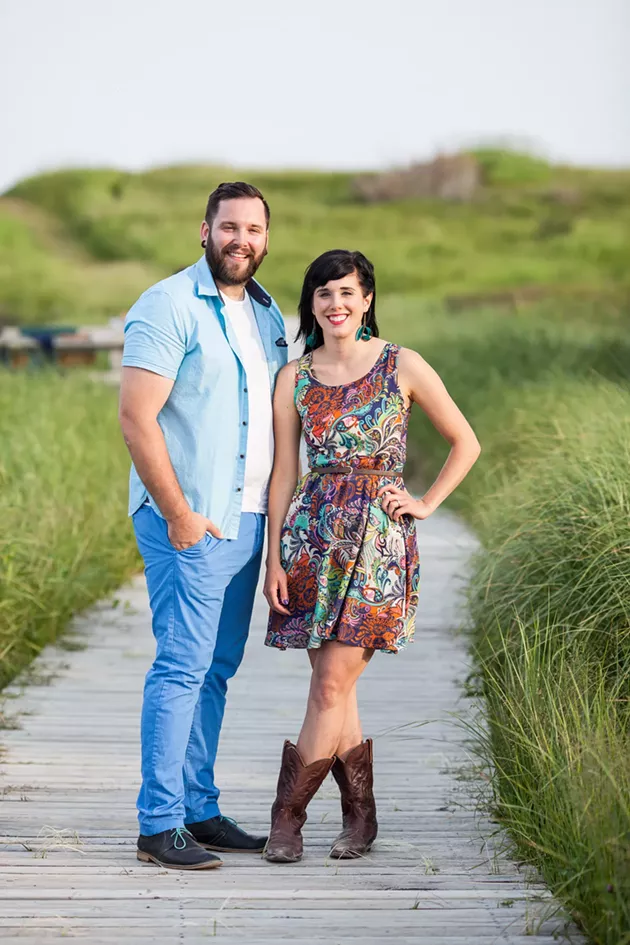 Name: Catherine Allan and Andrew O'Brien
Age: 26 and 30
Occupation: Musicians (Fortunate Ones)
Spotted: Crystal Crescent Beach

Wearing:
Catherine: dress, "Papillon", purchased at Take the Plunge; cowboy boots, Montreal; earrings, Claire's

Andrew: shirts, RW & Co; pants, American Eagle; shoes, Fluevogs
How would you describe your style?
Catherine: Sometimes bohemian like the look here with feathers and lots of colors, sometimes more old-timey and tailored with polka dots. Very mood-dependant. Usually a bright shade of lipstick involved, always big earrings.
How does your job affect the style choices you make?
Catherine: I like to feel confident when I perform, so I'm usually fairly dressed up. I wear mostly dresses when I perform and I'm always on the hunt for new and unique dresses when I'm on the road. I always purchase dresses with intent to wear them onstage, but they usually make their way into my everyday wear as well.

Andrew: I buy clothing mainly for use on stage. I once heard David Myles say that he wears a suit on stage because it made him feel like he was going to work every night. I never forgot that and have adopted the same approach. I typically wear a fitted vest and button shirt with a tie, tailored jeans and a great pair of shoes. For some reason a great shoe makes me feel like a million bucks.
Name a current trend that you just can't get on board with?
Catherine: I'm not a huge fan of the crop-top.
What are some of you style influences?
Catherine: My comfort influences my style greatly. If I can't walk in the shoes, I don't wear them. If my boob's going to pop out, I don't wear it. I'm pretty practical with my choices, but I like all kinds of styles - I love the style of the 50's, I love wearing white, I love chuck tailors and cowboy boots, bright lipstick and huge earrings. That's my bag baby.