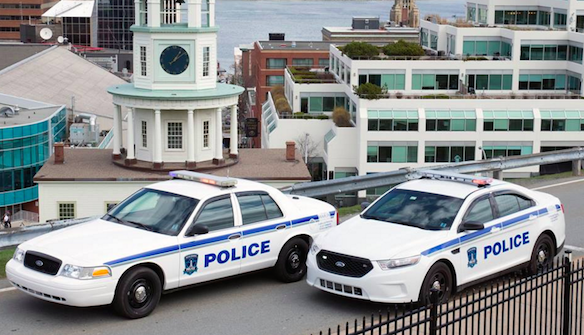 Overall crime is once again down in Halifax, but 2015 saw a dramatic increase in homicides, robberies and traffic violations.
Year-end statistics released by Halifax Regional Police show a nearly eight percent decrease in total Criminal Code offences in 2015 compared to 2014. That includes double-digit drops in attempted murder (by 35 percent), theft under $5,000 (by 15 percent), possession of stolen goods (22 percent), prostitution (12 percent) and offensive weapons (28 percent).
There was also a 19 percent drop in federal drug cases, with 248 fewer charges than in 2014.
While attempted murder was down, homicides were up considerably. Nine people were murdered last year in HRM—a jump of 50 percent from 2014 and equal to the number of murders committed in 2013. But that's still lower than the 12 homicides in 2012, and far below the 18 murders committed five years ago in 2011. Fatalities police responded to also jumped by 58 percent, or seven cases.
The number of robberies increased last year by over 25 percent (or 42 incidences). Other increases include break and enters (by 2.4 percent), traffic violations (by 8.36 percent) and auto collisions (by 10 percent).
According to numbers from HRP, violent crime dropped by nearly 14 percent in the fourth quarter of 2015 compared to the same period in 2014. Assaults, which accounted for 88 percent of violent crimes in the fourth quarter, decreased by 105 incidences (or about 17 percent).
Canada's crime rate has been steadily falling for the last decade. Statistics Canada says that serious crime in this country is currently at its lowest level since 1969. Meanwhile Canada's prison population is at an all-time high.
The number of visible minorities in Canadian prisons has also increased by 75 percent in the last decade, though rarely are those inmates locked up for violent crime. According to a months-long investigation by Maclean's Nancy MacDonald looking into the indigenous prison population, it's often the result of failures to comply with curfews, conditions of bail or those shackled with Canada's new mandatory-minimum sentences.
"But the problem isn't just new laws. Although police 'carding' in Toronto has put street checks, which disproportionately target minority populations, under the microscope, neither is racial profiling alone to blame. At every step, discriminatory practices and a biased system work against an indigenous accused, from the moment a person is first identified by police, to their appearance before a judge, to their hearing before a parole board. The evidence is unambiguous: If you happen to be indigenous, justice in Canada is not blind."