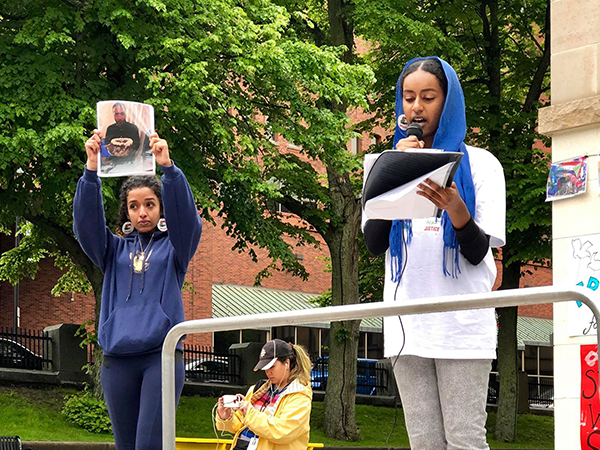 SUBMITTED
Biographies of the martyrs from the June 3 massacre were being read while their pictures were held to honour the meaningful lives they led.
The Sudanese community in Halifax has been reeling over the events happening back home. People in Sudan have been calling for a civilian government, and have paid dearly for it. A relative of mine was beaten to death while defending his female peers outside his university campus—he was not even protesting.
As part of the diaspora, we went through the same motions of what our Sudanese siblings felt back home: Optimism, horror and resilience. But we had the privilege of feeling those things at a safe distance from all the violence. In a humble attempt to amplify the voices of our people, we called on fellow Haligonians to stand in solidarity with us. And they did not disappoint. Over 100 people gathered on a rainy Saturday evening for our vigil and listened while we shared personal stories, memoirs of lost ones and calls to action.
The people in Sudan have been fed up for 30 years. Deep economic troubles fuelled protests back in December 2018, which then morphed into anti-government demonstrations. The Sudanese resistance led to a massive sit-in in front of military headquarters, where displays of camaraderie, unity and freedom of expression were common. Alaa Salah, the woman draped in white perched on top of a car, became a household name. If someone wanted to call on a female protester, they would casually refer to her as Kandaka, a Nubian queen. Orphaned children wanted the protests to continue endlessly, since the sit-in became a haven where they were regularly fed and sheltered by protesters.
It was obvious that the Sudanese people are democratic in spirit, but their ruling figure did not reflect that. After protests grew stronger, long-standing dictator Omar Al-Bashir was finally ousted. To our dismay, a transitional military council replaced him and launched the massacre on June 3.
That day, I was glued to my phone reading the horrifying accounts coming out of Sudan. Bodies thrown into the Nile River. Men, women and children raped. Makeshift tents with children sleeping inside burnt to a crisp.Hospitals raided. There are too many atrocities to name.
And then everything went dark. The military council instigated an internet shutdown to sever Sudan's communication with the world and bury its crimes. To this day, the internet is cut off and we, as outsiders to Sudan, do not know the full extent of the violence. That gave me such a visceral feeling of injustice that doing something became intuitive.
During last Saturday's vigil, we made a conscious effort to relay the fact that Sudan's fight is not their fight alone. If it was up to Sudanese people, they would proudly continue until the last martyr falls. People are not afraid to die, because they already experienced death while alive. But there are intricate ways that foreign powers are meddling with the Sudanese revolution, and unless those defunct deals are ironed out, the human cost of the Sudanese revolution will continue to rise needlessly. News broke out last week that Canadian lobbying firm Dickens & Madson has been working with the Sudanese military council to polish its image and facilitate arms sales.
It seems we don't need to look beyond Canada to help Sudan. It is well within our rights to call for our government to investigate the actions of a company that is in violation of both Canadian law and UN sanctions.
Rafeeda Khashmelmous is a recent graduate of Dalhousie's medical science program, working as a research assistant in Dal's health promotion department. Rafeeda is a first-generation immigrant to Canada, of Sudanese origin and the youth representative of the Sudanese & South Sudanese Association of the Maritimes, part of a small but mighty community of 500 Sudanese residents in Nova Scotia.

———

Voice of the City is a platform for any and all Halifax individuals to share their diverse opinions and writings. The Coast does not necessarily endorse the views of those published. Our editors reserve the right to alter submissions for clarity, length, content and style. Want to appear in this section? Submissions can be sent to voice@thecoast.ca.