Aziza Asat
He make the moves up as he goes. And that's what they don't know.
It's not a great time to be a Liberal in Nova Scotia. Online and in conversation, anger at the government is only outmatched by charges of incompetence. Every month seems to bring a new crowd of rowdy protesters down to the Legislature. In short order, Stephen McNeil's Liberals have pissed off health care workers, labour unions, community service groups, major industrial players and university students.
Public relations crises have plagued the party almost from the moment it won the October 2013 election, but lately the public's ire has been fuelled by an austerity budget now more well-known for who it will hurt than who it will help. Students have seen tuition caps lifted and out-of-province bursaries disappear. Those unfortunate individuals on income assistance have been told they're abusing the system by a minister who received two university degrees while on welfare.
And then, there's the film industry.
Let's not debate the merits of Nova Scotia's tax credit system. Whether tax incentives are right or wrong, the film industry cuts have been a colossal disaster for the Liberal government. They haven't so much handled the public outrage as fumbled around in the dark looking for a safe exit.
The cuts blindsided an industry of professional storytellers, who responded in kind by harnessing the superpowers of celebrity tweets, industry consultation and Michael Donovan until the government finally changed its mind.
To put it bluntly, the province was out-maneuvered on its own budget. Even people who agree with the Liberal policies and actions have to surrender the fact that it's been a bloody spring, PR-wise. And at the end of the day, politics is about the impressions as much as the facts. The Liberals realize this—they've spent big bucks on PR consultants. What we have here, is a failure to communicate.
"I mean, it's great for someone who teaches political and crisis communication," says Barbara Emodi. "I've got lots of good material for my courses."
Emodi is an assistant professor at Mount Saint Vincent University who specializes in government communications and political strategy (and a former caucus communications director for the NDP). She's perplexed, and more than a little mad, about the Liberals' garish approach to budget cuts. Take the film industry, for example. No consultations done with industry representatives to understand their work. Nothing to cushion the blow of what any PR student could have told you would have been a political A-bomb. Meanwhile, the strategy to replace the tax credits has been vague, even unexplainable at times by the minister in charge of it.
The thing of it is, people can accept austerity budgets, given the right sales pitch.
"If you're going to sell a lot of cost-cutting and reduce the debt, fair enough," Emodi says. "Everybody understands we need to do that. Then you really have to counterbalance that with 'We're cutting this, so we can do that.'"
Nova Scotians, Emodi says with pride, will batten down the hatches to protect a future for their children. But in times of economic crisis, the Liberal budget targeted two groups—the arts industry and university students—who are supposed to be the salvation for an aging populace. Not a great move. "It boggles my mind that they didn't connect the dots and didn't see who are we going to hurt here," she says. "You don't target young and smart."
More frightening for the communications professor, the government didn't even seem to understand the shitstorm their economic plan was about to unleash.
Meanwhile, the Liberals have defiantly remained committed to their talking points. In a statement this week, issued after the budget was formally passed, Stephen McNeil called it the "difficult work of regaining sustainability" in public finances.
"This is a difficult journey, but the destination we are seeking will benefit all Nova Scotians," said the premier. Emodi remains unimpressed.
"Stephen McNeil has kind of kept himself out of the fray on many things, which I think has made it hard for him to maintain the sense that he's running a tight ship," she says. "He's had a lot of problems in his caucus office, and with his ministers. And Leo Glavine, I mean, he really is....I'm trying to find words you can quote. Leo Glavine is like a complete accident waiting to happen, communications-wise." (See sidebar.)
Governments have passed harsher budgets, and gouged more vital industries and services, in the past. But skilled politicians control a message, filtering it through the media so that the terms of the debate are framed and the conversation is always on-brand. If the Nova Scotian Liberal party has been playing the media for its own ends these last few months, then it's made of masochists.
The party should be better than this. Since elected, the Liberals have requested over a dozen workshops on media training for government workers from ministers to communications advisors. According to emails and service requests, those sessions have covered everything from handling social media to being in front of cameras. Yet neither of those have gone stellar for the Liberal party.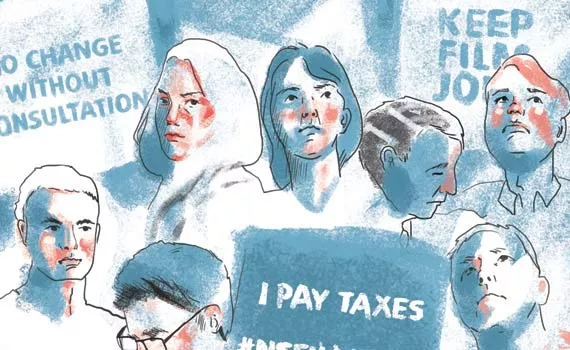 Last month an assistant to fisheries and agriculture minister Keith Colwell rage-tweeted about the "film tax credit entitlement" and claimed there was a strong smell of marijuana at industry protests. Mark MacPhail officially apologized to his boss, and online to the public, before submitting his resignation. Higher up on the food chain, ministers like Joanne Bernard, Diana Whalen and Michel Samson have appeared amateurish, unable to answer questions on specific data about their portfolios (see sidebar).
Since elected in 2013, the Liberals have spent more than $33,500 on media training. Perhaps they should have spent more.
"I like the way you think," says Hugh Fraser. He, of Fraser & Sons Communications, has benefitted from some of those media training service requests (see "Media money" sidebar). Formerly a journalist with CBC and press secretary for PC premier John Hamm, Fraser tries to coach his clients on how to get their message out clearly and confidently. Usually, that just means practice and preparation. There are no superpowers involved, Fraser says.
"You're not going to be coming out like Reveen, able to put reporters in a superconscious state or anything like that," he says. "All you want to be able to do is to have some sort of confidence."
Generally speaking, Fraser says the Liberals aren't dealing with anything new. A government in power is always going to face crisis. The life of an elected official features a lot of public whippings. "If you're going to change things, then you'd better expect you're going to have a lot of opposition to it," he says. "You're not going to steamroll through, and every day declare We Love Puppies Day. At some point you have to do things that get people upset if you want to follow your agenda."
Governments are supposed to be criticized. We put them in power. We pay them. We should analyze every decision they make. It's good citizen engagement. It's not fun to be on the receiving end, but any government worth its salt should take care to know when it's just haters gonna hate, and when they've made a huge mistake.
"You have to figure out when criticism is valuable, and when it points to a change of tack you might want to take," Fraser says, advocating for the depressingly rare cases of politicians holding themselves accountable. "It's refreshing anytime somebody says 'I made a mistake.' You don't hear that a lot at all. It's kind of nice to have somebody who's fallible and willing to admit it, instead of just the sense that you stick with something come hell or high water. Look, I change my mind all the time, and I hope other people do too."
If politics is about getting your story across, then the Liberals were always in trouble picking a fight with storytellers. Still, the next provincial election is over two years away. A lot can change, and sometimes the public's anger is best calmed by the passage of time. The damage may only be superficial.
Barbara Emodi thinks that's too soft of a prognosis. The "air of incompetence" she's watched the government give off will only thicken. Once a fuck-up, always a fuck-up.
"I'd say that they're in completely over their head and have no sense they're responsible for the future of a province," Emodi says. "Their legislation is a mess. I've never seen bills presented that had to be pulled back and fixed up like this, and ministers who couldn't explain their own bills. There's no excuse for that. That speaks to, I guess, Stephen McNeil's ability to pull in talent. I suspect his group around him, they just don't have the talent."
Which is the professor's only suggestion for how the Liberals can dig themselves out of their own political grave. Clear the bench. Get "more brains in there," and present some bold, smart ideas. Unless they can show clever, the Liberals are done, Emodi says.
Do McNeil and company have a good shot at pulling that off? "No."
But nothing's impossible. Right now, the government has a lot of ground to make up if it wants to remain in power—let alone "help" Nova Scotia's future. The spring sitting of the legislature was an unpopular story, with McNeil and his Liberals the chief villains. Change the conversation, and maybe the government can win back some public support. Tell the right story, and people will listen.
Whether the Liberals can pull that off before the next election remains to be seen. It's difficult, Hugh Fraser points out, to tell how the war will be lost when the battle is still happening. For his part, Fraser isn't counting the Liberals out just yet. "The old journalistic cliche," he says. "Only time will tell."