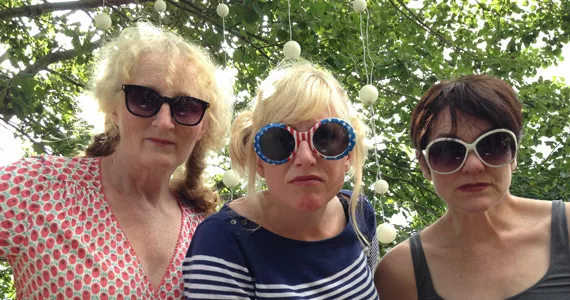 "It was my wise idea to do this," says Trippin's co-writer-actor-director Jackie Torrens, laughing. "I think you have to seize any opportunity you can to be creative, that's how you stay creative. There's lot of jobs that you take just to get money to pay light bill, but then there are other jobs—ie Fringe—that you take for another type of payment."
In Torrens' case, working with two of her writer/actor/director peers telling the three vignettes that make up the creative non-fiction piece, Trippin', was a quality paycheque. "Mary-Colin Chisholm and Ann-Marie Kerr, these were two people I knew I wanted to work with. It's an exercise in alchemy."
Though they worked on their stories separately, they've been influencing one another. "We're three actor-director-writers—we have a lot to say. At the same time I think we have a nice complimentary style of working together, helping to find the key moments in each story, though the telling is quite different," says Torrens. "It's very organic."
Torrens also felt a sense of duty to perform her own piece of creative non-fiction. Co-curator of Blowhard, an occasional evening of public storytelling and performance, Torrens says: "I'm always asking people to put themselves out there and I thought I should put my money where my mouth is.
"My story is about a road trip I took after my life blew up. I lost a massive project that screwed me up emotionally and financially. The subject was on fortune-telling. I didn't give two fucks when it was given to me, but I started researching and got into what was really happening when we tell fortunes. We're examining the present for clues. I went on a road trip looking for signs, with the full realization I was connecting the dots on my own."
Chisholm's piece is about an ego trip, while Kerr's offering is about a drug trip. "Together we're digging through the entrails of the stories and connecting the dots," says Torrens. "When you take a trip—either literally or a head trip—when you go away from everyday life, that experience gives you a chance to examine what's going on. Going on a trip is about search for narrative, we are narrative driven creatures—we will connect dots even when there are no dots to connect."
---
Thursday, September 4 at 7:30pm
Friday, September 5 at 8:15pm
Saturday, September 6 at 1pm
Sunday, September 7 at 8pm
Art Gallery of Nova Scotia