A dinosaur-themed show opens at the Museum of Natural History, Matchstick Theatre brings a play with big Kerouac vibes to Neptune, Afua Cooper talks poetry as the city's new poet laureate and more!
Sip 'n' Shuck
Friday
Satiate your bivalve cravings until 2019's Oyster Festival with this seafood-filled feast at the Delta Halifax Hotel. more deets
Joyride
Thursday, Friday, Saturday, Sunday
Matchstick Theatre remounts Michael Melski's classic play that's set in post-industrial Cape Breton—and is full of On The Road vibes—on Neptune Theatre's Scotiabank Stage, saying: "In the play we meet Rachel, earning minimum wage as a convenience store clerk, Jess, working for his father's seasonal landscaping business and Craig, home on probation and unemployed. With nowhere to go and nothing to do, the three friends get caught up in a whirlwind." more deets
Meet Halifax's poet laureate, Afua Cooper
Thursday
The city's new poet laureate shares her vision for her time in the writer's seat, as well as discussing poetic interests with fellow verse-crafter Sue Goyette, at this talk, held at the Halifax Central Library. After Cooper's time on the mic wraps, she invites local up-and-coming poets Andre Fenton and Kanaar Bell to speak. more deets
Dinosaurs Unearthed opening celebration
Saturday
Party like it's 65 million years ago as the Museum of Natural History debuts its latest dinosaur-centred showcase. A palaeontologist meet 'n' greet, dino-themed crafting and more await. more deets
nine one one
Thursday, Friday, Saturday, Sunday
This weekend is your last chance to catch Arianne Pollet-Brannen's Hermes Gallery show, which sees stories that unfolded in the QE2 hospital's emergency communications hub retold through "gloves and isolation gowns, tourniquets and sutures...complimented by pencil portraits of department personnel, reproduced and toner-transferred to hospital bed sheets." more deets
Fading Vestiges
Thursday, Friday, Saturday, Sunday
K. Claire MacDonald's show merges art and craft, with the maker "applying a painted surface to metal then cutting and shaping it into delicate flowers." Rediscovering a childhood flower press drew inspiration for the bloom-filled project, on at the Mary E. Black Gallery. more deets
A hag, a healer, a disobedient wife
Thursday, Friday, Saturday
Morgan Possberg delivers this collection of printed textiles delving into traditional female tropes found in folklore, at The Anna. more deets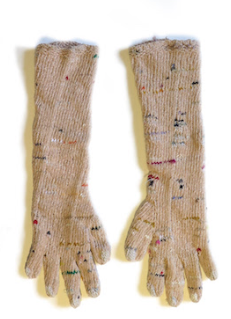 Merle Harley, craft LAIR
Thursday, Friday, Saturday

The Nova Scotia Centre For Craft and Design's latest LAIR (that's Local Artist In Residence), Merle Harley, is "an interdisciplinary queer artist who creates knitting, weaving, book projects, videos pieces and built structures." Here, Harley will be making textile-based sculptures inspired by their recent research into LGBTQ+ life and culture in rural parts of the province.
more deets
Dan Mangan w/Matt Holubowski
Thursday
Canadian indie rock's friendly uncle returns to The Marquee to beam some sunshine on your eardrums as he shares new tunes about growing up and growing older. more deets
The Gnarltones
Saturday
Adam Baldwin's band of buddies brings a night of good rockin' to Bearly's. more deets
Zamani w/Shay Pitts, Jodi Upshaw, Jayden Austin, Mia Cathleen, Engramn
Thursday
A set highlighting young talent from around town that features the can't-miss energy of BFFs and frequent collaborators Shay Pitts and Jody Upshaw (Upshaw performs a poppy twist on R&B while Pitts raps and sings in a mix of Rhianna and Nicki Minaj) will have you dancing out of your chair. This In The Dead of Winter Festival show goes down at Alteregos Cafe. more deets
Mauno w/Pansy Boys, T. Thomason, Sorrey
Friday
One of the most exciting and varied lineups on this year's In the Dead of Winter's schedule, weirdo-rocker Mauno shares the stage with PEI shoegaze-y dreampop princess Sorrey at the Mayflower Curling Club.
more deets