From the annual Best of Halifax Ball to
Kamp
's continued run at Neptune to Julie Nesrallah's dramatic spin on classical music, there's lots to gold-worthy weekend ideas below!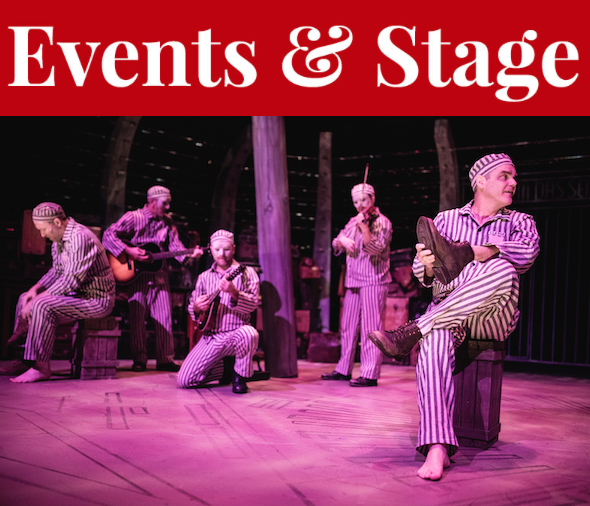 Riley Smith photo
Kamp tells an oft-overlooked part of World War Two history.
Best of Halifax Ball
Thursday
It's the creme de la creme of celebrations as the winners from our annual Best of Halifax Reader's Choice Awards (which you'll read about in this week's issue!) descend upon the Lord Nelson Hotel to inspire us all with their greatness. Dress to impress and get ready to get down as the party of the year gets underway. more deets
Trevor Noah
Friday
Your #mcm comes to the Scotiabank Centre to deliver his signature mix of political commentary and hilarious real-talk. more deets
Kamp
Thursday, Friday, Saturday, Sunday
Neptune and Eastern Front Theatre see the 2017 indie production Kamp get the stage size it deserves (at Neptune's Scotiabank Hall). The play follows a group of homosexual prisoners at a Nazi concentration camp and the secret cabaret they wrote as a way to survive. more deets
An evening with Maxwell Smart, author and Holocaust survivor
Thursday
As part of Holocaust Education Week, Smart returns to Pier 21, where he arrived 70 years ago as an orphaned Holocaust survivor, to host this reading and discussion of his book Chaos to Canvas—which traces his story from being a teen in 1930s Poland to immigrating to Montreal. more deets
James MacSwain artwork
James MacSwain mourns your pre-internet brain at his latest Hermes show, Ex Libris.
floating rocks and young rope
Thursday, Friday, Saturday
Noticing a rhythmic repetition in the materials found along Nova Scotian shorelines, Rachel Anzalone and Alicia Hunt present a collection of natural objects—think seaweed and rocks—mixed with replicas made from plaster, clay and cloth at the Anna Leonowens Gallery. more deets
Blue Rocks
Thursday, Friday, Saturday, Sunday
It's your last weekend to catch the Art Gallery of Nova Scotia's exhibit on how living for two years in Blue Rocks, NS, shaped the artistic practice of American modernist painter Marsden Hartley. more deets
Ex Libris
Saturday, Sunday
James MacSwain's latest—an exhibition of accordion-style books and paper-based works—takes us back to our pre-internet brains as it explores the "era of books." "The book will survive like newspapers, magazines and the theatre only if the upcoming generations are moved to examine what will be lost," MacSwain's artist statement warns. See it at Hermes. more deets
Searching for a Place to Land
Thursday, Friday

Jenny Yujia Shi's exhibit, "compelled by the artist's ongoing effort in pursuing permanent resident status in Canada," explores themes of border-crossing and displacement in a group of anonymous walking figures. See it at the Corridor Gallery.
more deets
Submitted photo
This year's King's at the Cathedral concert series kicks off Sunday with Maurice Duruflé's "Requiem."
Let's Get Lost: A Tribute to Chet Baker
Thursday
"The Carleton pays tribute to the Prince of Cool with a special dinner-time performance by some of Halifax's best jazz musicians. Lose yourself in timeless tunes performed in the legendary Baker style. The band is Paul St-Amand (trumpet & voice), Silvio Pupo (piano), Ron Hynes (bass) and Brendan Melchin (drums)," event organizers say. more deets
For All The Saints: Duruflé's "Requiem"
Sunday
This year's edition of the annual tribute to those who have gone on before—and the kickoff for the latest King's at the Cathedral concert series—sees Maurice Duruflé's "Requiem" performed at the Cathedral Church of All Saints. The choir says the piece is ripe with "masterful choral and orchestral arrangements that call to the mind of the listener images of heavenly bliss deftly interwoven with a sense of human pathos and our longing for eternal peace"—so prepare to be moved. Oh, topping it all off? As always, the show is directed by the Grammy-winning Paul Halley. more deets
Chris Snelgrove w/Tragical History Tour, Matty Grace, Brad Religion
Saturday
Ex-Prevenge's Chris Snelgrove headlines this acoustic punk show at Radstorm for a wicked trip of alt-country tinged rockin'. more deets
Julie Nesrallah
Sunday
Cecilia Concerts describes this set by Lebanese-Canadian mezzo-soprano Julie Nesralla—backed by concert pianist Robert Kortgaar—as a showcase of "opera, big hair and grande passione in a deliciously entertaining afternoon of Italian art songs, torchy ballads and musical theatre curiosities." Catch it at the Lilian Piercey Concert Hall.
more deets