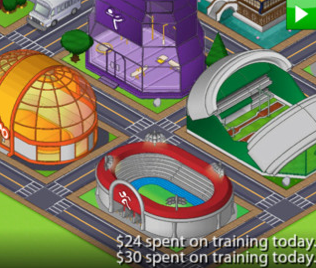 Local Halifax game developer HB Studios is offering fans of the Olympics a chance to fantasy-draft their own teams. The company's new game Medal Bound is now available for download from the Apple store.
iPhone and iPad users will have the opportunity to virtually build up a team of athletes to win as many medals in as many sports as they can. Sounds pretty basic, but gamers who like strategy should look out for this game.
"You've got to juggle their training routines and keep them in peak performance as the events come up. As you earn money from getting medals, you get the option to upgrade facilities," says Peter Garcin, executive producer.
The game, which will be available during the Summer 2012 Olympics, currently offers track, cycling and aquatics events, with other app purchases to enhance the game (example, an assistant coach who makes routines more effective).
Garcin says, "It was developed internally here. We've had a small team that has been building this over the past five to six months".
HB Studios is going to be working on similar games over the next few months, so expect more to come.