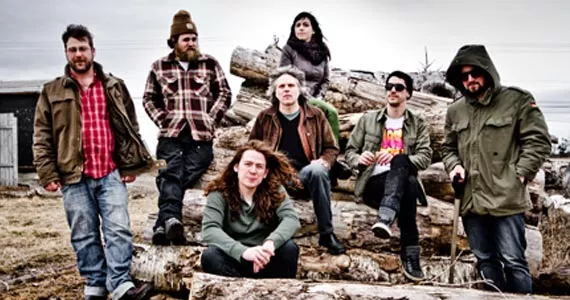 "God lives underground/in a dark and dirty hole." So begins "Merry Christmas Jim," the addictive and ironically upbeat first track on The Tom Fun Orchestra's much-anticipated sophomore album, Earthworm Heart (available November 13). A follow-up to 2008's East Coast Music Award-winning You Will Land With a Thud, the band's first album in almost five years will be entirely worth the wait.
The seven-piece motley crew of Cape Breton musical philosophers and its travelling cacophony of joy has recently embarked on a "Canadian World Tour," and plans to land with much with more than a thud at the Seahorse Tavern this Saturday, October 27. Grizzly voiced front man Ian MacDougall promises "musical Pop Rocks popping in your ears, tickling your fancy and activating your dancey."
Between albums, the band has travelled extensively, covering ground in the UK, Ireland, Australia and getting intimate with Canada. On top of touring, MacDougall claims the band has spent its time "bottling tornadoes and turning them into songs; imagining fences where there were no fences and breaking them down with our hammers and axes and things. You know, ordinary band stuff."
The effects of these travels are evident in the album's constant references to trains, but each song is punctuated with moments of delightfully regional nostalgia. I am constantly reminded of the first time I saw Tom Fun at George's Fabulous Roadhouse in 2008, and, lo and behold, a few tracks into Earthworm Heart I hear "I'm bleeding Hallelujah on the train to George's Roadhouse with my friends." A dreamy, baroque trip down a collective memory lane, this cozy new album features the same revelry of horns, banjo, danceable drums, speakeasy piano and the gravelly vocals of the Maritimes' Tom Waits that fans have come to expect, but with a growth and maturity that results in a taught and tender album. More folk-rock than the eclectic self-described "full throttle onslaught" of its first record, this time around the band has produced "leaner, tougher compositions with particular attention paid to finding the appropriate arrangements for each song."
The catchy first single, "Animal Mask" is, "a sad story of a sickly addict man and his addict wife and their struggle to live and cope with the harsh realities of their lives together. They are in love though, and that's why such a sad song can sound so happy." The refrain "Running out of methadone/get me to the clinic," says it all (almost).
As much as the band has perfected its personal brand of booze-soaked, kitchen-party-in-the-middle-of-the-woods Maritime rock, there are more than danceable tunes on Earthworm Heart. Peppered with sandpaper smooth serenades like "Lungs" and "Boxcar Lullaby," the standout is "Sympathetic Wolf," a guitar-heavy rock ballad with a healthy dose of emotional banjo and telltale horns, which would be just as perfect as a show-opener as it is as an end to an astounding record.
As for what the tour holds, MacDougall says Tom Fun is ready for anything. "One time we played on a floating stage on a canal surrounded by flames---that sounds made up but it isn't," he says. "One time we lived above a chocolate factory for a few days. The point is that it's always hard to tell what will happen when we go on tour, but it's always worth finding out."
The Tom Fun Orchestra w/Andrew Hunter and the Gatherers, Saturday, October 27 at The Seahorse Tavern, 1665 Argyle Street, 9pm, $12