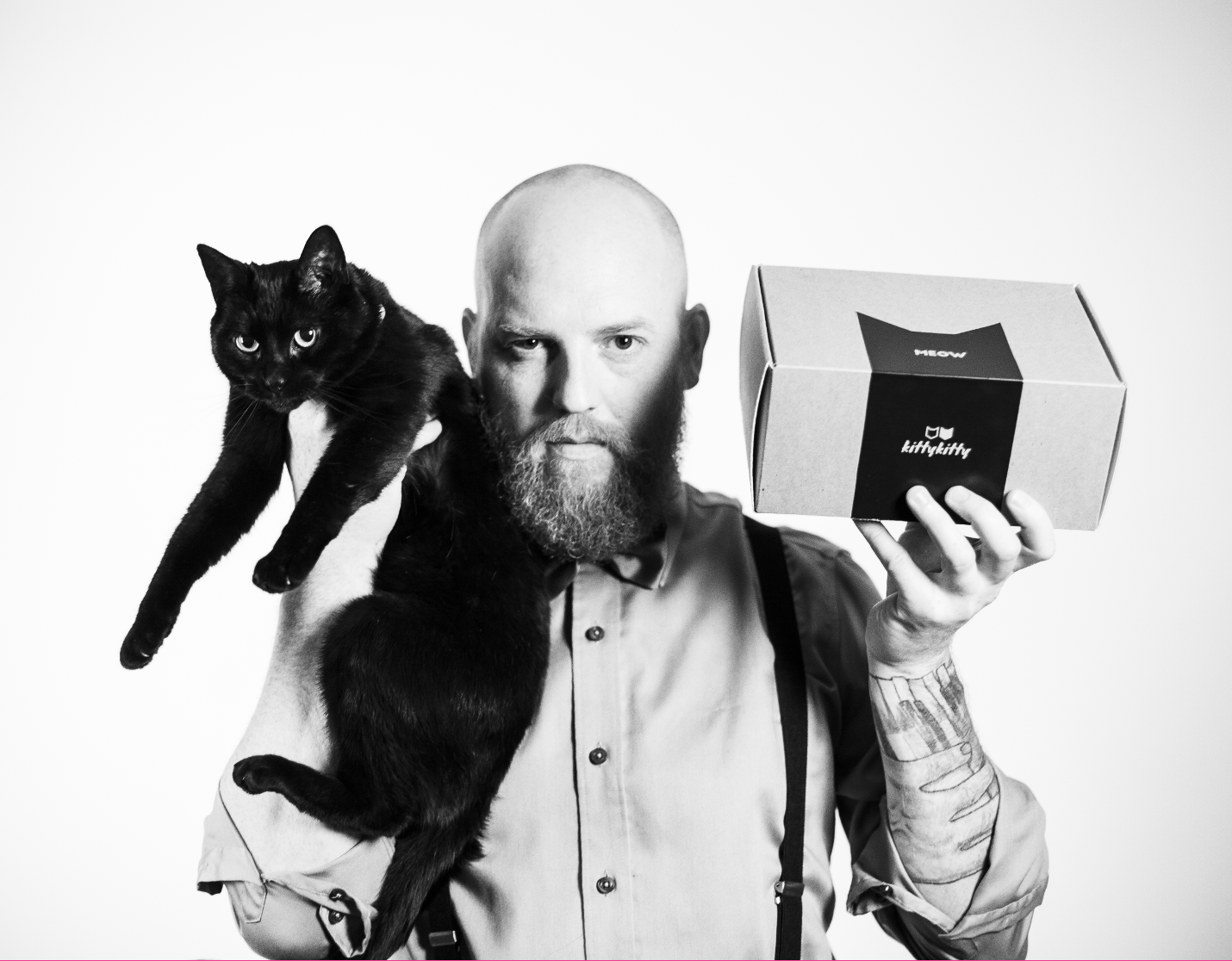 submitted
Cat bro and and kitty and Kitty Kitty box
"I don't think I've ever said the word kitty so much in my whole fucking life," laughs Kasey Chaulk. The entrepreneur behind the potty mouthed pop-up gift shop Frank & Folly is at it again, putting her gift-loving ways and wise wit to work with Kitty Kitty, a subscription box for feline lovers of all kinds.
"It started with Frank and Folly a bit. One of the things I noticed was that all of the quirky cat stuff we had got a lot of attention from people, and it was always my favourite stuff to curate," says Chaulk, a cat person (and cat owner, of Hank) herself. Mixing the knowledge she'd gleaned from her past pop-ups with her intrigue when it came to the subscription box model, she came up with the idea for a cat-inspired project and spent the last few months planning.
Kitty Kitty, which claws its way into Haligonian hearts for the first time this week, from its table at the Just For Cats Film Festival, will fill its boxes with "a surprise or two for the felines, but mostly stuff for the human"—shirts, mugs, stationery, jewellery and other most wanted accessories. The curated surprise boxes will come in three sizes (ranging from two-to-three items, to the delux six-plus items) and will have monthly themes, like space kitty kitty, or retro kitty kitty. "One thing that's interesting with cat lovers, is that it's kind of a dichotomy," says Chaulk. "They either have more than one cat, or can't have a cat. We're celebrating a cat lover in any form, no ownership required." That also means giving back to the furry friends; every month Kitty Kitty will donate a portion of its earnings to indie cat-related charities.
If you don't get a sneak peek at Kitty Kitty this weekend at the festival, you'll be able to pre-order your purrfect box starting mid-September. Or you can just wait patiently whilst staring at kittykittybox.com.