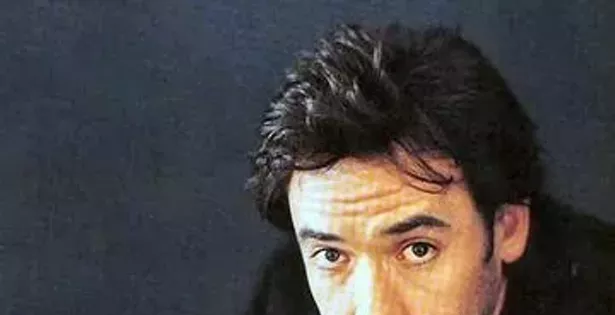 Waltz With Bashir is not for someone expecting an animated picture to provide gentle escapism. The film actually deals in how the mind enforces a certain escape when the memories are too difficult to metabolize. Here it's the guilt that a number of Israeli men, all of whom participated in the invasion of Lebanon in 1982, find in themselves, their own memories fragmented. The filmmaker's animated proxy starts to dig into his own past, with the help of stories told by his former comrades. He finds the truth about his marginal participation in a massacre that took place at a Palestinian refugee camp in Beirut. The film is gorgeous to look at and helps illustrate the shifting possibilities of memory, but when it counts, it brings a shocking realism, boiling away the animated veil to show actual footage of the horror. Intense, and in the end, very sad. It plays tonight (Thursday) at 9:30 at The Oxford.
Wednesday night was all about the short films. As per usual, they ranged in subject matter and in quality. For some reason, I always prefer the concise, funny pieces over the solemn, earnest, longer works. The audiences are super engaged and react well to the fun stuff. I say this just as a tip to filmmakers putting their projects together for next year's possible inclusion.
Of the stellar examples in the AS-III, Namir Ahmed's Golden Age, a Film 5 movie produced through the AFCOOP program, tells the tale of two senior citizen superheroes fighting one final battle in their retirement home before one finally expires.
"This is my first crack at something that's not a comedy," says Ahmed. "But it's funny, in the guide they called it hilarious, but it's not supposed to be! So, don't laugh."
Sorry, Namir, but I couldn't help myself. I did laugh a little when your heroes were first presented in costume.
I caught up with director and cinematographer Jeff Wheaton, who has credits on seven films in the festival this year, including his directorial effort Construct + Conflict, a genial experimental short in which he interviews people about the violence they've seen on screen. The film concludes with a cacophony of squibs.
"I have a lot of questions about violence, but mostly cinematic violence," says Wheaton, who shot Jason Eisener's Treevenge and Corey Bowles's Scavengers. " wanting to see what people's memory was. It was an experiment... I wanted to put some fun back into it. "
Glamour Guts is the second short by writer/director Jasmine Oore. The startlingly candid and funny film, shot by Andrea Dorfman, details Oore's struggle with a bowel disorder, and her efforts to retain her dignity and find humour in the face of a health problem few would admit to, let alone make a film about. Oore channels a wonderful Clara Bow-eque silent-era expressiveness, even when on "the throne."
"I didn't think about it too much, or else I wouldn't have done it," says Oore, laughing. "It feels good to take some risks, and be honest. I am kind of pathologically open."
In between screenings I cornered director Jakob Medjuck on the Park Lane carpet and got the story of his bringing his self-financed feature Summerhood to festivals around North America. The sweet summer camp movie is the AFF closing gala.
"There aren't any celebrities per say in the film, so it had to be measured by the performances," he says, praising his young cast. "Robert De Niro saw our film in Dallas and picked this kid to play his grandson, they're doing a road trip movie. His mother will be Drew Barrymore."
Medjuck's film had 4 extra screenings added when it showed at the Santa Barbara Film Fest in California due to demand and solid buzz, and the reaction at other festivals has been similarly positive.
"You spend a year building pedigree and then you go looking for distributors," he says. "I got a phone call from Ben Stiller's company Red Hour. They got a copy of Summerhood and they loved it. They've invited me down to Los Angeles. They have promised nothing but to connect me with representation, but they have 10 copies of my movie and they are actively showing it to people.
"I have no money, I have no success, I have nothing to offer, but I actively feel as though we're on the best road that an independent movie can be."
Medjuck also explained how he nabbed John Cusack as a narrator: "'You can't afford me, I didn't say I wasn't going to do it'" (is what Cusack told him when they met in Los Angeles.) "'John Cusack is an incorporation of which I'm not even a member of the board. There's a lawyer and an agent and the rest of it.' So, he came in on his own generous accord, and we paid a nominal fee, but not enough to get his name on it."
Atlantic Shorts IV included a riotous example of what a band can do with it's downtime. In this case, Matt Mays and El Torpedo made a horror film, Dartmouth Werewolf in Dover. There was also a sweet remembrance of goalie Terry Sawchuk in Night Work: A Sawchuk Poem by Justin Down to the Dirt Simms.
The two films from Eric Duncan and Sean F. "Speedbag" Hamilton, The Bad Roomate, a hilarious fourth-wall breaker starring Picnicface's Mark Little, and Gracious, were my favourites, though I should say, for the sake of total transparency, there are a lot of Coast connections there. Duncan used to work in sales, Hamilton has freelanced for us, and Gracious, a tale of inadvertent fame starring half the north end's music scene, was written and produced by our former arts editor and regular contributor, Tara Thorne.
"My acting secret is that Tara Thorne casts me in positions where I get to act like myself," said Danny Ledwell, whose day job is playing in In-Flight Safety. "Which is awkward and also ignored at times."
Thorne remarked that everyone seemed to be having a good time. "I'm glad they were laughing so much they laughed over other jokes, which was good." She also had props for the lead (another Coast veteran): "Matt Charlton, I'm telling you, acting god. Dear awards jury, give that guy an award."