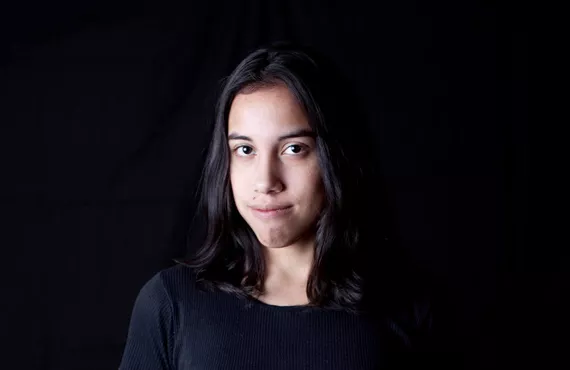 FANGLIANG XU
Francella Fiallos is the programming and development director at CKDU 88.1 FM. She is also completing a master's in journalism at the University of King's College. You can follow her at @f_fiallos. 
I recently took a course at the University of King's College about all the nifty things you could do with a smartphone. From shooting video to making gifs, all the way to taking 360-degree photos—it seemed like the possibilities were limitless.
So it came as a shock to me when I learned that most people can't use their iPhones to listen to the radio.
Smartphones have a built-in FM chip that can pick up radio signals without eating up data or requiring wifi. The thing is, most smartphone carriers and manufacturers don't activate the chip in the hopes that you'll exclusively stream audio instead and incur data costs. And we all know what happens when we go over our data limit.
With the chip activated, people could listen to their favourite radio station on their phones while camping, even though they don't have signal. Your headphones, plugged into the jack, act as an antenna and there are no additional apps required. You plug in, you tune in and drop out (of paying any extra fees, that is).
More importantly, emergency transmissions on wildfires or floods could be heard by anyone needing more information on where to go or who to contact without having an expensive data plan.
The Federal Emergency Management Agency in the United States, better known as FEMA, pointed out that broadcasters can be the only point of information for people during an extreme crisis.
When the Fort McMurray fires happened in May, activated FM chips could have made a significant difference to people looking to evacuate or check in on loved ones. It would have put a lot of minds at ease
FEMA endorsed activating the FM chip in 2013, when a campaign was launched in the United States to put pressure on telecom carriers. National Public Radio and American Public Media were some of the broadcasters giving their full support.
Luckily, there is a campaign in Canada looking to do the same. The National Campus and Community Radio Association, along with other broadcasters such as the CBC, is asking people to call their telecom carriers to "free radio" on their phones.
So far, Rogers, Bell, Telus and Shaw aren't budging, or are offering vague promises without committing to real action.
As someone who lives and breathes radio, I want to be able to listen to Halifax is Burning or The Leisure Hive or the rest of CKDU's shows while I'm commuting. Or, I can get up-to-the-minute traffic updates in order to gauge how long I'm going to have to wait on Robie while I'm on the bus.
And as someone with some student debt, I don't want to have to pay to do this when I don't have to.
Maybe a few extra dollars won't make a difference, but it might when we're all trying to receive update after update on city services after a cataclysmic blizzard.
Folks without data plans would still be able to figure out where to go, what to do and who to contact if the worst happens.
But in order to make this happen, the NCRA is asking people to contact your carrier via social media or by calling the corporate phone line and ask to enable the FM chip on your smartphone.
Radio should be free for everyone. And it should be accessible right from your pocket.