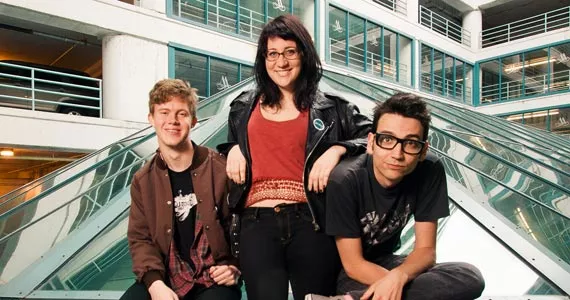 I hadn't intended to meet Hind Legs at a weird, heretofore-unknown-to-me jam space called Headquarters in the north end at 11pm on a Sunday night. But singer/guitarist Hally Jones is rather charmingly persistent---"Dude! You have to come to Headquarters!" she texted, over and over again---and so I went.
At the door, Jones is resplendent in a floor-length fur coat, motorcycle boots and her usual glasses with dark almond-shaped lenses. "I'm giving you the tour," she says, and leads me up a shadowy flight of stairs, past a bike with a skull decked out in pirate gear in its basket. We whirl up to the living room, where people are sitting around in chairs in various states of disrepair, listening to music and shouting. The other two Hind Legs are also in attendance---drummer Ben Deinstadt, who has the face of a choirboy and a flop of blond hair, and the band's newest third Leg, bassist Brent Braaten, a tall, affable guy.
Together we step onto the roof, which overlooks Gottingen Street and the twinkly lights of Dartmouth to the east. "Look how nice Dartmouth looks," says Jones. She and the boys are seated in a kayak, stored on the roof for reasons unknown. At this moment in the dark, laughing together, they look like three friends who grew up sharing a clubhouse and reading each other's comics. They look like nice, slightly weird kids---which is one reason why it's pretty great that they make such dirty, pulverizing rock 'n' roll music.
Jones has been writing songs since she was in her early teens---she's 21 now. She says a lot of the songs were about dead birds. "I had this shitty friend who recorded me once and he told me I couldn't sing, so I only did one song and stopped," she said. She spent the next few years getting into trouble around Toronto, briefly playing with a band called Don't Get the Herps. She moved to Halifax, enrolled at NSCAD for painting and drawing, and kept getting into trouble. "I thought the best way to meet people was to steal their shit," she says. She met Deinstadt---a marine biology student at Dalhousie---when she stole a handful of pasta off his tray in a cafeteria. Two years later, mutual friends connected the two since, in Jones' words, "Ben's kind of a pansy."
After a while, Jones decided to fill out the Hind Legs sound with a bassist. She met Braaten outside Perks on Quinpool Road and they talked for four hours, in spite of an apparent age difference: "I told Hally that my last band opened for Trooper and she was like, 'Who the fuck is Trooper?'" Braaten says.
The newly rounded out version of Hind Legs is busy; they have an album coming out with Jay Methot called Pleasure Cave, a split tape with the Radiator Collective and they're currently selling "Win a Date with Hind Legs!" tickets to raffle off at a show at Club 1668 tonight in order to raise money for their tour to Toronto, happening in mid-June. They're also putting together a comic book to release with the album. All this aside, the best thing about Hind Legs is seeing them live---Jones wails, Deinstadt is intensely focused and Braaten dances ---and watching their growing cluster of admirers go crazy. They are the sweetest band in Halifax; it's hard not to fall in love with them. "We're like rock 'n' roll," says Braaten, "but for nice people."
Hind Legs w/ Scoop Outs, Fantods, Total Bastards, Thursday, June 9, 10:30pm, Club 1668, 1668 Lower Water Street, $5