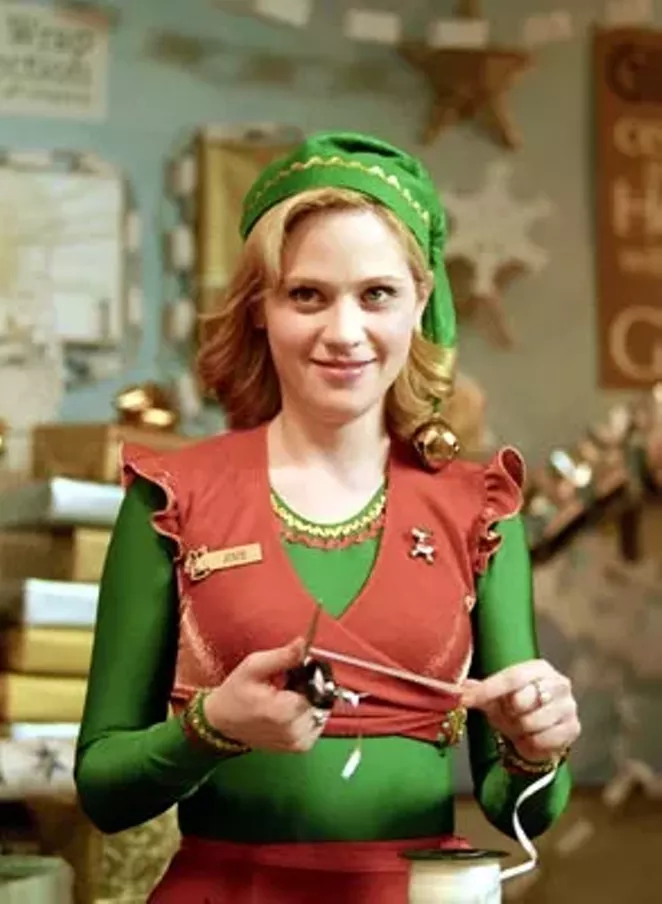 Stick to the four elf food groups---candy, candy canes, candy corns and syrup---and style out with Zooey Deschanel's quirky sweetness.
Lisa Pineau of Storybird Designs handcrafts pendants from glass or discarded Scrabble tiles---finally a use for that damn X! Choose from loads of images (for you Buddy the Elf types, she has a series of Christmas-inspired pendants), or she'll make you up a custom tile, based on a photo you provide (email sales@storybird.ca before Dec 15). All come on a silver-ball chain, available at Pretty Things Boutique (5685 Cunard Street, 492-8329) and Love Me, Boutique (1539 Birmingham Street, 444-3668), or directly through storybird.ca.
Elf it up with a vintage girly-girl white dress, with red buttons and piped ruffles ($28, Lost & Found, 2383 Agricola Street, 444-5986.)
Boy elves will spin in their pointy shoes over wooly red-and-black-checked skinny pants, also at Lost & Found ($46).
Golden bangles, as shiny as Gimbel's ($.75-$7, 1545 Grafton Street).
Photo: Katrina Tuttle's spring 2010 collection
You'll fall in love with Katrina Tuttle's exclusive line of holiday dresses at Sweet Pea Boutique (1542 Queen Street, 423-0975).
Cranky's pink leopard-spotted tunic dress ($35, Put Me On, 1532 Queen Street, 492-2572).
Sure, Bing Crosby's voice goes down like a bottle of Glenmorangie, but the real stars of the classic 1954 film are Rosemary Clooney and Vera Ellen as the glamorous Hanes sisters. Those gals know how to use those feathers. Chloé comme Parris' single leather feathers get a glam holiday update in shiny metallics (Clothes Horse, 1532 Queen Street, 483-7067).
locally made fun flies with Pistacia's feather-and-felt hair clips, pins, brooches and rings (Love, Me).
At Elsie's (1530 Queen Street, 425-2599), "Elsie's Own" hair clips and brooches sparkle, mixing feathers with dramatic cameo pins.
Antiquate feather and cameo hair pin ($20, Lost & Found)
Fly across the dancefloor like you're Danny Kaye (Elsie's).
All that glitters: tank and vintage necklace ($28/$37, Clothes Horse)
They'll be singing "Mele Kalikimaka" over this red dress (Pretty Things).
Poor George Bailey. And yet, even when he technically doesn't exist, the man still looks mighty fine. Take a lesson and ditch those ball caps for a fedora (Biscuit General Store, 1661 Argyle Street, 425-5436 or 50 Hats, 1086 Queen Street, 482-4287. Hat in photo: Lost & Found, $34).
Bailey is a man of conviction, who would appreciate Epidemic 613's loudly political anti-vehicle silkscreened ties; for shy guys, there are scissors, stars, mushrooms and bees ($25, Love, Me).
Spree Designers Market (1530 Brunswick Street, 406-3414) is an untapped source for secondhand men's shirts and jackets. Last time we visited, there was much swooning over a dark plum velvet blazer.
Stand by your man with this Mary Hatch-approved vintage dress with crinoline ($48, Lost & Found)
Good-wife retro style goes vavoom at Pretty Things.
Remember when terrible TV exec Frank Cross (Bill Murray) wanted to staple tiny antlers onto the mouse's head for the Christmas special? No animals were hurt making Vanessa Neily's stunning enamel and lace branch earrings ($75, Seeds Gallery, 1892 Hollis Street, 494-8301).
Travelling back to the past, or incorporating vintage into your wardrobe, doesn't have to be as painful as having Carole Kane hitting you over the head with a toaster. Find this incredible ghostly piece at Elsie's ($120).
Spend hours in Dressed in Time (5670 Spring Garden Road, 488-7116), sorting and sighing through vintage coats, hats and shoes.
Spend hours in Dressed in Time (5670 Spring Garden Road, 488-7116), sorting and sighing through vintage coats, hats and shoes. For vintage newbies, start with the beaded handbags or shawls, and it will cost you less than a prize turkey on Christmas morn'.
Vintage dresses dazzle at Elsie's.