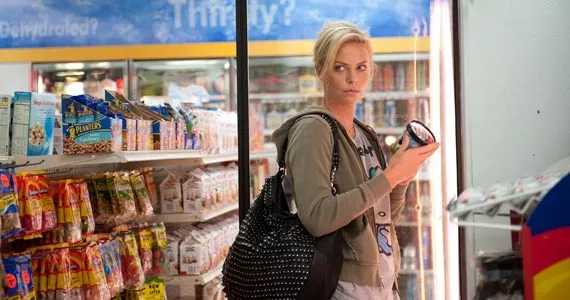 Charlize Theron making one of many bad choices in Young Adult, an awards season film you should see.
There's an historic notion of nostalgia as a mental disorder, now largely discredited. In film, we can still rely on what's new being interesting. Knowing your history is valuable, but too much looking back is stultifying. It's bad for art.
Hollywood doesn't always see things that way. Now, in the midst of awards time---the Golden Globes are Sunday, followed shortly after by the Academy Award nominations---a number of the movies propped up by the powers that be (a pretty small group of insiders, incidentally) share a troubling theme: wallowing in the past.
Take Woody Allen's Midnight in Paris, the biggest hit of his long career, a slight, funny movie nominated for Best Motion Picture (Comedy or Musical) at the Globes. The story of a man who travels in time back to Paris of the Roaring '20s is awash in a cozy nostalgia, in contrast to the film's explicit message, a warning against the vary thing in which it revels. It's disingenuous, but who cares since everyone likes it? But it neither approaches Allen's best work, nor the most interesting films of the year. (With apologies to Coast film critic Molly Segal, who would disagree.)
Consider The Artist, a European movie earning big buzz as a lively homage to Hollywood of the past---expected to open in Halifax on January 20. It's a black and white, (mostly) silent feature that retells A Star is Born, a film from 1937 starring Janet Gaynor and Frederic March, remade twice.
The Artist's silence has been embraced as shorthand for a purity of storytelling, a "unique enchantment," in Roger Ebert's words. And while it's fun and engaging, its silent movie format is hardly novel, an 80-year-old trope servicing a story that was best told not in its original form or even in the remakes, but in the great Bette Davis picture All About Eve. Is this the best movie of 2011? A loving tribute to a vanished era telling an over-familiar tale?
Another Golden Globe-nominated film is Martin Scorsese's Hugo. It's a gorgeous and dream-like picture, paying tribute to Georges Melies, French pioneer of the moving image. Scorsese has forgotten more about cinema history than most people will ever know, but instead of making a stolid historical drama, he cleverly chose to shoot this in 3D, bringing film history alive in a way modern audiences can connect with. But while it has a timeless message about the magic of film, it's also like its shiny automatons: self-contained, a movie about moviemaking.
Golden Globe-nominated My Week with Marilyn and The Help glamourize history in their own insular ways, but the most recent and egregious example of a backwards vision has to be from Steven Spielberg. His World War I drama War Horse may be inspired by the great work of John Ford, but it also indulges Spielberg's worst instincts for dewy-eyed sentimentalism and super-annuated style.
In the decades to come, when people look back on 2010, it'll be The Social Network, 127 Hours and Inception that will be the significant films. They're of and from the moment, brilliant and timely. Looking at 2011, better choices for movies that have something to say relevant to our lives include Young Adult, The Descendants, Beginners and even Terrence Malick's cosmic epic The Tree of Life.
Those are the movies that deserve both attention and adulation, more so than the ones that, however well they may do it, are crafted to honour the past. Keep that in mind when lining up to see a "new" movie.