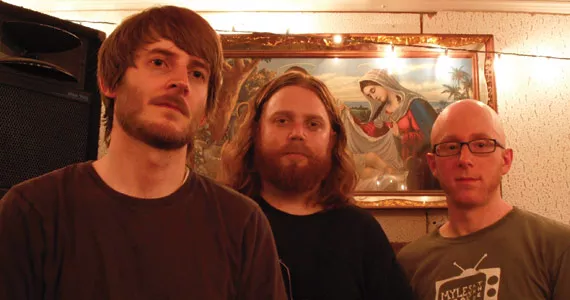 Do you like it fast and loud? Feel as if the Halifax music scene has been missing something of late? Well pray no more because The Holy Snappers have arrived, and the newly formed rock and roll trio is looking to fill a hard-hitting niche amongst local bands.
"I don't think there's a whole lot of just rock and roll here," says bassist and co-founder Brent Geikie. "There's a lot of heavy metal bands, and a lot of punk bands and such. But it's kind of few and far between for just straight up rock and roll.
"There's been lots of great bands, just not in that genre."
Necessity being the mother of invention, Geikie is teaming with longtime friend, drummer and vocalist Jason Wilson, as well as guitarist Colin Baker to shake and shock eager crowds.
"That's kind of why we wanted to do it," Geikie says. "We like going to see shows like that, and there's not a whole lot of it going on. So we kinda just started the band that we want to go see live on Saturday night."
The group came together just over a year ago. Wilson, a veteran of such Halifax bands as Cleveland Steamer, The Heelwalkers and Flagship Sinker, called up fellow former Cuban Assassins member Geikie. Wilson had been jamming with his co-worker, Baker, and the two needed a bass player. Soon the triumvirate were honing their decibel decimating sound and recording their first, self-titled album at Omni Art Studios in Dartmouth.
"We went in and recorded the bass and drums in a matter of a few hours," says Geikie. "Colin, our guitar player, recorded a few hours here and there for a few nights. We recorded the vocals in a matter of a few hours too."
It's been a fast, fun process for the rock veterans, and they want audiences to share in the excitement by downloading The Holy Snappers debut album for free when it's released October 6. The low-cost is a calculated risk to promote what the trio really love doing---playing live.
"We're going to have physical copies available for $4," Geikie says. "We're trying to keep it as cheap as possible because CDs these days---music these days---is more getting people out to the show than selling it."
To that end, Geikie and his bandmates will be having an album release show Saturday night at Gus' Pub on Agricola Street. The three will headline a powerhouse showcase that also features some out of town guests, Moncton rockers The Nuclear.
"They've been friends with Jason and I for a long time," says Geikie of the New Brunswick band. "We really like those guys a lot."
Along with the Snappers and The Nuclear, fellow rock and roll newcomers Grizzly and punk rock luminaries The Graboids will be bursting ear drums and keeping crowds happy.
Geikie promises audiences it will be a raucous, even uproarious time. Which is good, because that is, after all, The Holy Snappers' raison d'être.
"We just do it for fun. We don't take it too serious," Geikie says. "Something to do on Thursday night."
The Holy Snappers album release w/The Nuclear, The Graboids, Grizzly Saturday, October 6 at Gus' Pub, 2605 Agricola Street, 10pm, $6