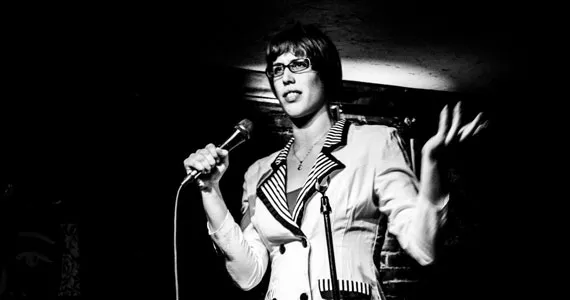 There's something funny going on in Halifax. Almost every night of the week there are people getting silly all around this city---Mondays at Gus', Wednesdays at Yuk Yuk's and Bearly's and Sundays at The Company House, funny people are getting down and cracking us up.
This week the Ha!ifax Comedy Fest will be in town proffering big names, big shows and TV-friendly jokes, but will it be reflecting what we've got going on?
"The whole combination of the programming we have this year I'd say it's one of the best we've had in the last five years," says Kim Hendrickson, producer of the fest. "There's new energy coming in and really solid talent---I call them our soon-to-be legends---coming this year. They're going to be making great strides and we'll be seeing a lot more of them, but we'll be seeing them in Halifax first."
Along with these fresh faces there will be some familiar fun-makers---Brent Butt, Caroline Rhea and Scott Thompson are a couple of big names gracing Hali stages. With 13 shows in three days the fest promises to be a jam-packed joke jamboree.
But looking over the roster of performers one can't help but notice the low numbers of women and locals performing as part of the fest. Of 30 performers, there will be seven women and six Nova Scotians.
Hendrickson explains the low numbers of ladies as being reflective of the comedy market in general. "It's never been 50/50," Hendrickson says. As for locals there will be the annual Homegrown show at Yuk Yuk's this Thursday, April 25 (see page 23) where local comics will have the chance to show what they've got to an audience including some talent scouts from out of province.
Catherine Robertson is a local comedian performing in the Homegrown show and it's an event she looks forward to. "It's very exciting for sure," Robertson says. "Especially because I took some time off to have a baby a couple of years ago so I got back into the scene a year and a half ago. Yeah, this kind of feels like I'm back in the game."
When asked if she thinks the fest is representative of the Halifax comedy scene she explains it's a horse of a different colour. The independent open-mic nights that make up the scene don't have the same vibe as a mainstream comedy fest. "The audiences at the open mics seem to be younger and a little more anything-goes," she says, "whereas a Thursday or Friday night at Yuk Yuk's you might have somebody's grandma in the audience."
Independent, casual stand up allows for all kinds of wacky stuff to occur, wacky stuff that might not make it on to CBC main stage.
One of the up and coming indie comedy nights in town is a monthly all-female show at The Company House called It's That Time of the Month. Andie Bulman and Emma Cooper started it up back in September when they realized how many great female comics there are in this town.
"I think it's really neat," says Bulman, "because there's a lot of us and we're all doing different things." She explains this supportive atmosphere lends itself to cool new directions. "I feel more free to do wacky things." And things do get wacky down there. At their first show ITTOTM member Cheryl Hann was carried on stage, singing Alanis Morrisette until she puked.
These alternative antics might not be front and centre at this year's fest, but luckily (yukily?) we get them all year round.
Ha!ifax Comedy Fest To April 27, It's That Time of the Month, Monday, April 29, 8pm, The Company House 2202 Gottingen Street, $5