The last time the Simpsons family came to Canada it was to buy cheap prescription drugs with fake Canadian health care cards. Tomorrow night they join the US curling team and Lisa finds her own drug: Olympic pin collecting.
Generally, Canada is used by either lazy writers who have to make a character appear kinda fucked up but still sound "American," or by Canadian comedy writers hiding quietly in Hollywood. Or by true fans strong and free.
Here are a few of our favourite Canada appearances. Can you think of more?
Tom Haverford (Aziz Ansari) is in love with his green-card Canuck wife.
Expect a lot of "syrup-sucking" when Stephen Colbert joins the NBC Olympic coverage, on Feb 17.
Dave Foley shocks his News Radio colleagues with the admission he's from north of the border.
Kramer asks Jerry if he can tape "Canadian Parliament, you know on C-Span," on his VCR.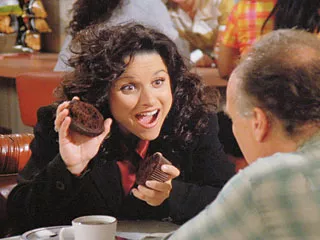 Elaine gets kicked out her building for putting Canadian quarters in the washing machine.
Boomhauer does a house swap with self-righteous, quiet-loving Canadians who make fun of American beer, which inspires Hank's "Keggerator" parties
Technically not a comedy, but L&O franchise hilariously uses Canada all the time to solve crimes.
And of course: