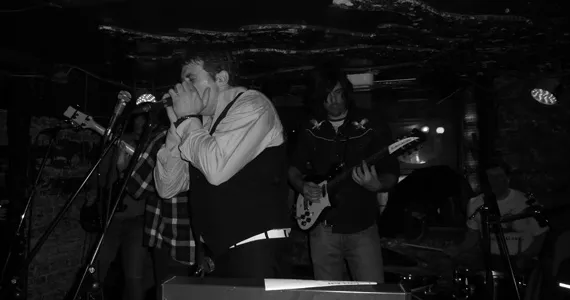 Genital Hospital's garage-punk gems are about as finely honed as you can get. But they've had lots of practice. Despite being a relatively new band, most of the members have clocked in countless hours on the road with other projects, making Genital Hospital a hardened beast of a band.
Brian Hildebrand and Stefan Pez played together in the Confusers, and Hildebrand also plays in Demon's Claws and Primitive Hands. Newly welcomed into the fold is Martin Dupras (from such bands as Scat Rag Boosters, The Suppressors and Thee B-Sides). Dupras serves as Genital Hospital's multi- instrumentalist.
"At first we were like a '1-2-3-4! Hey ho, let's go' punk band and we were like, 'How can we mess with the mix a little bit?'" says Hildebrand over the phone, fresh from feeding his child breakfast. Dupras, who recorded the band's first album (Eyes Full Of Terror, to be released on Germany's P. Trash label), was an obvious choice. The band also features Moncton native Pierre Pressure and Sebastien Grand Fusil.
Although some members have extensive experience and some are newcomers to band life, they've levelled the playing field in a way that can have entertaining influence on their live show.
"A couple of us are still new at our instruments, bass is not my first instrument," says Hildebrand. "Hopefully it won't get too nutso because sometimes I've been known to stop mid-song and just start to smash around on the stage, just because I get so frustrated at my bass. I get all Sid Vicious on it."
But Sid and his peers don't influence the band in onstage behaviour alone. "I'm getting older now, I'm 33, and I'm still influenced by stuff around me and whatnot," Hildebrand says, "but I still find myself going to my records that I was into when I was 17, 18, a lot of old '70s punk and '60s garage and old country."
With the multitude of new bands in Montreal's punk scene, it can get hard to keep up. "I find myself dipping into the oldies," he says. "Ugh, did I just say that? Oldies? That was gross."