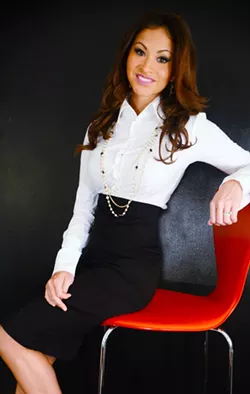 "Sex is an integral component of intimate relationships," says Jess O'Reilly, a doctor, Toronto's Playboy-TV host, author and sex educator, "But we live in a culture in which having sex is acceptable, but talking about sex is taboo." Thus, The Everything to Do with Sex Show is designed for dialogue.
From seminars to main-stage acts to dozens of vendors, The Everything to Do with Sex Show is an orgy of titillating information and openness about healthy sexuality: kinks, partners, safety and fun.
O'Reilly's seminars in particular are "bound to spark important conversations," she says. Her session, Hot Oral Sex, in conjunction with Quivers Books, is her most popular. "You don't have to be into everything," she says, "You can pick and choose what works for you." But take the time to discover.
Along with the focus on sexual exploration, the show has many spectacles of sexuality as well. Porn stars Charmane Star and Breanne Benson will make appearances, Halifax's Unleashed Fitness will demonstrate physical well-being, street-artist Magicfinnga Wong will paint bodies and models will strut in the Latex, Lingerie and Leather Fashion Show. The schedule (available online) is totally jam-packed.
Returning to The Everything to Do With Sex Show is Halifax gymnastic contortionist and Atlantic Cirque artist, Dislocait, performing a new routine this year on the Kink Corner Stage. "I have been training very hard over the past year on my hand-balancing and I'm very excited to show off my new material," she says.
Amid the many performances, it's important to be respectful of sexuality in all its forms, says O'Reilly.
"It may sound like a cliche, but honest communication is really of paramount importance to healthy sexuality," she says. "You'll find yourself talking about the most intimate subjects simply because you've been exposed to new sights, sounds and subjects at The Sex Show."