I have a lucky afternoon. We imagine postcard-perfect moments come more often when we are away from the usual, but really, even in various versions of paradise, they don't show up at every turn.
In the morning I shuffle around Bocas Town, slowed and bowed by a tremendous hot humidity. I don't notice the sky much; I am fixated on how hot I feel. I think there's a haze holding down the heat. I shamble to The Pirate for breakfast and even as I go through the door I'm wondering why: it must be the cheapness of it, because yesterday I had breakfast there and the waiter said not one word to me, me with the por favors and graciases, and I felt kind of crummy about it. Yesterday when I finished and went to the bar to pay my bill she wrote the amount owing on a small pad and turned it around to face me.
Today it is a different woman and she never speaks either. I order a vegetable omelet from the Spanish side of the menu and get up and get my own ashtray, say por favor and gracias. There is only one other table of people. At bill-paying time she taps the amount I owe into a small calculator and turns it towards me. Now I am done talking to her too, and scrape my change off the counter and leave.
The tourist info place (air conditioned) is closed. I stop at the deli and get a can of Coke Light and find a stoop in the shade. Poorly refreshed, I make the trek to the Bocas Bookstore. It's only four blocks away but I arrive with a big bib of sweat and damp thighs, knackered. After a desultory and unsuccessful search for a book I want to buy (and more importantly, carry) I walk very, very slowly to Tropical Markets, which is severely air conditioned and sells expensive and nicely wrapped meats and pantry supplies for gringos. I arm myself with a can of club soda and make it to Bolivar Park, treed and benched but also clammy and moldy, and I perch on a bench in the shade.
Anyway, my morning and early afternoon go on suchlike. It feels good to walk so I suppose that's why I do it, plus I don't want to go back to my room until I really need to. By two o'clock I am done done done and need to. I catch a water taxi over to Isla Carenero and my hotel room where I jack up the air-conditioning, strip off my wet clothes, have a cool shower and lounge on the bed naked, playing solitaire.
I am vaguely aware of girls outside, playing, and then they are close to my window, hopping on a moored boat, and then they are too close and looking my way. I slide my bare butt out of bed and use the bed as a visual barrier between me and them as I crawl across the tiled floor to the closet. I yank from below to get a shirt and get dressed on the floor, and after I check to see that housekeeping swept away a big dead cockroach I noticed earlier I am amused by being on the floor. I go back out into the heat, for a walk, around the side of the island I walked the first day. I don't walk as far as the first day; when I get to Bibi's On the Beach, a circular restaurant with a thatched cone roof over the water, I go in, sit down near the water and get an iced drink. I am the only customer. The wait staff stands far enough behind me, around the bar, gossiping. I look out beyond the railing.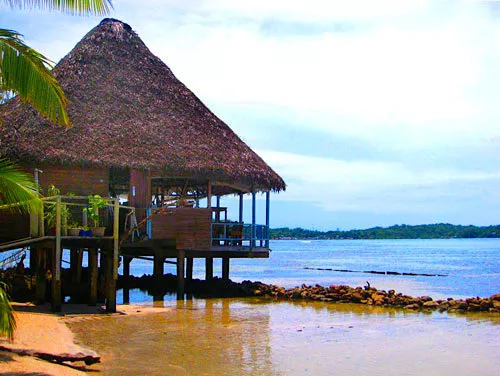 And that's when it gets so lucky—lucky enough to wipe away the sweat, the doubt, any and all of what may ail me: it is so beautiful. Away to the southeast, over Bastimentos Island, there is blue sky and lightly gilded clouds, like the clouds of Michelangelo, as Saint Joni puts it, or the clouds the Group of Seven sometimes painted. Over west, towards the mainland, the clouds are grey, and layered: different shades and shapes of grey behind shreds of dark blue clouds: ash clouds, pearl clouds, milk clouds. Below the sky and clouds is the water, green and blue and grey. Water taxis with bright hulls go back and forth, and then a bright green wood canoe carrying three boys, and later a three-masted sailing vessel. I just drink my drink and look at the clouds and water and islands and boats and all of it and there is nothing to worry about. There is a light breeze; I am comfortable and cool.
The evening is cooler too.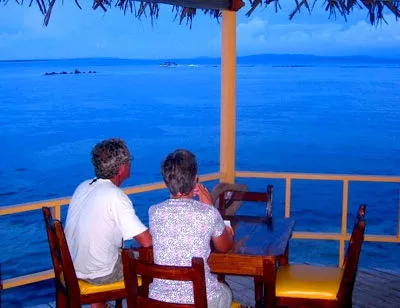 I sat where the guy hung his hat