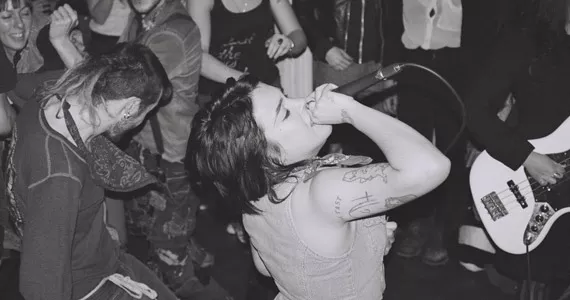 From locals Tongan Death Grip and Vixens, to bands from PEI, Winnipeg, New Brunswick and Ontario, 25 diverse punk acts play the all-ages Harbour Water Fest in Halifax this weekend. Eekum Seekum's guitarist and main manager of diyhalifax.ca, Ryley Beggs, started the annual event three years ago to provide a space for people outside of the mainstream to express themselves. Beggs saw little opportunity for certain bands to play in all-ages, non-corporate settings, so this festival is all-inclusive.
"All-ages punk is really important to me," Beggs says. "I was exposed to punk at such an early age and I think it really shaped me and influenced my life." Not only does the festival bring together various communities, it takes place in alternative venues. "Bar shows just cash in on punk rock and that's not something I'm interested in," Beggs says, so a few of the festival events are in houses and backyards around the north end. While house shows seem exclusive, Beggs says, "people just look intimidating, but once you get talking to them, you will see that they're as accommodating and as welcoming as possible."
While the Harbour Water Fest's goal is to showcase rad and unique punk music ("no two bands sound the same"), it also works toward acceptance for women, queer and trans folk in the punk community.
"I can't stand the idea of people not coming to shows because they're afraid," Beggs says. "We want everyone to feel represented. And, ideally, the fest is a mixture of dancing and learning."
Between shows, there are free workshops on skateboarding, applesauce canning, DIY sex toys and anti-oppression. Plus, a portion of the funds raised will go to Ark Outreach and the Maritime Pit Project. By creating such a community-based environment, Beggs says, people can come together and learn from each other. "We want to expose people to different things, and the fest is one way that we can use punk rock as a dangerous tool against all the bullshit in our society." Positive attitudes are more than welcome. --
BULLET
xxx - Deprecated in favor of GTM, above.