YALE UNIVERSITY PRESS
Adapted from Almost Home: Maroons between Slavery and Freedom in Jamaica, Nova Scotia, and Sierra Leone, copyright 2018 by Ruma Chopra. Reprinted by permission of Yale University Press.
In late July 1796, on a "glorious day of warmth and sunshine," three large
transports
brought 549 Trelawney Town Maroons to the harbour of Halifax. Some Maroons left
valuable
land and well-furnished home in Jamaica while others carrier their property—slaves—with them. The Maroons came with two white superintendents and 25,000 pounds of Jamaican currency as reparation. No one knew how long the refugees would stay in Nova Scotia. Instructions regarding their final destination had not arrived.
The civil and military leaders of Nova Scotia—Lieutenant Governor Sir John Wentworth, the British commanding officer; Prince Edward Augustus, who at the time was commander in chief of the British forces in Canada and was later to become the father of Queen Victoria; and Admiral John Murrah—disembarked the Trelawny Town Maroons without waiting to hear from London. In meeting the prince, the Maroons, the deported enemies of Jamaica, became the first group of Blacks to directly encounter royalty. Neither Wentworth nor the prince had reason to fear the Maroons' military background: unarmed and weary families, many of whom were sick and enfeebled from being imprisoned in transport ships for four months, hardly posed a danger in an environment alien to them. Two-thirds were women and children. Halifax was a garrison and could answer misbehaviour with military force.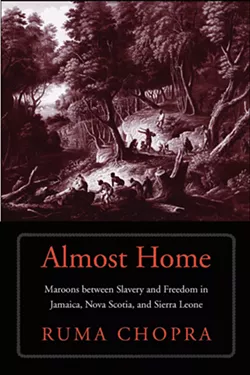 As it had in Jamaica, the ongoing war between France and Britain created urgency in the British Maritime colonies, in a way that, in Nova Scotia, worked in the Maroons' favour. Nova Scotia was in dire need of military labourers; just a year earlier Wentworth had requested 200 men for repairing fortifications. Because their livelihood was supported by the government of Jamaica, the Trelawney Town Maroons could meet Nova Scotia's labour needs at no cost to Wentworth's government; they would receive wages for their labour but these would come out of Jamaican funds. Ready to benefit from the Maroons' labour, Wentworth and Prince Edward ordered them to come ashore to build the fortifications in Citadel Hill to guard against a French attack on the city. Confining the Maroons for an even longer period in the crowded vessels would have led to sickness and deaths, diminishing the numbers of potential workers.
The Maroons' arrival during the harvest season made them particularly valuable to the colony. They could take the place of the white workers labouring on the fortification, who clamoured to return to their farms. In a colony where families grew food for subsistence and the growing season was short, the absence of men from farms, especially between April and July, could mean dire results. The Maroons' availability would save white families from wrenching scarcity in the winter.
....
No one suggested re-enslaving the Maroons, although the hardships of a northern climate had not prevented African slavery in Nova Scotia. Slave ads in newspapers and wills showed the wide acceptance of the institution among the populace and the elite. Britain also legally protected slavery in British North America in 1790, encouraging the importation not only of household utensils and farming
implements,
but also of immigrants who owned slaves. Most slaves toiled side by side with their owners in farms and shops or on the docks. White settlers used slaves to clear stumps, cultivate fields, fell trees and build homes and barns; slave women did domestic chores and minded white children. The smaller number of slaves in Nova Scotia did not blur the racial divide; as in the United States, deeply ingrained racial prejudices precluded Black people's chances of integrating into Nova Scotia's
civic
society. Slaves as well as free
Blacks,
received harsh indications of their service place: public whippings for small offences were the most visible and painful reminders
Yet white Nova Scotians imagined themselves as a people apart from West Indian planters. Criticism of slavery and the slave trade appeared in Nova Scotia's magazines and newspapers. Antislavery debates in the House of Commons also circulated widely. Long essays delineated the disposal of slaves in the West Indies in minute detail. Slave buyers, the essayists declared, eyed slaves at auctions, seized them with their hands and used handkerchiefs and sometimes ropes to tie them together. When some slaves fled the scene
in
fear they were "hunted down and retaken." The essays condemned slave purchasers as bargaining for bodies with the "ferocity of brutes." Nova Scotians portrayed West Indian slaves as being worked to death, always hungry and inhumanly punished by evil, power-hungry tyrants. By contrast, Nova Scotia appeared humane: the prevalence of Black servitude and racism in its midst did not compare to the callousness in the Caribbean.
———

Voice of the City is a platform for any and all Halifax individuals to share their diverse opinions and writings. The Coast does not necessarily endorse the views of those published. Our editors reserve the right to alter submissions for clarity, length, content and style. Want to appear in this section? Submissions can be sent to voice@thecoast.ca.