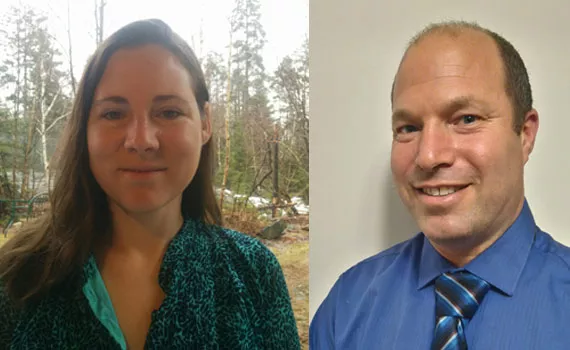 We were looking for a metaphor that would make it more understandable for others to comprehend what immigrants are going through in the beginning, and we came up with this: Imagine that you came into a shiny prom, pleasant yet unfamiliar music is played and all dancers are arranged in pairs or groups. They all move delightfully. You don't know how to dance to the new music, but that's what everybody is dancing to, so you must learn the dance.
So with cautious steps you walk onto the floor, joining the dance! But you stumble, step on your partner, crash into other dancers and in general, despite many attempts, you do not fit into the new environment for some time.You will continue to dance, and sometime you will fit in, or at least this is what everyone says. It just takes time—lots of time.
Obviously, the "dance floor" metaphor is not perfect in representing every one of us who "came from away." Some came from England and speak better English than the average Maritimer. A few of us managed to work in our professions. But for those who came from the far east, Europe, South America, Africa, the Middle East, the list goes on...learning the moves on the new dance floor is challenging.
Research indicates that it takes about 10 years for immigrants to feel at home in the country they moved to. I met a number of Canadians who came to Halifax 35 years ago and it surprised me to listen to them when they told me that some people refer to them as "from away" until this day. "How come?" I asked. "After all, you have lived here for 35 years and raised your family here."
"This is the way things are here," each of them replied. There is something charming about the distinguishing between "locals" and "from away," but I am wondering if that has anything to do with the fact that only three percent of the people in the Maritimes are newcomers who stayed here (versus 20 percent in the rest of Canada).
After all, we are a group of people who left their place (some as refugees but most of us as successful professionals), wishing for a better life in a better place. We left our communities and networks to come into a completely new environment; all we are looking for is people to connect with; all we wish is to get back to full professional and social celebration of life.
The other day I was with my kids at the supermarket. After choosing our groceries we headed for the cash register to find only one woman before us in the line. Her last item was going through checkout and a problem occurred—the price on her last item was wrong.
Immediately the cashier called the manager, starting a long and thoughtful consultation on the issue. Afterword the cashier was sent to respectfully take a good look at the supermarket shelf somewhere in the giant store. During all this time my children were waiting quietly and patiently. My kids' capability to wait was recently developed after a number of months in Canada.
So there we were standing, and the woman ahead of us apologized to me. She was embarrassed. I smiled back at her. "It's OK, this way of life that incorporate tolerance and respect to each other—this is my favourite thing about Canada." Hearing that, she smiled too.
Despite what Canadians usually say, I think that the national sport here is not hockey—rather it is simply waiting (and preferably waiting patiently and in line). If there was such a sport competition, Canada would take gold medal.
——— 

Voice of the City is a platform for any and all Halifax individuals to share their diverse opinions and writings. The Coast does not necessarily endorse the views of those published. Our editors reserve the right to alter submissions for clarity, length and style. Want to appear in this section? Submissions can be sent to voice@thecoast.ca.