I've identified the likely cause of the Spryfield fire: a campfire on a small rise overlooking McIntosh Run, the creek that runs south of Spryfield.
This afternoon I spoke with some of the residents who reported the fire and, following their general directions, hiked back behind Roaches Pond, a body of water just off Herring Cove Road. I followed a utility service road in a northward direction, then trekked through the brush to the east. It didn't take long to find the charred forest.
I then hiked around the perimeter of the burned area, in a counter-clockwise direction. The brush is pretty thick in the unburned areas, and the burned area is thick with fallen trees. It was rough going, but I followed the burn around to McIntosh Run and soon found likely place where the fire jumped the creek.
Following along the western bank of McIntosh Run in a northwesterly direction, I eventually came across what is probably the cause of the fire. An abandoned firefighters' hose lays nearby.
It was an incredibly stupid place to build a campfire---in the hollowed out ground left from a rotting tree stump---but I can see how someone would want to camp at the site. It's on a rise over the stream, and looking north (upstream), McIntosh Run spreads out into a more lake-like vista. I could hear the creek burbling as it narrowed below me.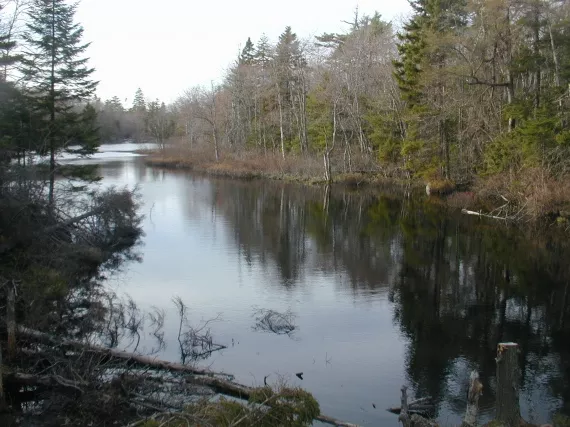 The fire pit was about ten feet from where the burn area begins, and fans out from there. I could see how the fire matched the terrain in a wind blowing to the south from the fire pit.
I should note that as I was hiking around the area, I found lots of other old camp fires, also very carelessly tended. For example, the camp fire below was simply started on the ground, with no attempt made to clear the area of dried pine needles and other forest litter.