Houssam is a researcher for Happy City a Vancouver-based consultancy that helps city builders understand how urban design influences happiness.
Last week, I nearly got killed as I walked onto a crosswalk on Lacewood Drive.
I pressed the button and stepped out, assuming the car was far enough to stop. A loud, heart-dropping three car collision later, I was looking back over the moment that could've easily been my last. Thankfully, no one was hurt.
This is not a unique case in Halifax: pedestrian safety is a real issue here. Last year was a record-breaking year for the number of pedestrian accidents: 262 collisions, up from 169 the year before.
This year, 109 pedestrians have been hit, two of whom passed away. Admittedly, this number is an improvement on last year, but the only acceptable number of pedestrian fatalities is zero. 
But where does the responsibility of pedestrian safety really lie? All three drivers, and the police on scene, thought I was at fault for jumping off the sidewalk too early.
Sure, it was rainy and foggy, and I might have misjudged how fast the car was approaching. But if a fully able adult like myself misjudged the situation, how do you expect children, seniors, or the disabled to navigate the city streets?
The vulnerable road user should not bear that responsibility. A misjudgment on their part would cost them their life. We saw that with the tragic death of the cyclist in Purcell's cove this week.
The responsibility does not solely fall on the driver either. Lacewood Drive is four-lane road with a minimum 16 metre setback for any abutting building. On a road like this, with low pedestrian activity, the driver would never anticipate someone crossing, even if it was at a crosswalk. At the 60 km/h speed limit, the collision would've probably killed me. The way the street is designed does not create a safe environment for pedestrians.
This is actually rooted in neuroscience. The driver's brain develops expectations of what it might encounter on the road. On roads like Lacewood Drive, it expects that only other cars will be encountered. This is why one study shows that sometimes drivers do not become aware of pedestrians even when they are looking directly towards them.
Tom Vanderbilt, author of the book Traffic: why we drive the way we do, explains how roads that feel so safe actually cause the drivers to be less aware of the possibility of anyone crossing the road. The brain drowns out the edges of the street.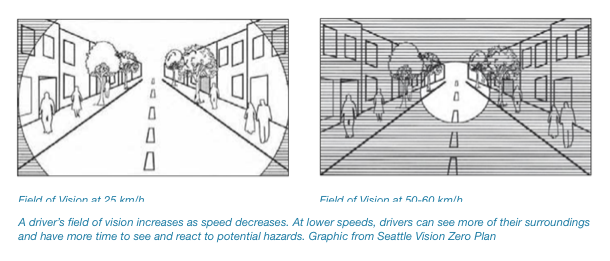 The phenomenon that Vanderbilt explains is precisely why the chaotic scenery of a shared space works much better as an intersection than the system we have here where there is a clear separation between pedestrian and vehicle right-of-way.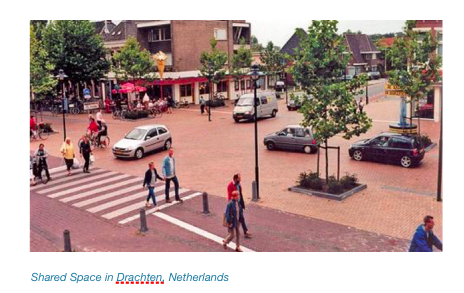 In these settings, where there is no clear separation between pedestrian and car space, the drivers feel unsure of when or where a pedestrian would cross. The natural reaction to this feeling is to slow down. As soon as that happens, the likelihood and impact of a pedestrian collision go down significantly. The chances of a pedestrian getting killed in a car collision at 30 km/h are five times lower than if the car is going at 50 km/h.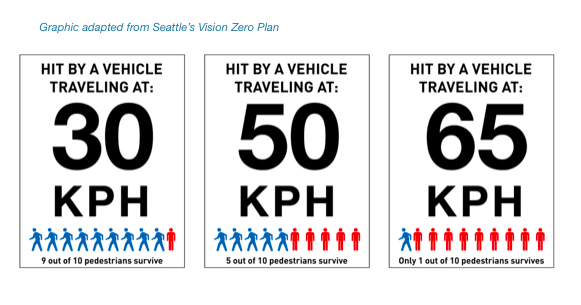 You can't have a road that seduces drivers to speed and then expect them to slow down. Cities that want to promote safety for pedestrians have to understand that drivers adapt their behaviors to the environment around them. They can't leave the fate of people's lives to human error. 
If Lacewood Drive was well-designed, the driver would be driving slower, and would have seen me before I even pressed the crosswalk button. Misjudgments happen. We need to design streets where they are not fatal.
Last week, the city nearly killed me, and I was lucky to survive without injury. The cyclist who tragically died this week was not as lucky. If we do not act, the next victim could be anyone of us.
——— 

Voice of the City is a platform for any and all Halifax individuals to share their diverse opinions and writings. The Coast does not guarantee the accuracy of, or endorse the views of those published. Our editors reserve the right to alter submissions for clarity, length and style. Want to appear in this section? Submissions can be sent to voice@thecoast.ca.