Jonathan Beadle
Journalist Miles Howe's Debriefing Elsipogtog: The Anatomy of a Struggle is available now from Fernwood Publishing.
In terms of the province's shale gas development agenda, 2013 would turn very nasty. With billions of dollars in hypothetical royalties at stake, two years of false starts, and the likely threat of Southwestern Energy (SWN) suing the province for tens of millions of dollars if the company was forced to default on its work order, the full force of the provincial intelligence-gathering community was put behind destroying the anti–shale gas movement. This time, there would be a concerted effort to undermine resistance efforts before the company even attempted to seismic test. Toward this end, one of the SWN primary targets was the community of Elsipogtog First Nation, the largest First Nations community in New Brunswick. With a demographic far younger than the surrounding communities, the resistance to shale gas in Kent County, if pushed into on-the-ground action, would live or die by the efforts of Elsipogtog First Nation (a fact that SWN and the province appeared quite aware of).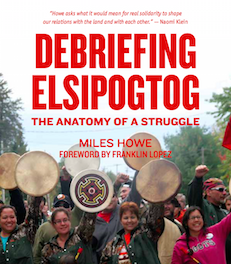 One of SWN's most questionable moves (one of many) was to employ the services of multiple-time violent offender, admitted gang rapist, and self-professed RCMP informant and collaborator Stephen Sewell of Pabineau First Nation. In 2011, under the pen name "Chief Poison Feather," Sewell penned a tell-all autobiography that, in graphic detail, laid bare decades of vicious crime; sadistic, drug-addled violence; extreme misogyny, especially toward First Nations women; and extensive dealings with the RCMP, including years as a professional snitch. In his book, there are tales of police–sanctioned gang rape, infiltration activities into New Brunswick-based gangs at the behest of the RCMP, informant work at the Mohawk Nation of Akwesasne and extreme acts of violence against girlfriends and partners. The way Sewell tells it, he was so remorseless a criminal, with so few scruples or allegiances to anything but ultraviolent hedonism, that the RCMP identified him as a prime candidate for infiltration work. Plied by drugs, sanctioned violence and cash, Sewell claims he relished doing RCMP's "dirty work."
In the spring of 2013, SWN recruited Sewell under the guise of providing aboriginal oversight with his newly formed company, Chief to Chief Consulting (which had been newly incorporated that April). It was a bold move to publicly hire one of Canada's most violent offenders and then play the man off as an Indigenous consultant of some authority. Both Global News and the CBC ate up the story of Sewell the "Indigenous consultant" and provided Sewell unchallenged interviews in which he derided anti–shale gas protesters as simply being "the loudest group." His vicious history and his willingness to infiltrate communities and work with police to unsettle them were not brought up.
By April 2013, Sewell was spending more time in Elsipogtog, specifically with then–war chief Gary Augustine. As war chief of the reservation, Augustine would have been looked on to provide on-the-ground leadership against threats to the community, including the very real threat of SWN seismic testing in the immediate vicinity. Instead, Sewell made an offer to Augustine to become a member of Chief to Chief Consulting and work with SWN. Augustine accepted. With this first step done (only weeks before SWN was set to begin its seismic work), Sewell and SWN (and possibly the RCMP) successfully turned the Elsipogtog war chief against the resistance in the community and created a dramatic leadership vacuum. According to Elsipogtog band member Joan Milliea, "Gary's always been the one with the mind, if you're going to talk about tactics. We lost our war chief when Gary went with Stephen."
———
Debriefing Elsipogtog: The Anatomy of a Struggle
Book launch and panel discussion
Halifax Central Library, 5419 Spring Garden Road
Thursday, May 28, 6:30-8:45pm