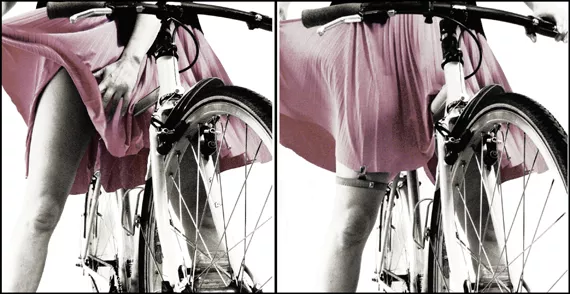 Amanda Stolle/Bird Industries
The Naked Bike Ride should only be one day a year.
If you like wearing dresses, and you like cycling, chances are you've probably unintentionally flashed a few bystanders. Maybe you're into that sort of thing, but for those that aren't there are luckily some solutions. Riders may be familiar with the penny-in-your-pants trick. But for something more chic, you might want one of Amanda Stolle's skirt garters for biking. The $12 band fits around your leg and clips to your skirt to keep from flying up. The psychology grad-turned-graphic-designer-turned-seamstress spoke with The Coast about her Minneapolis-based Bird Industries, and the functional, stylish cycling accessories she's creating.
What's the driving force behind these products?
Making bike commuting an easy choice. I want it to be automatic for people to bike to their destinations. If I want to carry a stylish little bag and not some hefty backpack, others might too. If I want to wear my favourite skirt without flashing a corner full of pedestrians, others might too. I create accessories to make biking easy and comfortable so there are fewer reasons not to bike.
What are some of your best sellers?
The skirt garter is my first—and by far best-selling—item. My waterproof bike seat covers and bike tube earrings are also popular choices. I love the interaction of Etsy where customers feel welcome to ask questions and request custom orders. It helps me to improve my products and offerings, and it's just nice to know there's a real person on the other side of the mailbox.
The skirt garter clip—how did you come up with that idea?
I had this favourite brown, cotton skirt that I wore a lot when I first started commuting by bike. It drove me crazy always flying up while I was riding. I figured there had to be an easier way than riding with one hand holding down the skirt and one on the handlebars.
What else are you working on?
I've just started making cuff bracelets, as well as little magnetic animal and state pins that are all reflective. I'm just so sure we can find ways to incorporate the secret agenda of safety into stylish accessories. Expect to see more "sexy safety" from Bird Industries.