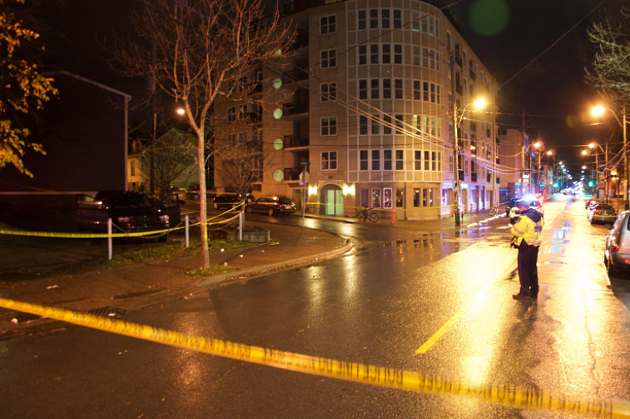 It begins with a call.
"It all starts with patrol," says Jason Withrow. "They're the ones who show up [in uniform] when 911 is called. After that, it goes up the chain until we're alerted."
His partner, detective Derrick Boyd, points to the cell phone holstered to his hip. The two investigators always have their phones on them. "This never leaves my side."
Both men are detective-sergeants in the Halifax Regional Police force, working in tandem with the Royal Canadian Mounted Police to cover Halifax's urban and rural communities. Both of them work homicides.
All nine murders in Halifax in 2015 were solved, with charges laid in each case. This year has seen homicides jump to 12, but charges have only been laid in half.
The increase in violence on HRM's streets this year has placed an added burden on what's already a high-pressure job inside the police department. As 2016 fades away, there are still six homicides awaiting justice. Here's how that work gets done.
It's Thursday, December 8, and Boyd has already 'touched' two murder cases before 9am. That's the term they use—touched—for working a case. Withrow estimates it'll be five active homicide investigations "touched" before the day's out.
Boyd is the taller of the two partners, with blue eyes and a firm handshake. Withrow is shorter, soft-spoken and prone to talking with his hands. Together, the two of them have a combined 13 years working homicides.
They call it a 24-seven, 365 type of job. Partially, that's because it's hard to shut their minds off of work when they're on a case, but also it's on account of the unpredictable nature of their livelihood. You never know when that next call will come in.

"You can plan your day," says Boyd, "but it will never happen that way."
The first few hours of a homicide are the most hectic. Boyd rattles off the list of questions that come first with every call: Where is it? Who's the victim? Any suspects? Any witnesses? Anyone in custody?
From that phone call a triangular system of delegation begins to form between the lead investigator, their partner who coordinates paperwork and the police sergeant who will allocate resources.
"The sergeants are usually the team commander or team leader [on a case] and the other two parts of the triangle are the lead investigator and a file coordinator," Boyd explains. "So you figure out who they're going to be from your homicide unit and go from there."
The triangle system ensures three sets of eyes know everything about the investigation, and makes it less likely something will go awry for the duration of the case.
Due to the integration of HRP and the RCMP, most murder inquiries in the municipality will have officers from other divisions—like criminal investigation or vice—assisting on the case. Excluded from that list are staff from the sexual assault unit. Following the Rehtaeh Parsons case and the Segal Report of 2015, homicide investigators can no longer pull support from that unit due to its heavy workload, and the complicated, sensitive nature of their cases.
Which brings us to the "taskers."
"Taskers" are often the officers who do the ground level work in a homicide case—canvassing neighborhoods, chasing leads and corralling witnesses.
"What people don't necessarily know is that in an initial murder investigation there can be upwards of 50 people involved working on the case," says Boyd. "I have worked on some that have 70 individuals that all had parts to play."
It's not all police solving a homicide case, though. The best help can often come from the public.
"The community and people we serve play a major part as well," says Withrow. "That's why we will put out media releases to ask for help. It's essential that witnesses feel comfortable and safe coming to talk to us. We will drop everything to hear someone out if they have information on a case."
Sometimes, though, the cases don't get solved—at least not yet. Boyd and Withrow still have open files from 2009 on their desks. Another two years and those murders will wind up in the cold case unit.
Life will go on, as will the investigators, onto the next call.