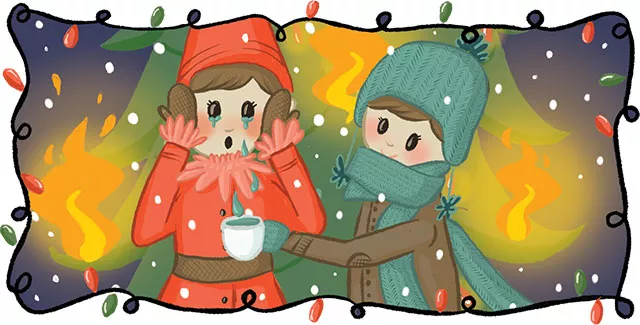 Christmas is coming, it just can't be stopped
With trappings and trippings and Christmas tree stuff.
From Black Friday to Eve, shopping stores in a frenzy
Blasting one type of music for two months too many.
They want
whosists
and whatsits,
phoneXs
and trumpets.
Going into Who-debt as tall as Mount Crumpit.
Proclaiming that only they know the reason
And crushing red coffee cups through the whole season.
And then come Christmas morning you know what they'll do
They'll feast like there's nothing but feasting for Whos.
They'll fill up their trash bags and garbage can faces
Tossing packing and decorations to the curb of all places.
They'll pound back the nog, the Who problem-drinkers
While making their relatives uncomfortable thinkers.
Some will get entirely too passive-aggressive
Or keep you in conversations you'd like a bit less of.
Then they'll play and they'll sing, they'll be downright annoying
Oblivious to all the noise, noise, NOISE, they're employing.
They might call me Grinchy, slur "Your shoes are too tight!"
Or make up a heart condition that isn't scientifically right.
They've been lying, spying and spreading Fake News
Swearing the Grinch is so nasty—but who stole from whom?
It's time to step up, quit acting in error
This year we end the reign of Who-terror.
First things are first, we'll go to the malls
Fill them with hazardous traps and pitfalls.
The Whos can't buy into their capitalist greed
If they're all stuck a-snare waiting to be freed.
From there we will go by every Who-house
Sneak on to their property, like a Who-mouse
Remove just one bulb from each light-up display
Save both our energy and eyes from the tawdry that way.
After we puncture the blowup Santas and snowmen
We'll jimmy a window and bust the fridge open
Take every scrap that isn't nailed down
And send it to food banks all over town.
Next the fake trees, we'll set them alight
The flames they will burn festive and bright.
The stockings we'll biff into a sack
Repurposed as sweaters for all of our cats.
Once we win back our holiday, here's what we'll do:
We'll sip on tea made of Who-tears for a moment or two
Then we'll shake off our daydreams, say sorry, excuse me
And get back to our jobs and pretending in Who-glee.
Because despite all our Grinchy seasonal depression
You really have to answer only one question—
Does the way the Whos celebrate actually affect you?
Nah, you're probably projecting, and it's just not an issue.