Everybody in Halifax must have been out at shows last night. Some of the First Aid Kit and people working the door at Gus' earlier offered me some statistical analysis of this at a party at 3:30am, but going on my own observations, pretty much every venue was at capacity and the streets packed with people. Feeling a bit overstimulated, I stuck around my house for a while, grabbed a samosa on the way out and went to an earlier house show at Scribbler's home where ECT, new local band Meat Curtains, Fuck Montreal, Dead Wife and Grand Trine played. This was the combination of loudest show in smallest venue of the festival. One of several great house shows scheduled for the week, the basement there was little, with a ceiling height of 5'8" or something, and way more packed than at the one other overstuffed show I've attended there.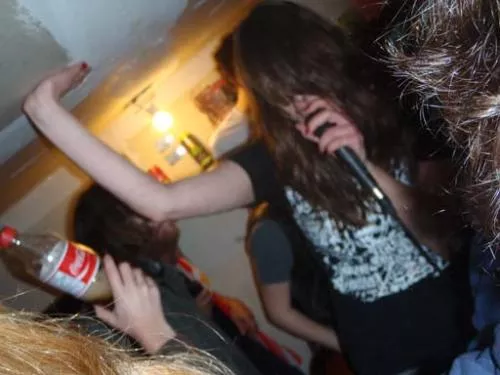 Dead Wife brings down the house.
Everyone played sets of about 10 minutes, so it didn't matter so much how crammed in you were, or that some people were trying to crowd surf in a room with a ceiling height shorter than they are. There were about 20 people in the three metres between me and Meat Curtains and the sound quality wasn't optimal, but they sounded pretty good, sounding almost like a female-fronted The Fall at one point, some combination of post-punk and some lower-fi riot grrrl bands at others.
Dead Wife were so awesome yesterday I had to see them again before they returned to Montreal. Outside they complained that they'd spent the day vomiting (no huge surprise if you caught the Gus' show) and forgotten to bring mittens in this frigid weather we're having, but they were in top form onstage. They played a comparatively long set of 20 minutes or so, with everyone in the room falling on each other, the volume cranked up, a scant few people trying to protect their eardrums or cameras, and an odour of sweat permeating the basement. Amazing.
I didn't stick around for Grand Trine, but headed up to Gus' to catch Entire Cities. More later, but right now I'm heading to the Zine fair, 12-5pm at St. David's, 1537 Brunswick, to hawk my wares, and you ought to head down there too.